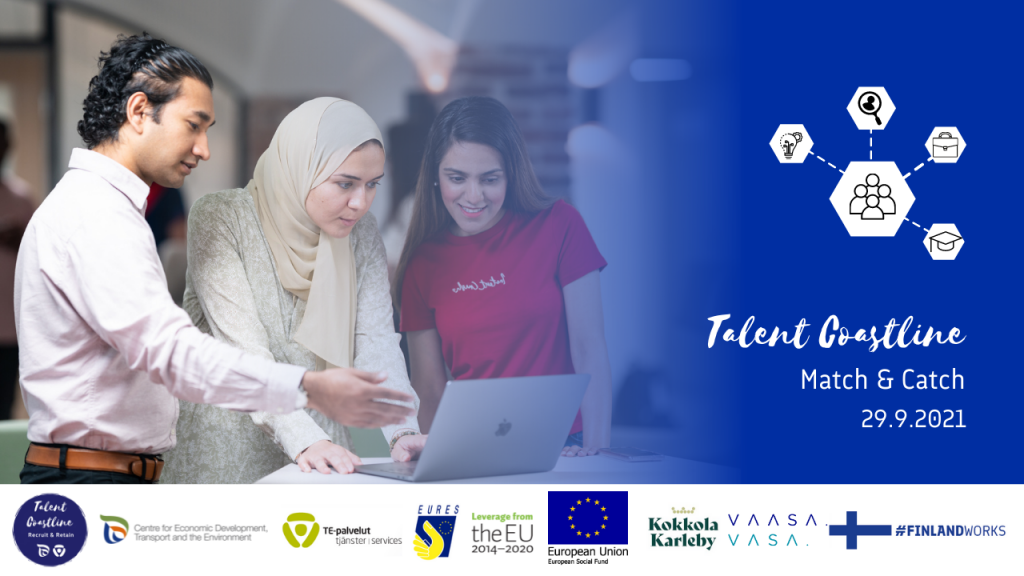 Match & Catch networking event
The virtual networking event Talent Coastline Match & Catch on 29.9.2021 connected employers and international talents in the Ostrobothnia and Central Ostrobothnia regions. Here you find some of the material produced for the event by the TCE project.
The event gave both the participating companies and the international talents  visibility and the chance to promote their company and their skills. Hereby companies could attract new employees and the talents got to know the business environment in our region. The day begun with a panel discussion and during the afternoon you could listen to info slots for companies and job seekers and book one-to-one meetings.
The event was arranged on the Tavata platform and had altogehter 212 participants, more than 100 meetings took place and around 30 speakers were involved.
The event was organized by the Talent Coastline network at Ostrobothnia ELY Center and TE services together with the TCE project, who produced these videos:
City of Vaasa, Hagar Elbarbary & Tareque Mahmud
Labour Shortage and Language Perception
Language Centre Linginno, University of Vaasa
Is it a question of language? Challenge your attitude, test your knowledge
YA – Vocational College of Ostrobothnia; the video is spoken in Swedish with Finnish subtitles
Introduction to the educational package "An international working community"
Based on the feedback from participating companies, there's a clear need for information concerning international reqruitments. According to the international talents the presentations of the business environment of our regions and the panel discussion were the most informative parts.
The event was appreciated and a wish for future events was expressed; preferably already next time as a fysical event.