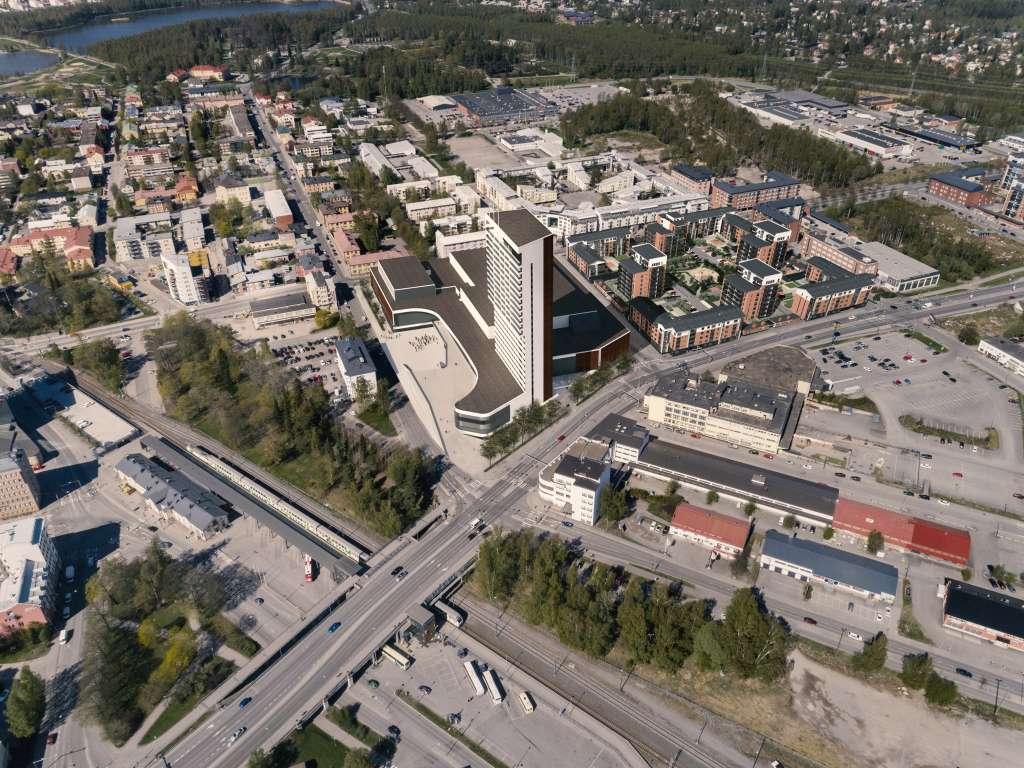 Wasa Station
Wasa Station is both a multifunctional complex and a pioneer in energy-efficient construction, which has been designed to replace the old bus station in Vaasa.
Wasa Station is planned to be an urban meeting place and event centre, which will include a music hall, a sports and multipurpose hall, a hotel, apartments and a shopping centre.
The developer of the Wasa Station project is the YIT construction company. The Wasa Station multifunctional complex is planned to replace the old bus station area in Vaasa.
Vaasa will have a spectacular landmark, a vibrant city attraction and an event centre.
Wasa Station figures
shopping centre 18 800 m2
music hall 11 000 m2
multipurpose hall 3 500 m2 (incl. sports and trade fairs)
hotel 178 rooms
apartments 110
parking space for about 600 cars
parking space for about 600 bicycles
City of Vaasa's role
The City of Vaasa will finance the construction of the music hall and will be responsible for the operations and operating costs of the music hall once the complex is completed.
The other parts of Wasa Station (shopping centre, apartments, hotel and restaurant, multipurpose hall) are privately owned, i.e. financed by the developer (YIT) and investors.
Music hall
The music hall will host a wide range of activities ranging from light music concerts to fairs, congresses and training events, as well as operatic and orchestral performances.
Estimated number of days in use per year:
50 concerts per year
City orchestra 50 days: 24 concerts + rehearsals
Fairs for 30 days
Big meetings and congresses for 20 days
Smaller meeting rooms for 45 meetings per month
Other events: more than 40
The music hall accommodates up to 1,800 spectators.
Benefits and project costs
Wasa Station will increase Vaasa's tax revenue by an estimated €1.1 million per year through, among other things, 400 permanent jobs and property tax. It is also estimated that there will be many indirect benefits created from the project.
The music hall will provide the city with an estimated annual revenue of €1,7 million, and operating costs have been estimated at €3.4 million per year.
The sports facilities will be leased to the Onkilahti Comprehensive School (Onkilahden yhtenäiskoulu) as gymnasium space. In this way, the city avoids two major investments (€5,4 million): a thorough renovation of the Onkilahti Comprehensive School gymnasium and the construction of a separate ball hall.
A pioneer in energy-efficient construction
An innovative and cost-effective total energy system has been developed for the Wasa Station multifunctional complex.
The energy solutions to be utilised are, for example, geothermal heat, solar heating and solar power. The goal is to have a block that is virtually self-sufficient when it comes to energy.