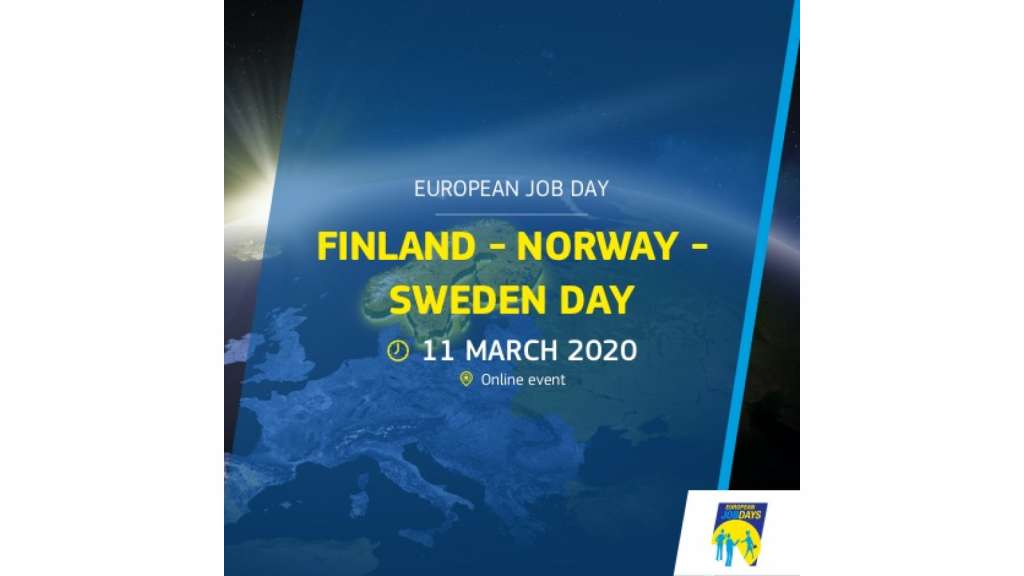 Finland – Norway – Sweden Day - online recruitment fair
Article categories: Auctions & Market Days
A cost effective and environmentally responsible way to recruit across Europe - event registration now open.
Finland-Norway-Sweden Day is a free to participate online recruitment event focusing on the different sectors. The multi-functional internet platform provides the meeting place for sector specific companies and skilled, motivated professionals. This event is one of many European Job Days events organised throughout Europe.
Early registration to the event provides extensive international exposure for your company and its recruitment needs. Upload your company profile and vacancies, interview and recruit – regardless of your location.
The live event takes place via the internet platform on 11th of March 2020, btwn 11am – 5pm (Finnish time).
Both companies and candidates join the event by registering to the platform in English.
The benefits:
– No need to budget for travel, accommodation or event participation costs.
– Easy access to the potential of skilled professionals across 31 European countries.
– Free assistance in use of the internet platform before and during the event
– Promote your company with a profile and video presentation on its own virtual stand
– Showcase your recruitment needs and current vacancies
– Experienced and motivated candidates are online waiting for your contact.
– Your nominated company representative/s can chat with candidates during the live event.
– Reserve an interview time online with a candidate
More information from: TE-services events page (http://www.te-palvelut.fi/te/en/special_pages/european_job_day16656/index.html) or by email eojd@te-toimisto.fi