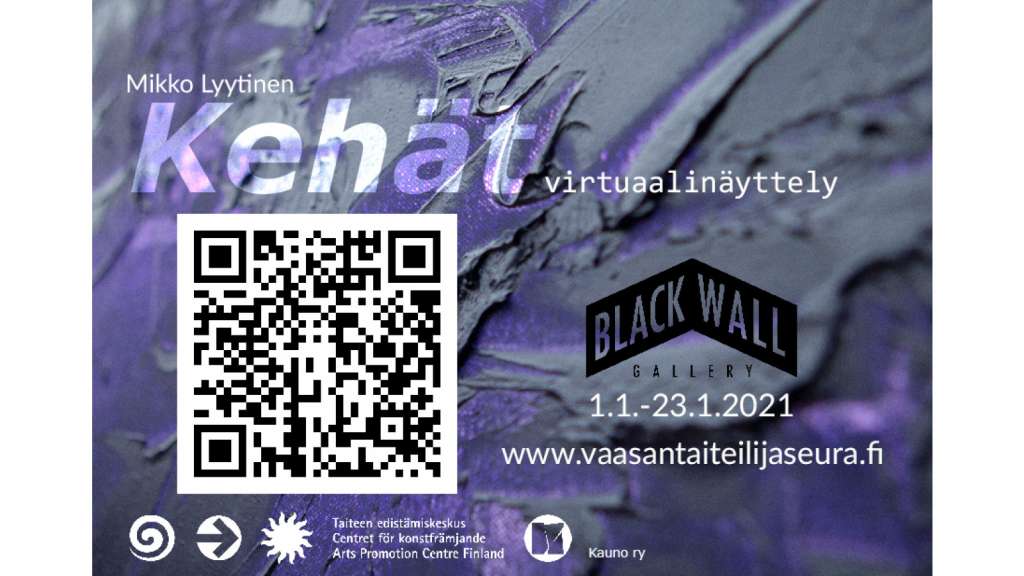 Kehät - virtuaalinäyttely
Article categories: Museums & Folklore
Mikko Lyytinen - virtuaalinäyttely - Kehät
Mikko Lyytisen teoskokonaisuus Kehät esitetään virtuaalisena näyttelynä, joka on katsottavissa
Vaasan Taiteilijaseuran www-sivustolla www.vaasantaiteilijaseura.fi 1.1.-23.1.2021.
Kehät on neljän abstraktin öljyvärimaalauksen sarja, joka käsittelee menetystä, luopumista,uusia alkuja ja merkityksiä. Näyttelyn teokset muodostavat eräänlaisten arkkityyppien joukon jotka yhdessä luovat sanattoman tarinan kaaren. Kehät jatkaa edellisen näyttelyn Kylmä Peili aloittamaa värikokemukseen perustuvien töiden sukupuuta. Maalausten taustalla on vahvasti henkinen ja käsitteellinen ulottuvuus, joka lähtee liikkeelle maalien sekoittamisesta pigmenteistä, merkiten henkilökohtaisen kokemuksen haltuunottamista ja sen muuntamista maalausprosessissa yleisesti jaettavaksi parantavaksi voimavaraksi. Kehät nimi viittaa elämän moniin kiertokulkuihin. Ajatus siitä oli olemassa ennen auringon kaasukehän mukaan nimetyn koronaviruksen leviämistä, mutta se luonnollisesti linkittyi osaksi merkityksiä. Varsinkin sarjan ensimmäinen teos, oman surutyön pohjalta syntynyt Lost Knight, on tarkoitettu osanotoksi koronan aikana menetyksen kohdanneille. Sarjan seuraavat teokset, kelttiläiseen mytologiaan viittaava Ancient Rower ja The Mandalorian TV-sarjasta nimensä lainannut The Foundling johdattavat sisäisen valon äärelle teoksessa King of the Sun. Näyttelyn maalaukset on tehty erityisesti Black Wall Gallerian mustia seiniä silmällä pitäen ja taiteillijan rakentama virtuaaligalleria myös mukailee niitä..
Taiteen edistämiskeskus on tukenut teosten valmistamista 4kk pituisella työskentelyapurahalla. Materiaalihankintoja ja näyttelyn järjestämistä on tukenut Kauno ry.
Näyttely on omistettu isälleni Jouko Lyytiselle (1956-2019)
Mikko Lyytinen on palkittu Lahtelainen kuvataiteilija joka palaa 40-vuotispäivilleen (21.1.) pitämään näyttelyä syntymäkaupunkiinsa Vaasaan, joskin Korona-tilanteen takia virtuaalisesti.
Mikko Lyytinen on valmistunut kuvataiteilijaksi Lahden Taideinstituutista vuonna 2011 jonka jälkeen hän on työskennellyt Lahdessa ja pitänyt useita yksityisnäyttelyitä ympäri Suomea ,sekä osallistunut lukuisiin ryhmä-ja yhteisnäyttelyihin mm. Taiteilijaryhmä Hydran kanssa.. Vuonna 2011 Lyytinen voitti ensimmäisen palkinnon Art of Basware-taidekilpailussa. Hänen teoksiaan on mm. Lahden Taidemuseon ja Basware oyj:n kokoelmissa.