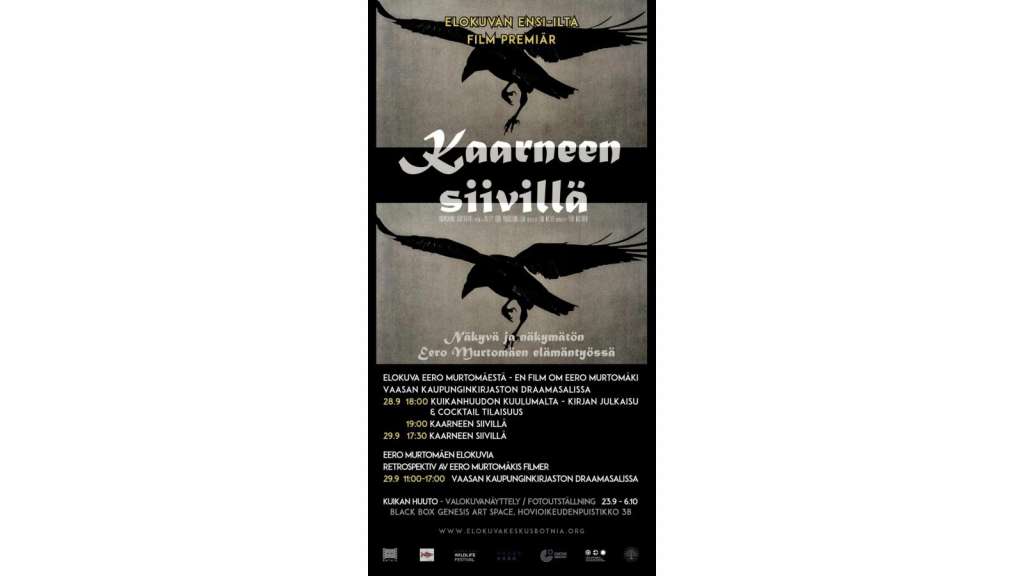 På korpens vingar - Filmpremiär, bokrelease och retrospektiv med Eero Murtomäki
På örnens vingar -filmpremiär av en dokumentären om Eero Murtomäki, bokrelease och filmretrospektiv av Eero Murtomäki
28.9.
18:00 Kuikan huudon kuulumalta : bokrelease i Cafe Proosa
18:30 Cocktails
19:00 PÅ KORPENS VINGAR – film premiär
20:00-20:30 Diskussion om film med Eero Murtomàki, regissör Tom Miller och producent Tero Mustonen, diskussion leds av Klas Fransberg
Eero Murtomäki, känd naturfotograf och författare från Korsholm, står i blickpunkten under veckoslutet 28-29 september – samtidigt som den internationella klimatförändringskonferensen pågår i Vasa.
Redan från och med 22.9 kan man se en utställning med Eero Murtomäkis fotografier från den nya boken Lomen på Black Box galleriet på Hovrättsesplanaden 3B i Vasa.
Eero Murtomäki är född 1943 och har som fotograf gjort ett tiotal naturfilmer och publicerat tjugo böcker. Murtomäki har ofta haft Kvarken som tema, men också Lappland.
Själva bokens officiella utgivningstillfälle är lördagen den 28.9 kl 18.00 på biblioteket i Vasa. Efteråt, kl 19.00, blir det världspremiär för en dokumentärfilm om Eero Murtomäki: On The Wings of Raven (På korpens vingar) i Dramasalen.
Filmens regissör Tom Miller från USA och Eero Murtomäki själv är med på visningen och efteråt blir det diskussion.
Söndagen ägnas åt att visa åtta filmer från tre årtionden, alla gjorda av Eero Murtomäki. Den äldsta filmen är från 1970: Laulujoutsenten soidin (Svanarnas spel) och den senaste från år 1992: Vuotos – uhrattu suomaa (Vuotos – offrade träskmarker).
Arrangörer för detta naturfilmsveckoslut är Filmcentrum Botnia och Andelslaget Lumimuutos i samarbete med Vasa Wildlife Festival.
Eero Murtomäen retrospektiivi / retrospektiv
Sunnuntaina 29.9 klo 11.00 – 20.00
Vaasan kaupunginkirjaston Draamasalissa
Söndag 29.9 klo 11.00 – 20.00 Vasa stadsbiblioteks Dramasal
Tidrabell
11.00 – 13.00
Laulujoutsenten soidin
Svanarnas spel (1970) 20 min
Meren autiotuvat
Havets ödegårdar
(1988) 44 min
Iso lintu merikotka
Den stora fågeln havsörnen
(1983) 27 min
13.30 – 15.30
Karhun maa (1982) 35 min
Björnens land
Korvatunturi (1978) 19 min
Tomtens fjäll
Poromiesten päiväkirja (1976) 51 min
Renskötarnas dagbok
16.00 – 17.00
Vuotos, uhrattu suomaa (1992) 28 min
Vuotos, hotad träskmark
Metton laulu (1974) 22 min
Tjäderns sång
17:30
Kaarneen siivillä – På örnens vingarna – On Wings Of The Raven
50 min
http://www.prettygoodproductions.net/on-wings-of-the-raven