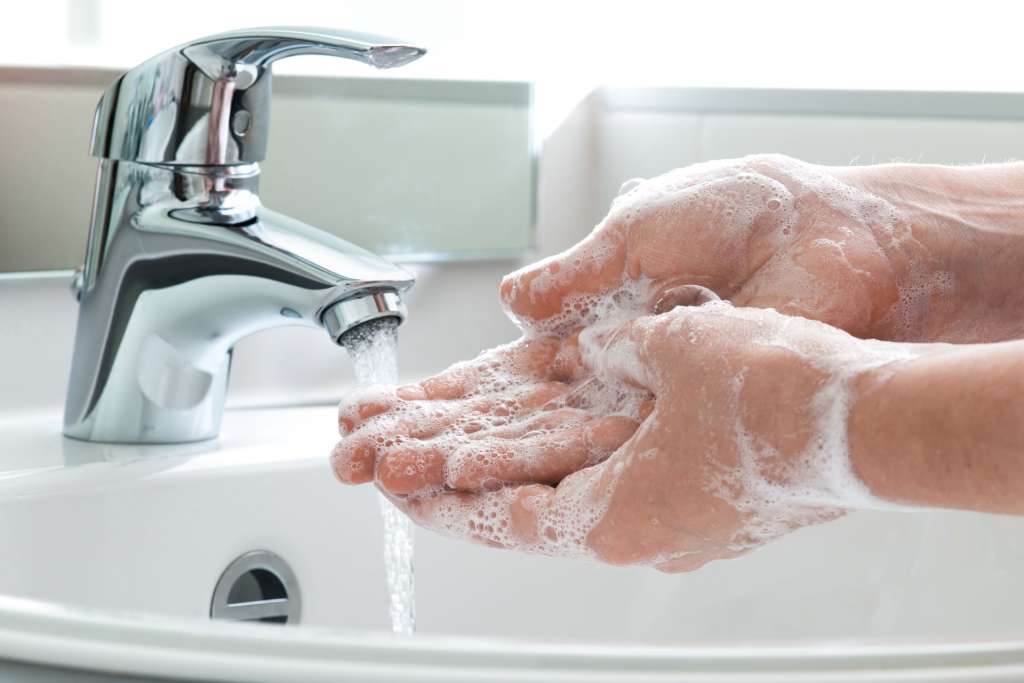 About coronavirus
The Vaasa Hospital District and the City of Vaasa Social Services and Healthcare sector are monitoring the COVID-19 situation and following national and regional guidelines.
Updated 9.4.2021
Prevent infection
The virus can be transmitted in close contact from person to person through droplet transmission during coughing and sneezing, and by contact from surfaces via hands. In general, avoid close contact with other people, as most sufferers are either completely asymptomatic or mild.
Always keep a clean mask with you. Use the mask in public areas and maintain safe social distances of 2 metres. This is a strong recommendation for everyone aged 12 and older.
Maintain good hand hygiene. Don´t touch the eyes, nose or mouth. Use an alcoholic hand sanitiser.
Keep an amount of flu medication at home. Cough and sneeze into a disposable tissue and immediately place it in a bin. If you don´t have a tissue, cough or sneeze into your elbow.
When arriving from abroad, arrange an absence (14 days recommended) with your work, school or daycare centre. See THL:s: Travel and the coronavirus pandemic
Older people and those with underlying conditions are particularly susceptible to coronavirus. Seasonal influenza is also circulating in Finland at present, with symptoms very similar to those of coronavirus infection.
For general advice on coronavirus, consult the national coronavirus hotline on 0295 535 535.
Do this:
Take a coronavirus symptom assessment test online at Omaolo.fi if you have symptoms and feelings suggestive of corona. If necessary, call your local health station.
If you have even mild symptoms of a respiratory infection such as runny nose, cough, sore throat, muscle aches or fever, and/or lose your sense of smell and/or taste, stay at home and call your local health station for an assessment of the need for treatment and possible corona testing.
Call your health station if you suspect a coronavirus infection
If you suspect a coronavirus infection and have been in a risk of exposure and you have symptoms, call your health station for possible testing, even if the flu symptoms are only mild, and avoid social contact. You can get further instructions by phone from the health centre. Don´t come to the health centre to infect others.
Gerby Health Centre, tel. 06 325 1711
Kirkkopuistikko Health Centre, tel. 06 325 1666
Ristinummi Health Centre, tel. 06 325 1691
Tammikaivo Health Centre,  tel. 06 325 1703 or 06 325 1770
Vähäkyrö Health Centre, tel. 06 325 8500
Other times you can call the national emergency number 116 117.
Treatment of coronavirus infections
The testing of patients showing mild symptoms and those returning from travel should only be taken at the discretion of the doctor. Asymptomatic cases are not tested.
Infections are diagnosed at Vaasa Central Hospital, which decides on the patient's place of treatment. The infected person is placed in home isolation unless they need hospital treatment. People in close contact with the infected person are also placed in home quarantine for 14 days. In cases of family exposures, the quarantine period is 21 days. This prevents the virus from spreading. Home quarantine is decided by the doctors of the Vaasa Hospital District.
The guardian of a child under the age of 16 who is assigned to home quarantine stays at home to care for the child. A sickness allowance is given for periods of quarantine due to infectious disease. More information can be found on Kela's website.
During the home quarantine and isolation you must stay at home. You cannot go shopping or go out for hobbies etc.
General instructions for those exposed to the coronavirus.
Information on educational activity is given through Wilma
The education sector will monitor the situation and the advice given by the health authorities. In schools and early childhood education centres, preventive activities, such as careful hand washing and hygiene have been encouraged.
The guardians of schoolchildren and early childhood children will be informed on developments through Wilma and vaasa.fi.
Monitor coronavirus updates
Residents are also advised to follow the Finnish Institute for Health and Welfare (THL) bulletins and follow THL guidelines. Finnish Institute for Health and Welfare website.
Vaasa Hospital District informs about cases of coronavirus detected and number of samples here.
Twitter: @THLorg
Coronavirus Information in Finnish Sign Language (THL)
Coronavirus – Latest Updates (THL)
Ministry for Foreign Affairs of Finland
Latest updates
Corona vaccinations are given in Vaasa according to the guidelines of THL and Vaasa Hospital District. Receiving vaccination times depends on when, how much and which kind of vaccines first arrive in Finland and to Vaasa via the hospital district. We are updating this page with information about corona vaccinations in Vaasa.

On this page you will find up-to-date information on coronavirus exposure sites. The City of Vaasa only reports on public exposure sites where those exposed cannot be traced personally, i.e. we do not know who has been in that place at the same time. Exposure sites, where all those exposed are known and have been contacted, are taken care of by each organisation separately.

Coronavirus instructions in Albanian, Arabic, Chinese, Estonian, French, Kinyarwanda, Persian, Russian, Somali, Swahili, Tigrinja and Vietnam.

Local restrictions, recommendations and measures concerning the coronavirus will affect the availability of the City of Vaasa's services. The restrictions, recommendations and measures, and their effects on the City of Vaasa's services, are specified below.

Quarantine is a necessary precaution in preventing further infections. Here are some general guidelines if you have been exposed to the coronavirus. Here is also information in Arabic, Somali, Persian and Russian.

You have been diagnosed with the coronavirus infection. The doctor has placed you in isolation under the Communicable Diseases Act. The purpose of the isolation is to stop the disease from spreading further. One of the parents must stay home to supervise a child under the age of 16 years placed in isolation. Here is also information in Arabic, Somali, Persian and Russian.