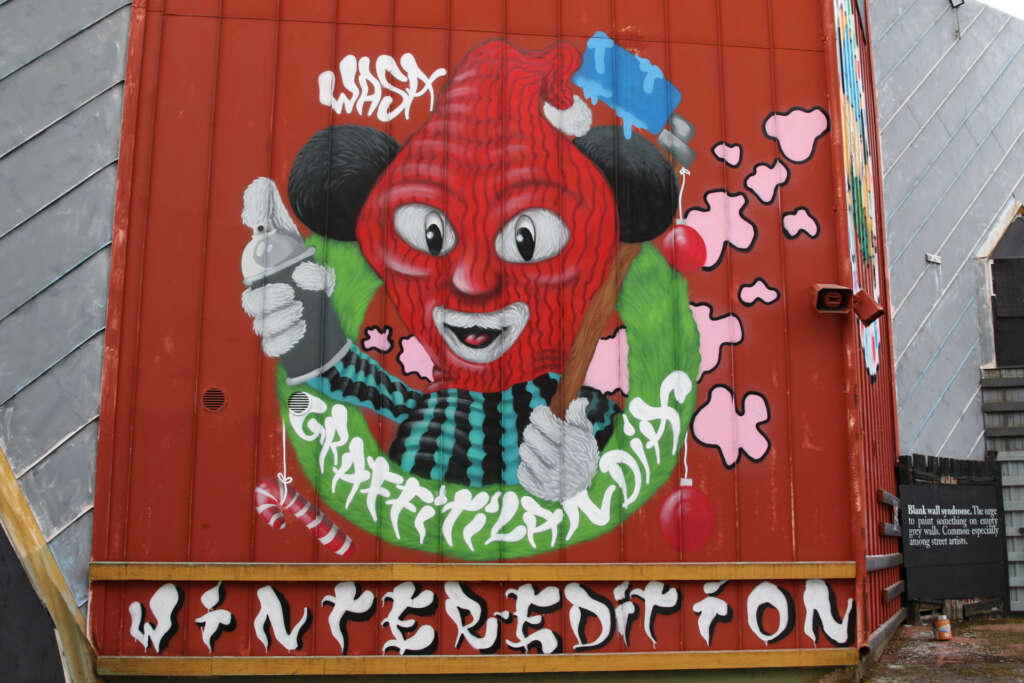 Article categories: News
Amusement park turned into huge street art exhibition: Wasa Graffitilandia Winter Edition opens on 26 November!
Published: 23.11.2021
Wasa Graffitilandia is an extensive art exhibition in Vaasa focusing on street art, which was created in an abandoned amusement park. At the end of November, a renewed exhibition will open, which will also spread indoors.
The first exhibition, which ran in the summer, was put together by volunteers from idea to opening in eight weeks. It had about 12,000 visitors during the summer season. Wasa Graffitilandia Winter Edition opens on 26 November and will remain open until 9 January 2022.
Wasa Graffitilandia's arrangements have been entirely planned by the Vaasa-based association Katukulttuuri ry.
– In addition to the old art, there are completely new interiors which can be seen for the first time in the Winter Edition exhibition, explains association representative Aku Siik.
Murals, installations, sculptures and UV art
The walls of the amusement park area have been decorated by beginners as well as experienced veterans, which makes the final result a surprising and communal patchwork of art. Graffiti and visual artists were selected through an open call for participants.
– For the first time, we have an artist from abroad, Raphe from France, who did a joint work with Viv Magia. The work of Sámi graffiti artist Sámi Hustler is also on display, highlighting the colonialism experienced by the Sámi in Finland, Siik says.
In addition to graffiti and murals, the area also has installations, sculptures, UV art and a shop and café.
The largest new work in the exhibition is a mural over eight metres long, created by LAINE.K5 and Poppamaija.
A treasure hunt and nostalgic experience
According to the event organisers, visiting Wasa Graffitilandia is a multi-layered experience, as many nostalgic memories of the amusement park, which closed in 2015, are mixed together with the art.
The playful layout of the art also makes the experience like a treasure hunt.
– Wasa Graffitilandia's goal is to create community culture and art in Ostrobothnia and to make art more accessible by bringing it to a unique and interesting environment in its own right. Artists of all ages and levels took part in Grafftilandia's work, which reinforces our message that art and culture belong to everyone, explains Sandra Marins from Katukulttuuri ry.
Visit Graffitilandia with a museum card
In October 2021, Wasa Graffitilandia became a Museum Card destination approved by the Finnish Museums Association.
– This is a tremendous recognition for both small DIY artists and street art more generally.
Putting us together with traditional museums and galleries makes the work of our artists more accessible to everyone. We believe that in this way we will succeed to expand and broaden the horizons of art lovers, says Marins.
Katukulttuuri ry has leased the vacant area from Puuharyhmä Oy, which owns the former amusement park. Puuharyhmä Oy still has a valid lease agreement with the City of Vaasa for the area.
The City of Vaasa supports the organisation of the event by helping, where possible, with production planning and marketing, among other things.
Wasa Graffitilandia: