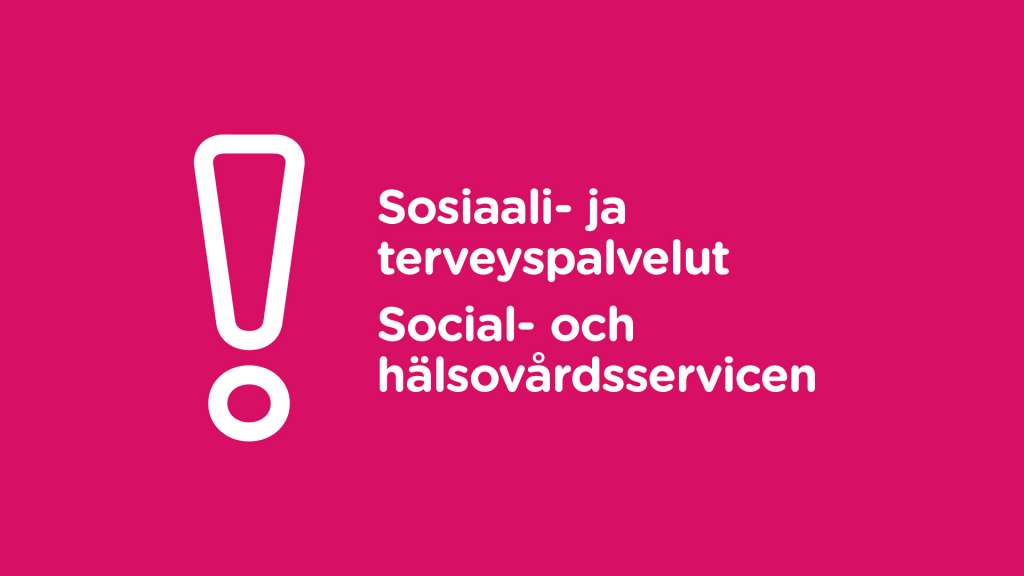 Article categories: News
Healthcare services at Easter 10 April -13 April, 2020
Emergency care for patients with symptoms of a respiratory infection will be centralised at the Main Health Station (Pääterveysasema) at Tammikaivontie 4, from 10 April -13 April, 2020. The reception is only for patients that have symptoms of a respiratory infection and require urgent care. Book a time before coming to the reception. Opening times are from 10:00 – 16:00 from Fri 10 April - Mon 13 April.
At the main entrance, turn right and go around the corner of the building. Use the entrance at the north end of the building. This also applies to those living in Vähäkyrö.
The telephone service numbers of local health stations are working normally from 8:00 – 15:00.
Gerby tel. 06 325 1711
Kirkkopuistikko tel. 06 325 1666
Ristinummi tel. 06 325 1691
Tammikaivo tel. 06 325 1770, 06 325 1703
Vähäkyrö tel. 06 325 8500
Symptoms of upper respiratory tract infections requiring urgent care include: cough, sore throat, fever, shortness of breath, aches and pains and headache.
Because it is difficult for the average person to know whether their own symptoms are caused by influenza, a coronavirus or any other virus causing flu-like symptoms, anyone who needs respiratory help and treatment is always asked to call the reception of their local health station first.
Doctors and nurses will be unavailable at the health stations of Kirkkopuistikko, Gerby, Ristinummi and Vähäkyrö during Easter, 10 April – 13 April, 2020.
Doctor's are on call on weekdays from 16:00-08:00 and around the clock on weekends at Vaasa Central Hospital's Accident & Emergency (A&E) clinic, Hietalahdenkatu 2-4, tel. 06 213 1310. Patients in need of immediate emergency first aid are taken care of at Vaasa Central Hospital's A&E clinic during all weekdays. The on-call Emergency helpline is available Mon-Thu 15:00-08:00, Fri 14:00-08:00, and 24 hours a day on weekends and holidays, tel. 06 213 1001. More information about on-call medical services can be found in local newspapers: "Lääkäripäivystys" in the Pohjalainen newspaper; "Läkardejour" in the Vasabladet newspaper.
Closed from 10 April to 13 April 2020: the X-ray and laboratory of the Main Health Station (Pääterveysasema) as well as maternity clinics, children's clinics, family planning clinics, STD outpatient clinics, diabetes clinics, the mobility aid distribution centre and Vaasa Mental Health and Addiction Centre, Horizon.
Published: 09.04.2020