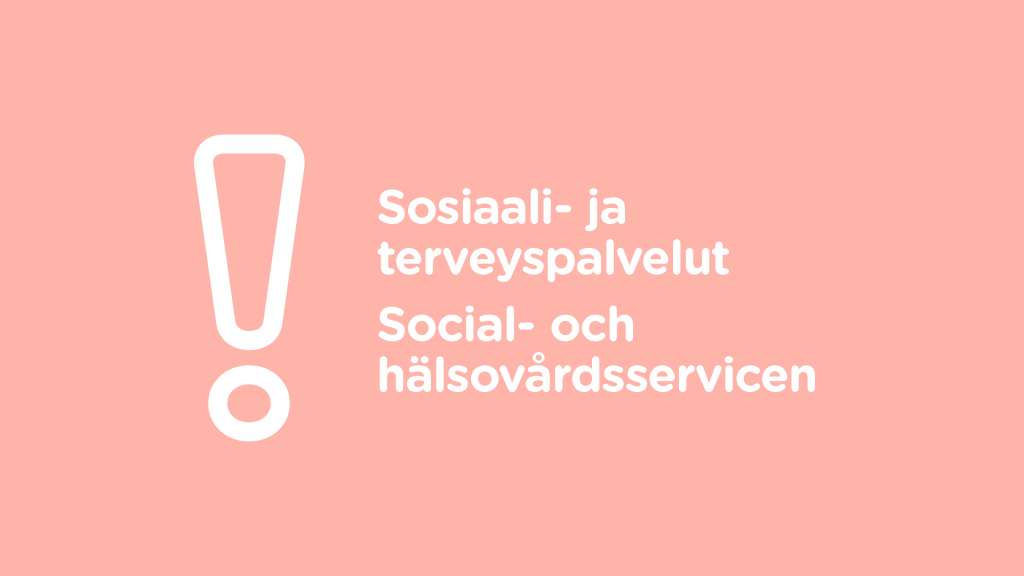 Article categories: News
Social welfare and healthcare services reintroducing certain activities
Published: 11.5.2020
Updated: 2.6.2020
With the coronavirus situation remaining calm and the government decision to gradually lift restrictions from 14 May 2020, certain activities can now be gradually reintroduced within social welfare and healthcare services at the City of Vaasa.
In outpatient-care activities, a gradual return to normal procedures will be introduced.
Child health clinics and school health services will start on 18 May 2020
At children's clinics, children are being called to attend age-specific check-ups in the normal way. Children who did not undergo an age-specific check-up during the restrictions will be called first.
– We further emphasise that children are admitted to the clinic only when the child and other family members are healthy and only one guardian is involved in the clinic visit, reminds Chief Physician Leena Kettunen.
As basic education moves to face-to-face classroom teaching, school health nurses will also return to schools. Pupils whose extensive 1st-, 5th- and 8th-grade check-ups were not performed while schools were in distance learning are invited first to the check-ups. Other urgent matters are also being addressed. In June, nurses will start to invite future 1st and 7th grade pupils for health check-ups. Check-ups will only be performed if the pupil is in good health and accompanied by one guardian.
The reception of patients with symptoms of a respiratory tract infection remains centralised
The reception of patients with symptoms of a respiratory tract infection is still centralised in separate rooms on the 1st floor of the Main Health Station at Tammikaivontie 4. The reception for respiratory tract infections is open by appointment on Mon-Thu from 08:00-16:00 and on Fridays from 08:00-14:15. Always call your health station number before arriving there.
Other urgent patients
Patients with other urgent care requirements are still referred to the urgent care unit on the 2nd floor of the Main Health Station, Tammikaivontie 4.
The reception desk for the urgent care unit on the 2nd floor of the main health station is the only office that can be reached without a prior telephone call if there is an immediate need for help, such as for wounds and falls. In cases of sudden illness, the nurse assesses the need for treatment, provides homecare instructions and, if necessary, refers the patient to see a doctor.
Residents of Vähäkyrö must contact the Vähäkyrö health station.
In life-threatening emergencies, called 112.
Non-urgent appointments at health stations
Health stations will gradually reopen for non-urgent appointments. Patients whose appointments had to be cancelled during the restrictions will be invited first to see nurses and doctors. Patients are called for appointments by telephone. Appointment times are only made for 2-3 week periods ahead while potential changes in the coronavirus situation are being monitored. The doors to the health stations remain closed and can only be entered for the booked time.
– We encourage you to contact your local health station by telephone to assess the need for treatment in both urgent and non-urgent health-related matters. Also, anyone with new health-related problems or worsening symptoms of a long-term illness must contact their local health station so that the situation can be assessed and the necessary treatment can be arranged, confirms Kettunen.
Telephone numbers for health stations:
Gerby Health Station tel. 06 325 1711
Kirkkopuistikko Health Station tel. 06 325 1666
Ristinummi Health Station tel. 06  325 1691
Tammikaivo Health Station tel. 06 325 1703 and 06 325 1770
Vähäkyrö Health Station tel. 06 325 8500
For non-urgent matters, please call in the afternoon or choose the call-back service.
Dental care
Latest updates 18.5.2020: Non-urgent dental care begins on 1 June 2020
New ways of communicating with relatives in elderly care homes
The ban on visiting care homes for the elderly continues for the time being in accordance with the regulations set by the government. In response to this, care home facilities have creatively invented various possibilities for arranging contacts between relatives and residents.
– We have acquired videophones for all small homes, which allow relatives to communicate with residents at agreed times. In addition, together with the resident, we call the relative and use the loudspeaker function, which makes talking easy, says director of service housing, Eila Nyby.
Some meetings may have been arranged, for example, using the glass walls of the hall. The solutions are house-specific, as the buildings are very different. Furthermore, relatives can deliver cards and gifts to their relatives in the care home facilities.
– We are also happy to accept relatives' suggestions on different ways they can communicate with our residents, hopes Nyby.
Some relatives have brought smartphones to their loved ones living in care home facilities. Such devices can be used for various things, for example making video calls.
The memory outpatient clinic will start operating gradually
The memory outpatient clinic primarily welcomes clients with an urgent referral. Receptions and home visits by dementia nurses will be started in stages together with a doctor's appointment.
At the city hospital, the ban on visits continues, and other means of communication between relatives and patients are being used. In institutional care, beds reserved for potential coronavirus patients will be used for normal use.
If the coronavirus situation remains calm, it is possible that stimulation activities for senior citizens, some sports services, and day activities will be held during June.
In homecare and home nursing, activities will continue as normal.