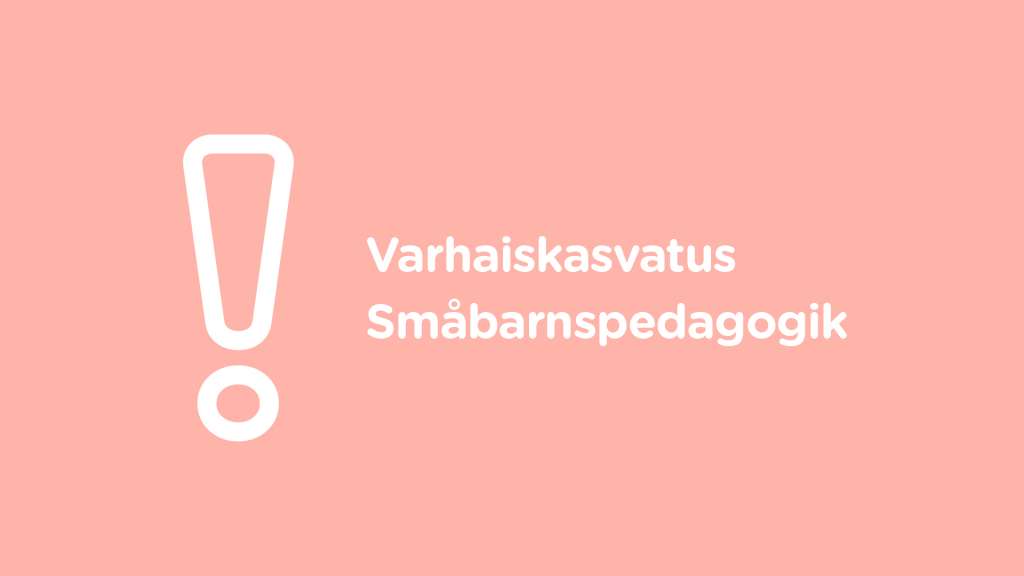 Article categories: News
Early childhood education returns to normal on 14 May: we ensure that early childhood education is safe
The government has decided that early childhood education will return to normal activities from 14 May onwards. Children in Vaasa can also return to normal early childhood education and pre-school education on Thursday 14 May.
If notice was already given that the child will be absent on 14-15 May, but is now coming for care anyway, then the child's daycare centre or family daycare must be notified immediately.
The aim is to ensure that early childhood education is arranged as safely as possible so that the risk of infection is minimised. Vaasa daycare centres and family daycare facilities observe the following guidelines given for organisers of early childhood education which have been prepared by the Finnish Institute for Health and Welfare (THL) and the Ministry of Education and Culture:
1. Do not go to early childhood education when ill
The coronavirus causes a respiratory infection, which may include the following symptoms: a cough, sore throat, fever, shortness of breath, muscle aches, abdominal pains and a headache.
No child or adult should enter an early childhood education centre if they have any symptoms suggestive of illness.
If a child becomes ill during the day, the symptomatic child will be immediately transferred to a separate room to wait for the parent under adult supervision.
2. Risk groups taken into account
Cases of severe coronavirus are very rare in children and the risk of severe cases has not risen in healthy children and adolescents or those whose underlying health condition is under therapeutic control. In the case of a child or a family member with a severe underlying condition or who needs regular medication that compromises defence mechanisms, the attending doctor assesses whether the child can return to school or early childhood education.
For those working in schools and early childhood education, the measures are based on a risk assessment carried out by the employer. Occupational healthcare supports the employer in the risk assessment.
3. Avoid unnecessary close physical contact
Persons other than the children and early childhood education staff members should avoid staying in the early childhood education centres and the surrounding areas. Each unit establishes practices that suit their own situation the best and instructs families to act accordingly.
• Under the Assembly Act, activities in school or early childhood education and care do not constitute a general meeting or public event. The activities are not subject to any restrictions on assembly
• The regulations on group sizes and staffing sizes are in force as enacted in the legislation on early childhood education and care and on basic education.
• Besides taking care of hygiene more effectively, it is important to ensure that the child gets the closeness, safety and interaction of the adult they need in the same way as before.
• There will be no regulations on safety intervals between individuals and groups do not need to be split up; instead, spaces can be arranged more spaciously.
• Staff members in early childhood education and care should work with one and the same group of children.
• As a rule, to prevent the spread of infections, staff members should not move from one unit to another.
4. Good hand and cough hygiene prevents infections
Both children and adults should wash their hands when they come to the early childhood education centre, and before they go home.
In addition, hands are washed before eating, always when coming in from the outside, and always after sneezing or coughing, or when the hands are visibly dirty. Hands are dried with disposable paper hand towels.
The use of protective facemasks is not recommended in early childhood education and care.
5. Cleaning
The coronavirus is primarily transmitted through respiratory droplets when an infected person coughs or sneezes. It is possible that the virus is also transmitted through touch.
Coronaviruses do not remain for long periods of time in the air or on surfaces, especially at varying temperatures. No infections have been detected through objects. The cleaning instructions of the Finnish Institute of Occupational Health are followed.
For the time being, children should not bring their own toys to early childhood education centres.
6. If a coronavirus infection is detected in early childhood education and care
The physician responsible for infectious diseases in the municipality or hospital district is in charge of investigating transmission chains.
Some centres are closed during the summer
Most of the daycare centres in Vaasa have been open as usual throughout this exceptional time during the spring. The children in care account for about 22 percent of the normal number, i.e. about 750.
In the summer when the number of children decreases, some daycare centres may be closed. During the holiday period 29 June –31 July, the centres that are open are normally concentrated to only a few locations, and most of the other centres remain closed.
The City of Vaasa's open daycare centre will remain closed until the end of May and will open after the holiday break as usual in August, if the situation allows.
Published: 08.05.2020