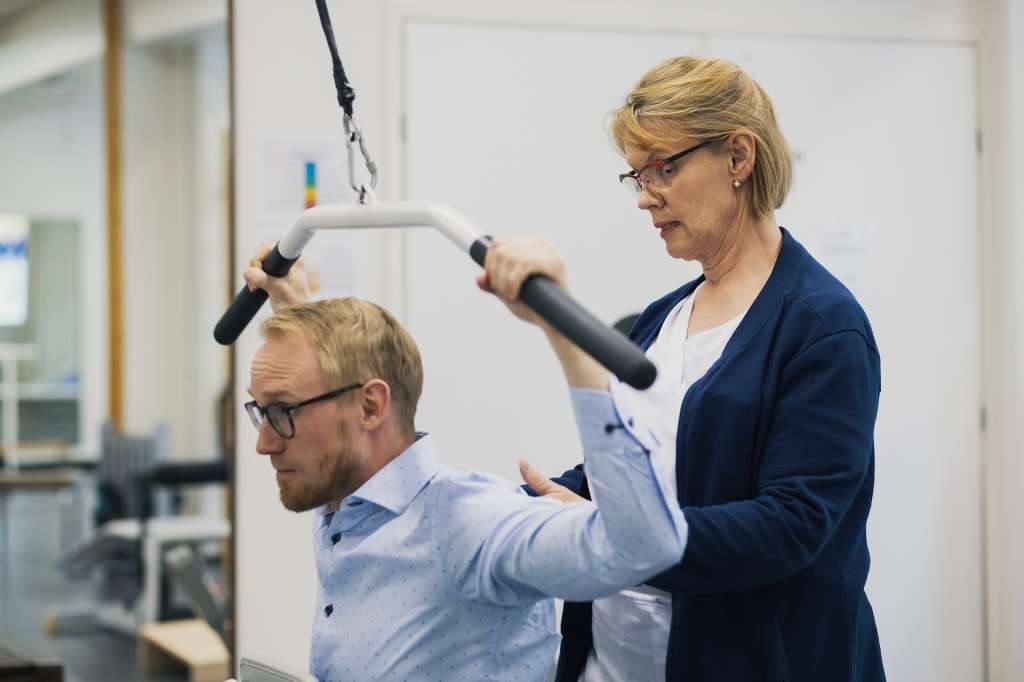 Physiotherapy
The goal of physiotherapy is to help our clients in their daily lives by promoting and improving health, mobility and functional ability.
Physiotherapy is needed when there is acute, recurrent long-term pain, as well as when there are mobility and functional problems caused by surgery, illness or various developmental delays.
Physiotherapy includes guidance and counselling, active practice independently and/or under individual or group supervision. The goals for any physiotherapy are set up together with the client and a physiotherapy plan is made. The overall aim is that the client will become motivated and activated towards self-directed training and care.
The physiotherapist's responsibilities also include mobility equipment services to support functional ability and an assessment of any changes needed in the client's living environment and home.  In addition, the physiotherapist will also write mobility and function assessments to attach to medical certificates. The work of the physiotherapist also includes specialist, consulting and training roles, as well as participation in cross-disciplinary collaboration and in guiding relatives and staff.
Read more about the work of a physiotherapist
A physiotherapist is a licensed healthcare professional with a degree in physiotherapy.
The physiotherapists at the City of Vaasa are also skilled in the following areas
The basics of the Bobath concept in physiotherapy for patients with cerebrovascular disorders.
Benign paroxysmal positional vertigo (BPPV)
CRPS and mirror therapy
Fascia training fundamentals
Fascia Tissue Treatment Level 1
Specialist physiotherapists
GAS
NDT-Bobath baby course
Kinesio taping
Kinaesthetic basic and intermediate courses
Chronic pain
Children and youngsters with MSD problems
Lymphology (screening)
McKenzie
Mental Health First Aid (MHFA)
Mulligan Basic and intermediate courses
NDT, Bobath-Therapy

NDT-Bobath baby course
Physiotherapist specialisation studies in the rehabilitation of children and adolescents

Neural tissue mobilization I and II
OMT-C-courses
The acquisition of basic skills for mobility assistance aids and personal aids
Validation
Strength in old age
Qualifications
First aid skills
Equipment and hygiene passports
Passports for archiving, data protection and privacy regarding patient data
Course on the Infectious Diseases Act and the fight against infections