Roadtrip - Vaasa for the bon vivant
Would you like to spend your holiday somewhere calm, enjoying long dinners and having conversations with people you know and don't know? Roadtrip 3 is suited for those who seek stories and enjoy a relaxed environment. The longer you stay, the deeper you dive into the unique feel of the Vasa region.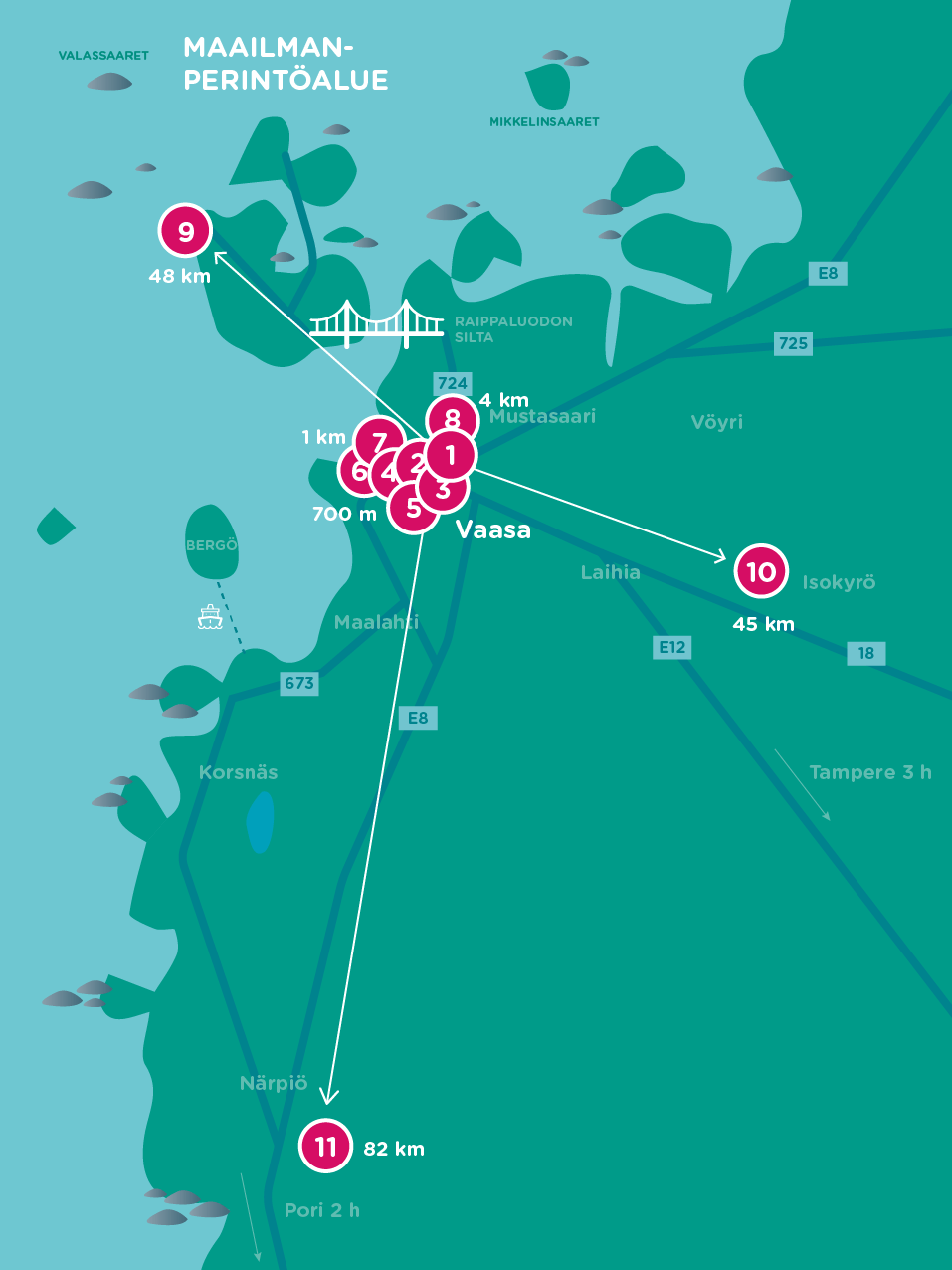 1. Accommodation
The charming hotel Astor is located in the middle of Vasa. The hotel is privately owned and very classy with 49 rooms, all individually furnished. And along with finish tradition, many rooms are equipped with a sauna (superior-rooms).
Näytä tämä julkaisu Instagramissa.
2. Shopping: Rewell and Espen
Espen is the new mall in Vaasa, it combines shopping restaurants and cafés with entertainment services, all under the same beautiful roof.
The biggest mall in Ostrobothnia, Rewell offers the possibilities for versatile shopping, services and events in the heart of Vaasa.
Näytä tämä julkaisu Instagramissa.
3. Vaasa Market Hall
Nothing beats the feeling of the market hall. Stop by for coffee, lunch, buy a picnic for takeaway or get some souvenirs to bring home.
Näytä tämä julkaisu Instagramissa.
4. Restaurant block
Start your journey by heading towards the beach on Hovioikeudenpuistikko. You will walk by no less than 11 different restaurants in about 150 meters of walking. Many believe that Marco polos pizzas are the best in the country whilst Aroma have officially been recognized as the best bakery in Finland. 1h+k is also definitely worth a visit.
Näytä tämä julkaisu Instagramissa.
5. "Kalaranta" harbour
The area has been restored to its former glory and is nowadays a popular meeting place for locals and tourists. At the restaurants nearby; Hejm, Fiskdisken and Faros, we recommend you try the fish but there is something for everyone.
Näytä tämä julkaisu Instagramissa.
6. Inner harbour
Kuntsi's museum for modern art, the inner harbor terrace and restaurant Strampen offer activities for the entire day. Do not forget to admire the beautiful sea view and the pleasant environment of the beach.
Näytä tämä julkaisu Instagramissa.
7. Archipelago cruise to Jannes Saloon
In the summer, we recommend you hop on a boat for an archipelago cruise. M/S Tiira departs from the inner harbor and makes a stop at Jannes saloon in Kuusisaari.
8. Bock's Corner Brewery
This brewery has been brought to life after a long break. And is more alive now than ever! Their events attract visitors from all around the world.
Näytä tämä julkaisu Instagramissa.
9. Kvarken Brewery
In Kvarken Brewery, you can taste the small-scale brewery's beer surrounded by the world heritage site. 
Näytä tämä julkaisu Instagramissa.
10. Kyrö Distillery Company
Have you tasted the best Gin in the world? On the distillery tour, you get a sneak peek behind the scenes and get to hear the best stories.
11. Lind's Kök
Have you ever had lunch in a greenhouse? Lind's kök offers tasty food in a venue like no other. Get fresh strawberries for dessert from the garden.