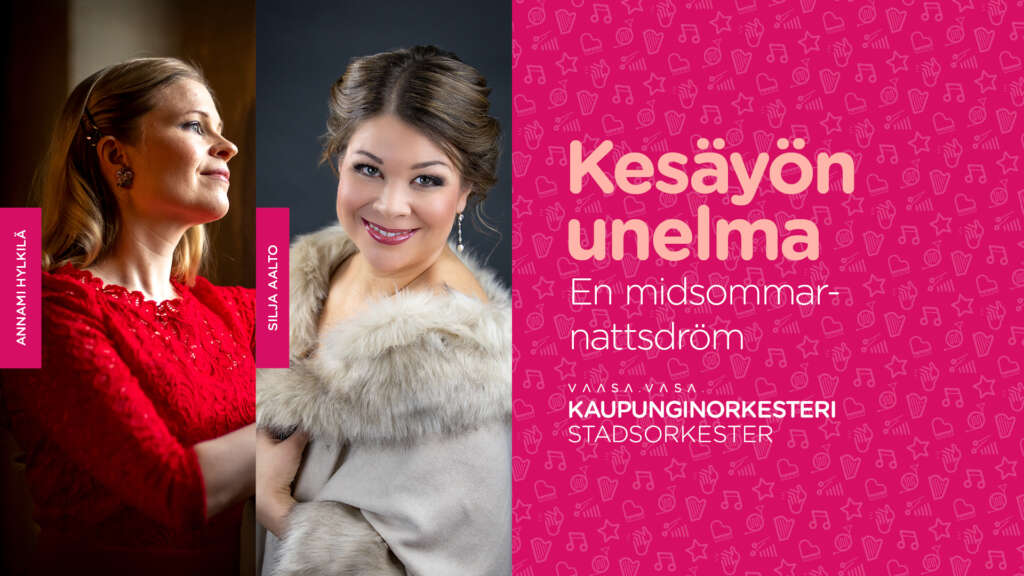 A Midsummer Night's Dream
THU 8.9.2022 at 19.00 VAASA CITY CHURCH
Vaasa City Orchestra
con. Tomas Djupsjöbacka
sol. Annami Hylkilä, soprano; Silja Aalto, soprano
Ladies of the Vaasa Opera Choir, the choir coached by Kirsi Tuukkari
narrator: Nicke Lignell
Felix Mendelssohn (1809-1847): A Midsummer Night's Dream, op. 21/61
William Shakespeare's comedy A Midsummer Night's Dream took on a perfect musical form in the hands of Felix Mendelssohn. The play's music is full of familiar melodies and it is crowned by the beloved wedding march. Nicke Lignell, who narrates the concert in Finnish and Swedish, takes us into the twists and turns of the magical story. The Vaasa City Orchestra, led by its chief conductor Tomas Djupsjöbacka, still returns to the atmosphere of summer in the opening concert of the season and enjoys its afterglow to the fullest.
Fifth act, first scene:
Theseus:
Say, what abridgement have you for this evening?
What masque? What Music? How shall we beguile the lazy time, if not with some delight?
Joy, gentle friends
Joy and fresh days of love!
Accompany your hearts!
30 € Basic ticket
25 € Pensioners, unemployed, Vaasa city employees
10 € Students, children
* we reserve the right for changes*