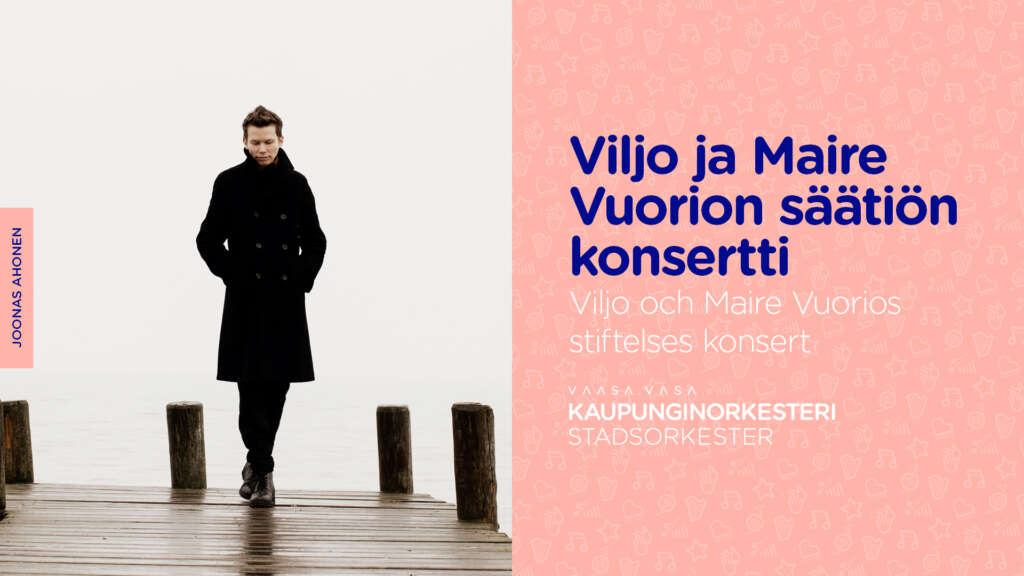 Concert of Viljo and Maire Vuorio Foundation
THU 6.10.2022 at 19.00 VAASA CITY HALL
Vaasa City Orchestra
con. Tomas Djupsjöbacka
sol. Joonas Ahonen, piano
Clara Schumann: 4 pièces caractéristiques (1836) (arr. George Morton)
Robert Schumann: Piano concerto in a minor, op. 54
Ludwig van Beethoven: Symfoni nr 5 c-moll op. 67, "Fate"
Robert Schumann compared the Symphony of Fate by Beethoven to the power of nature, and with the help of the work, wars have been won and faith for the future has been created in the midst of difficult times.
In the Vuorio Foundation's traditional autumn concert, we hear as a soloist Joonas Ahonen, who is making a career stationed in Vienna and in whose hands Schumann's piano concerto will be monumentally effective. Clara Schumann's short character pieces sound like glittering high-class pearls in orchestral versions.
In cooperation with Viljo and Maire Vuorio foundation.
30 € Basic ticket
25 € Pensioners, unemployed, Vaasa city employees
10 € Students, children
* we reserve the right for changes*