Roadtrip - The best of Vaasa
Along the roadtrip The best of Vaasa we have gathered sights which reveal why we, living in the Vaasa region, are so proud of our home. By visiting these places, you will get a glimpse at the experiences in the archipelago, the relaxing atmosphere of the region as well as the impressive landscape. And in case you are staying a bit longer, or if you are already familiar with the region, these places always offer new things to see and experience.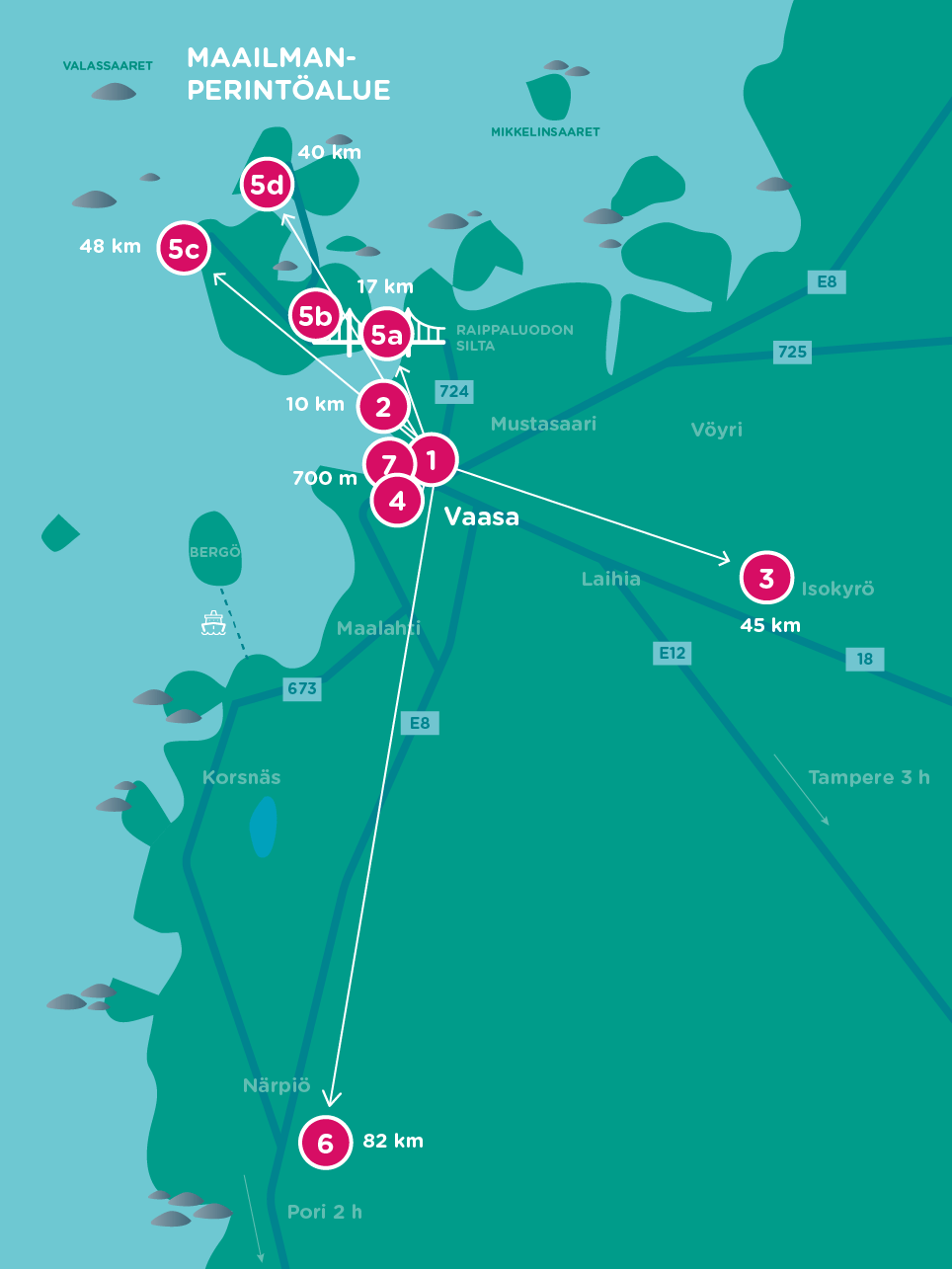 1. Stay comfortably within the city center
The hotels in the city center are located close to all of the services the town has to offer. Explore and enjoy the city and the sea by foot or see what the rest of the region has to offer. The car is easy to arrive with and park at the hotels, seeing as parking spaces are often located close to the hotels.
Original Sokos Hotel Vaakuna Vaasa
Scandic Vaasa
Näytä tämä julkaisu Instagramissa.
2. Strömsö
Strömsö really exists, and it does so in Vaasa. Strömsö is famous because of the Tv-show that is broadcasted from there. Attend a guided tour or visit the beach nearby.
Näytä tämä julkaisu Instagramissa.
3. Kyrö Distillery Company
Have you tasted the best Gin in the world? On the distillery tour, you get a sneak peek behind the scenes and get to hear the best stories.
4. "Kalaranta" harbour
The area has been restored to its former glory and is nowadays a popular meeting place for locals and tourists. At the restaurants nearby; Hejm, fiskdisken and Faros we recommend you try the fish but there is something for everyone.
Näytä tämä julkaisu Instagramissa.
5. The gems of the world heritage site
A must for anyone visiting or living in the Vaasa region! Nature, the archipelago lifestyle, fun and in the very center of it all: the sea. By driving to the island, you will be crossing the longest bridge in Finland.
5a. The Replot bridge
5b. Kvarken Brewery – Gastropub & Pizzeria
5c. Kvarken Brewery 
5d. Observation tower Saltkaret ja Café & Restaurant Salteriet
Näytä tämä julkaisu Instagramissa.
6. Lind's Kök
Have you ever had lunch in a greenhouse? Lind's kök offers tasty food in a venue like no other. Get fresh strawberries for dessert from the garden.
7. Restaurant block
Start your journey by heading towards the beach on Hovioikeudenpuistikko. You will walk by no less than 11 different restaurants in about 150 meters of walking. Many believe that Marco o polos pizzas are the best in the country whilst Aroma have officially been recognized as the best bakery in Finland. 1h+k is also definitely worth a visit.
Näytä tämä julkaisu Instagramissa.