Roadtrip - Vaasa for families
Roadtrip 2 is especially well suited for families with children and the one who still enjoy an adventure filled with activities. The destinations, easily reachable by car, are filled with joy, life and the wonders of nature, and places where putting the energy, built up in the time spent on the road, to good use is easy and encouraged.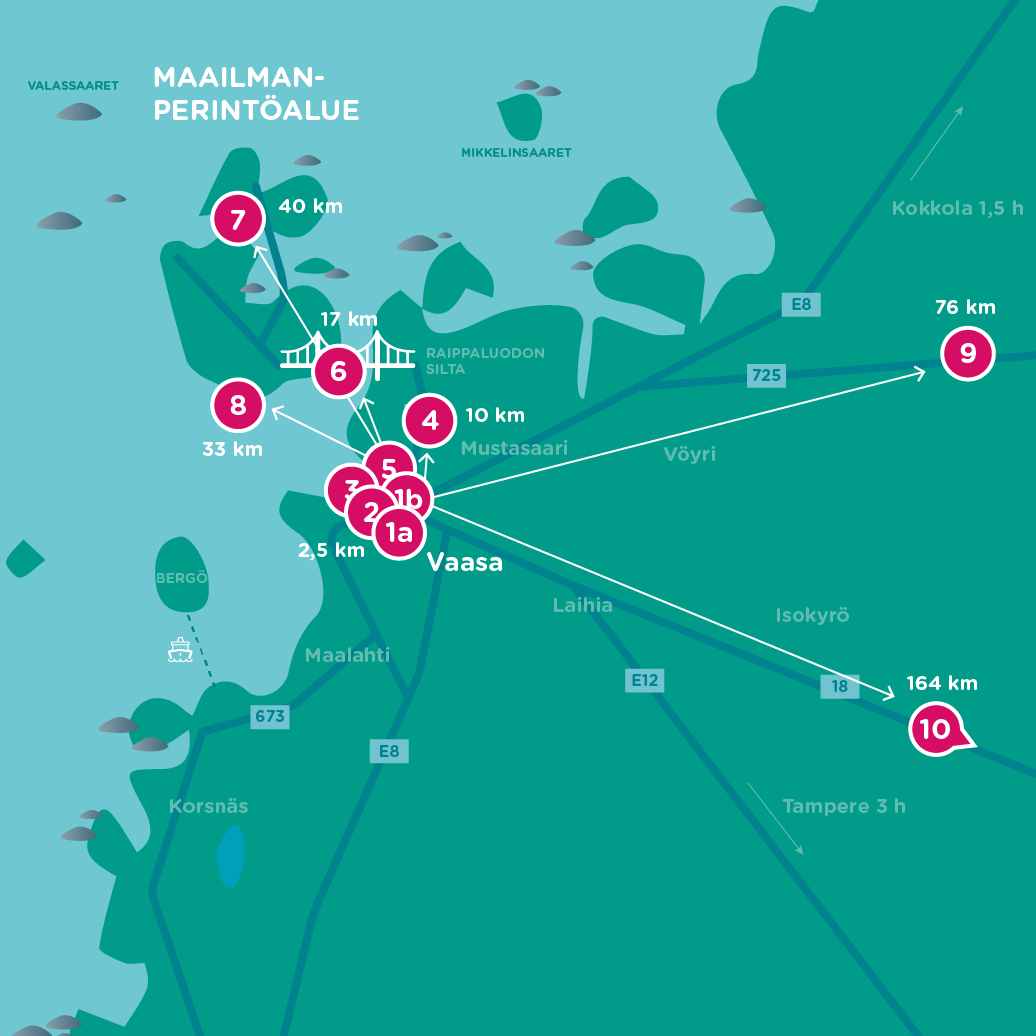 1. Accommodation
Scandic Waskia right next to Tropiclandia and Original Sokos Hotel Royal Vaasa in the city center are both perfectly suited for families. Family friendly service is guaranteed!
1a. Scandic Waskia
1b. Original Sokos Hotel Royal Vaasa
2. Tropiclandia
Located near the city center Tropiclandia is a waterpark where you can swim and have a blast both in- and outdoors, which means fun is available in all weather conditions.
Näytä tämä julkaisu Instagramissa.
3. Zip Adventure Park
It is time for some adventure in your life! An obstacle course up in the trees to challenge yourself and enjoy the thrill as well as the view. Suitable for all ages.
Näytä tämä julkaisu Instagramissa.
4.  Beaches
Within a three-kilometer radius of the city center, you can find seven different beaches and there are plenty more in the region. Karperö beach is located outside the city and is perfectly suited for families with children and those travelling by car.
5. Playgrounds
The ultimate day for families with children is spent moving from one playground to the other. There are many lovely playgrounds in Vaasa but the Action park in onkilahti is many peoples favorite. Climbing in the pirate ship is fun for the whole family.
6. Replot bridge, the world heritage gate and Berny's
The longest bridge in Finland is the arrival to the world heritage gate, here you can find fascinating information about the nature, history and services of the world heritage site. Restaurant Berny's serves delicious food with an amazing sea-view.
Näytä tämä julkaisu Instagramissa.
7. Saltkaret ja Salteriet
Saltkaret is a observation tower; at the top, the view of the world heritage site is second to none. Take a hike on one of the nature trails in the nearby area, go for a long hike, grill some sausage on an open fire and don't forget to leave your greeting in the guestbook. Salteriet is located in the Svedjehamn harbor, right next to the parking lot, stop by for coffee or lunch.
Näytä tämä julkaisu Instagramissa.
8. Aava Kertun kotitila – Farm
At Aava Kertus' home farm you can find more common and less common pets. This one is a guaranteed favorite for the children.
Näytä tämä julkaisu Instagramissa.
9. PowerPark
In Powerpark funland visitors only have on task, having fun! Having fun is easy since you can arrive here in one hour with car from Vaasa and there is plenty of parking spots to leave the car whilst you are off having fun in the amusement park.
Näytä tämä julkaisu Instagramissa.
10. Ähtäri Zoo
You can see Giant pandas in only 48 locations outside of China. Two of which have found their home in Ähtäri. In addition to the pandas you can find 60 other species and plenty other fun activities here.
Näytä tämä julkaisu Instagramissa.