Johnson Matthey chose Vaasa for sustainable battery materials plant
19.04.2021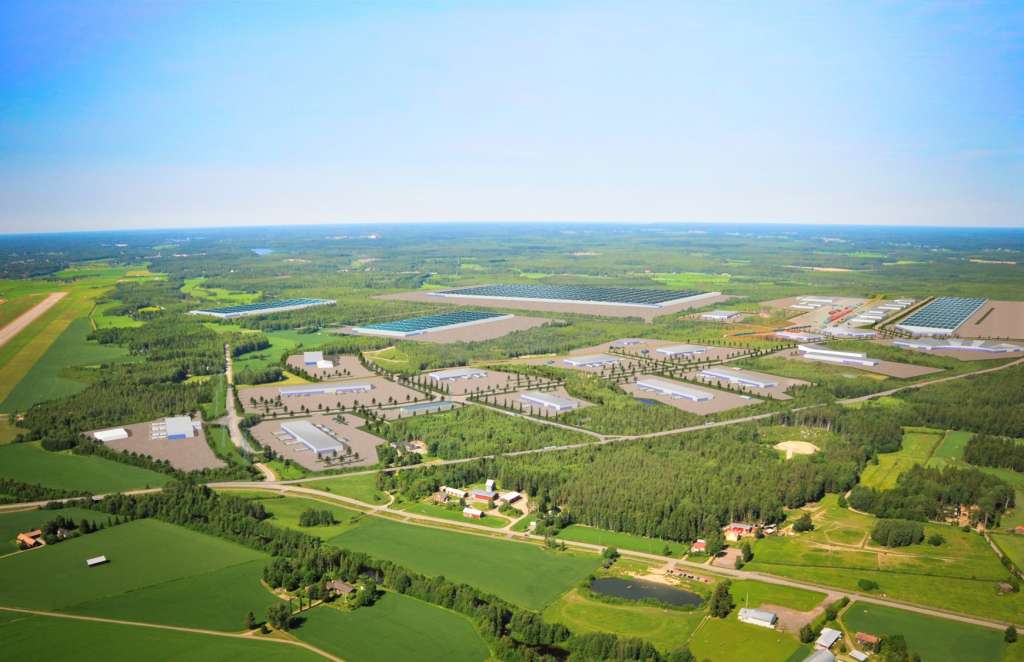 The City of Vaasa and Johnson Matthey have signed a Common Letter of Intent on 2 April 2021. The front-end engineering design for the battery value chain operator Johnson Matthey's commercial plant in Vaasa has begun. The plant is planned to be in operation in 2024.  
Regarding Johnson Matthey's press release today, we are happy to announce that the front-end engineering design for the battery value chain operator Johnson Matthey's commercial plant in Vaasa has begun.
The City of Vaasa and Johnson Matthey have signed a Common Letter of Intent on 2 April 2021. Contract details are to be finalized by the end of 2021. The reservation concerns approximately 50 ha plot situated in Vaasa. The plant is planned to be in operation in 2024.
– We are pleased to announce our plant will be located in Vaasa – a region that aims to create an ecosystem of sustainable technologies. Vaasa has a favourable battery materials ecosystem, offering reliable access to renewable energy, sustainable raw materials and proximity to major European automotive OEM and cell manufacturers, commented Robert MacLeod, CEO of Johnson Matthey.
Finnish Minerals Group is planning investments to develop auxiliary processes needed in the production of battery materials production. These investments are linked to Johnson Matthey's investment in Vaasa. Finnish Minerals Group aims to develop and deploy novel technological solutions for treating sodium sulphate at a production scale, as well as implement production of selected metallic raw materials.
– We have had very close and effective cooperation with Johnson Matthey. We share common values and ambitions for a sustainable future. This is a positive next step, we continue to develop this whole area in co-creation with all stakeholders, Finnish Minerals Group, and naturally other potential battery value chain actors, says Tomas Häyry, Mayor of Vaasa.
– This is excellent news, not only for our energy cluster, but also for the region as a whole. We have a strong competence in the area of sustainable technology solutions and sustainable logistics arrangements. In Vaasa, we have the possibility to develop the greenest battery value chain in the world. It is very valuable for Finland to get this activity to Vaasa, says Häyry.
– Johnson Matthey's decision to plan battery material production investment to Vaasa, Finland together with Finnish battery ecosystem aligns well with our national battery strategy. Our target is to become an internationally important actor in the battery and electrification sector in sustainable circular economy manner. This decision shows also that Finland can provide an attractive environment for new investments and the expansion of existing operations, says Mika Lintilä, Minister of Economic Affairs, Finland.
– We warmly welcome Johnson Matthey to Vaasa, Finland and to join Finnish Battery ecosystem. The project builds on Finnish competitive business environment and on strong focus on sustainability, innovation and circular economy in line with our national battery strategy. The growth of Finnish battery cluster is expected to further accelerate innovations, sustainable economic growth, wellbeing, skills and jobs in Finland, says Markku Kivistö, Head of Cleantech, Invest in, Business Finland.
The construction of the site will begin later this year in the so-called GigaVaasa Area in Vaasa. This industrial area is dedicated for battery value chain manufacturing and offers accessible and green energy system options. The GigaVaasa industrial zone is well placed logistically, with good rail and road connections, a short distance to the harbor and an airport on its doorstep.
Over 160 energy technology companies are situated in the Vaasa region, enabling excellent collaboration opportunities, and the intensive cooperation between the energy technology hub and the local universities helps educate skilled workforce to meet the needs of the industry.
Johnson Matthey is a global leader in science that enables a cleaner and healthier world. With over 200 years of sustained commitment to innovation and technological breakthroughs, we improve the performance, function and safety of our customers' products and in 2020 we received the London Stock Exchange's Green Economy Mark, given to companies that derive more than 50% of revenues from environmental solutions. Our science has a global impact in areas such as low emission transport, pharmaceuticals, chemical processing and making the most efficient use of the planet's natural resources. Today more than 15,000 Johnson Matthey professionals collaborate with our network of customers and partners to make a real difference to the world around us. For more information, visit www.matthey.com 
New date for EnergyWeek and 2021 EnergyVaasa talks concept
22.10.2020
EnergyVaasa Talks webinars introduce energy themes throughout year 2021 
The organizers of EnergyWeek, the international high-end energy business event, will launch a new energy webinar series EnergyVaasa Talks in January 2021. The webinar series spans the entire year 2021, and the themes of the webinars are broadly related to energy technology. 
EnergyWeek 2020 was one of the first major events that had to be moved to a later date due to the coronavirus pandemic. More than 4,500 visitors from nearly 30 different countries visit EnergyWeek each year, and the program includes a lot of meetings and encounters, which is why the organizing of the event and a new date have been considered specifically from a security perspective. 
EnergyVaasa Communications & Brand Manager Kristoffer Jansson, who coordinates EnergyWeek, has been planning the next EnergyWeek together with the other organizers during October. Based on feedback received from exhibitors, organizing the event in the familiar format was not considered possible during 2021. 
By contrast, organizing EnergyWeek in the spring of 2022 in the form of an extensive seminar and networking event was seen as a realistic option. The organizers decided therefore to arrange the next traditional EnergyWeek on 21–24 March 2022, with over 100 speakers at more than 20 different seminars. 
In 2021, the EnergyWeek organizing bodies (more than 30 organizations) are planning to launch a webinar series called EnergyVaasa Talks that will help tune in to the EnergyWeek atmosphere throughout the whole year. The first webinars, free of charge and open to everyone, will take place as early as in January, and more detailed information on the content and speakers of the first webinars will be released during November and December. 
– Of course, the safety of participants and organizers is the most important thing in this situation. Therefore, EnergyWeek's partners and organizing bodies are committed to organizing the best possible online events during 2021. EnergyWeek's program will be held in smaller chunks as EnergyVaasa Talks webinars throughout the year, Jansson says.  
– Our focus is not only on the EnergyVaasa Talks webinar series, but also on March 2022, when you can spend a full-scale EnergyWeek in Vaasa. The familiar high-end energy event will be back, a little later than we originally thought back in March 2020, but renewed, stronger, and more diverse than ever, Jansson assures. 
EnergyVaasa Talks 
Online events open to everyone, free of charge, in English

 
Organized by EnergyWeek's organizing bodies and partners (30 organizations)

 

First webinars are

planned to be held in January, the series goes on throughout 2021

 
EnergyWeek 
Annual, international energy technology event

 

Gap years in 2020 and 2021 due to the coronavirus situation

 
4.600 visitors expected in Vaasa on 21–24 March 2022

 

Over 20 seminars in English in four days

 

Over 100 speakers

 

Evolved from a seminar week to become also a networking and expert event