Bergö – A trip almost abroad
Even though the island of Bergö is located only a 10-minute ferry ride away from the shore, the atmosphere there is like from another world. The monument dedicated for people lost in the seas that stands in the churchyard shows what the culture in Bergö is all about. The sea is present all around. This is where people have always departed from and arrived to. The Finnish, Swedish and American cultures blend in with the rest of the world in a way that makes a tourist feel like they are abroad, no matter how far or close they have come from.
Näytä tämä julkaisu Instagramissa.
It is worth making the trip to Bergö plainly for the atmosphere. The unique architectural style attracts fans of small details. The dominating language in Bergö is Swedish that is spoken in such a strong dialact that even many Swedish speaking people struggle to understand, not to mention the Finnish speakers. Getting your hands in a copy of the Bergö dialect dictionary might be helpful in reading the roadmaps and getting around but thanks to the long international traditions of the island, a common language will surely be found and all visitors are welcomed with open arms.
Besides the atmosphere, there is a lot more to explore in Bergö. To find more information about visiting destinations, restaurants and activities, go to www.bergö.fi.
Your adventure to Bergö:
Take the Ferry from mainland to Bergö (more information about the ferry and timetables at https://www.finferries.fi/sv/farjetrafik/farjplatserna-och-tidtabellerna/bergo.html)
Drop by the restaurant Strand Mölle and grab a meal to go. The local perch and the seabuckthorn delicacy are perfect for a picnic by the sea. 

Start exploring Bergö by the churchyard. Take pictures of the nicest places in the barren archipelago nature. 

Find the most ridiculous sounding street name written in dialect and capture it in a snapshot for a fun memory. 

Along the 8km long Granö hiking route, you can find nice resting places and learn about the island's nature and culture.
Test in which language you and the people of Bergö best understand each other. It is easy to find someone to talk to, for example in local shops and cafés. Make a visit at the local shop Bergö Ahl, buy souvenirs from the shop Blom och Presentbodenor from the cafe & shop Bergö Cafe och Hantverk. You will surely find material for interesting stories in Mad(d)e in Bergö, which manufactures and sells fish skin products.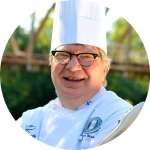 As your travel guide in Bergö, Raymond Wesander, his tips will help you to find Bergö´s most unique gems.

Text published 22.5.2020.