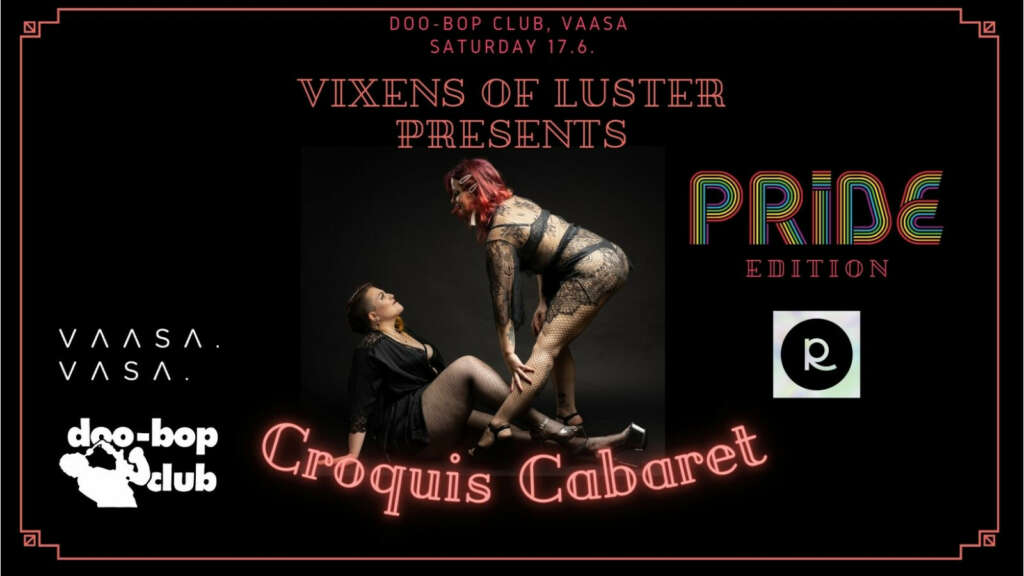 Croquis Cabaret - Pride edition
Article categories: Music Theatre
Kom och spendera ett par roliga och interaktiva timmar på Doo-Bop Club 17.6.!
Välkomna att åter spendera en kväll i konstens och burleskens tecken! Burleskduon Vixens of Luster har denna gång slagit ihop sina krafter med Regnbågsallians för att fira Vasas Pridevecka och skapa ett oförglömligt Croquis Cabaret med detta tema, lördagen den 17.6.
Kom och spendera ett par roliga och interaktiva timmar på Doo-Bop Club tillsammans med en vän, en dejt, eller varför inte jobbgänget. Croquis Cabaret kombinerar modellteckning med scenkonst. Efter att artisterna uppträtt med sina nummer lämnar de kvar på scenen i olika poser, så att publiken får rita av dem. Man måste inte rita – men om man vill försöka så sker det med låg tröskel och alla nivåer är välkomna – såväl stickfigurer som realism!
En del papper och pennor kommer att finnas på plats för utlåning – men om ni vet att ni vill rita så ta gärna med eget material!
Kvällens artister kommer att avslöjas så småningom!
Biljetterna säljs enbart i dörren och går ej att förhandsboka denna gång. Normalpris är 10€, med rabatterat pris på 5€ för Setas medlemmar (Regnbågsallians, Vasa Seta, Lakeuden Sateenkari, o.s.v.).
Dörrarna till klubben öppnar klockan 19:00, och programmet startar klockan 20:00. Programmet tar ungefär två timmar, och åldersgränsen är 18 år. Doo-Bops bar är öppen under kvällen, ifall man vill avnjuta ett glas bubbligt medan man låter sig underhållas av showen samtidigt som man skapar egen konst.
Vi önskar skapa ett tryggt utrymme för såväl gäster som artister. Vi tolererar ingen diskriminering eller trakasserier på våra evenemang. Ifall ni upplever trakasserier, tveka inte att kontakta personal och säkerhetsvakt på plats!
Vi ber våra gäster att endast komma till platsen om de är friska, och att bruka god handhygien.
Vi vill tacka Vasa Stad samt The Doo-Bop Club för stödet vi fått för detta evenemang!