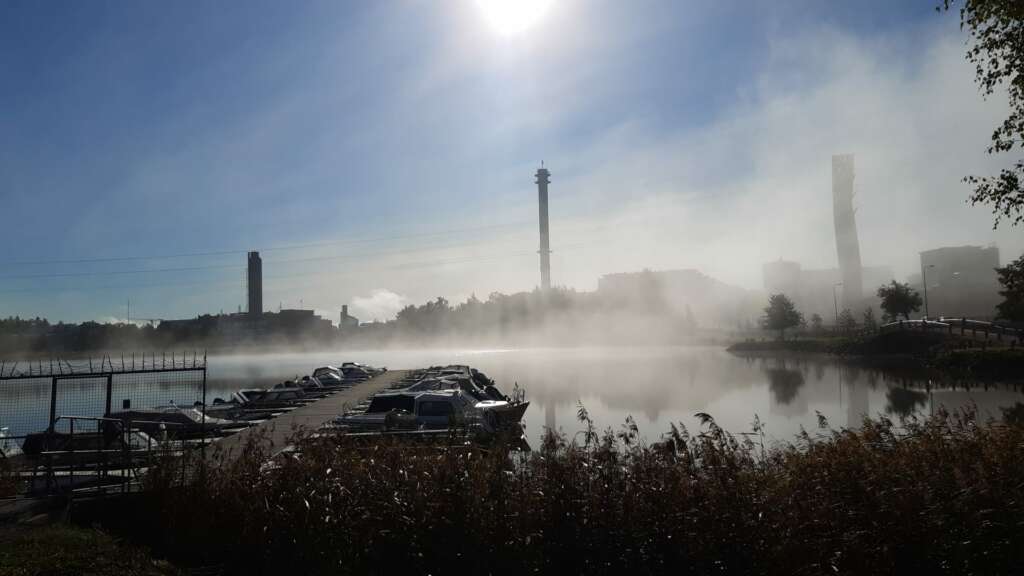 Berths and berth reservation
The City of Vaasa rents and maintains berths for small boats along the shores of the city waterfront area, Vaskiluoto, Palosaari, Vikinga, Isolahti, Gerby and Sundom. Berths for larger boats to rent can be found at the Inner Harbour.
The city also offers free winter storage as well as year-round storage for boats. The boating season starts on 1 May and ends 31 October.
The winter storage season for boats starts on 1 September and ends 1 June.
Notify about a change of address or cancellation of a berth!
Berthing fees and invoicing
Anyone who has paid for a previous season's berth will automatically be sent a new invoice during March. By paying the invoice by the due date, the tenant will secure the berth for the upcoming rental period. At the same time, the tenant undertakes to abide by the applicable leasing terms of the berths. Unpaid berths are immediately available for rental.
Invoices that are sent with incorrect address information often do not reach the holder of the berth, which assumes that the location is no longer wanted. That is why it is very important to report any change of address either by calling +358 6 325 4034 or by sending an email to venepaikat@vaasa.fi.
Vaasa marina maps
CENTRAL AREA – CITY CENTRE
Prison Basin, Prison Basin Marina Berths (map)
Kruunu Magazine, Kruunu Magazine Marina Berths (map)
Inner Harbour –Kuntsi, Inner harbour Berths (map)
Hietasaari,  Hietasaari Marina Berths (map)
Kasarminkatu Basin, Kasarminkatu Marina Berths (map)
ONKILAHTI-PALOSAARI
Onkilahti Marina,  Onkilahti Marina Berths (map)
Palosaari Sound, Palosaari North Marina Berths (map)
Tervahovi, Palosaari East Marina Berths (map)
Mansikkasaari, Palosaari Mansikkasaari Marina Berths (map)
Kulmakatu, Kulmakatu Marina Berths (map)
Järvikatu, Järvikatu Marina Berths (map)
TOWARDS SUNDOM
Kutteri Marina,  Kutteri Marina Berths (map)
Kronvik Marina, Kronvik Marina Berths (map)
Västeröver Marina,  Västeröver Marina Berths (map)
Långskär Marina,  Långskär Marina Berths (map)
VAASA NORTH
Vikinga Marina, Viikinga Marina berths (map)
Gerby Marina, Gerby Marina berths (map)
Isolahti, Isolahti Marina berths (map)
Reserving berths and browsing the Timmi booking system
Through the online booking service, you can reserve a berth and pay for it online.
You can access the booking service at https://varaus.vaasa.fi/WebTimmi/#/22
Vacant berths can be viewed without logging in, simply by clicking on the 'Browse without logging in' button. You can search for berths by area, harbour or berthing type.
The advantage of using electronic services is that you can take care of berths at your convenience, at any time of the day.
To make a reservation or to process information about your existing reservation, you must first log in to the Timmi system using your personal bank identification codes.
Payment of reservations in the Timmi system
Through the online reservation service, Timmi, you can browse for vacant berths and pay for berths online. Making a reservation requires you to log into the service using your personal bank identification codes.
Authentication: https://varaus.vaasa.fi/WebTimmi/#/22
Rental terms and other necessary information
Privacy policy at the City of Vaasa
The application of the European Union Data Protection Regulation (GDPR) began on 25 May 2018. This will not require any action on the part of anyone registered, i.e. residents or customers of the City of Vaasa.
The most significant changes will be the more secure processing of the registered data and the improved rights of the data subjects.
The new privacy setting can be found via the link below.
https://eur-lex.europa.eu/legal-content/FI/TXT/?qid=1528874672298&uri=CELEX%3A02016R0679-20160504
Privacy Statement For City of Vaasa Berths can be found at Privacy Statement, Berths

Price list
The price of a berth is determined by the width of the dock and the services at the marina. Facilities include a security gate, water hydrant and boat moorings. Berths at the Inner Harbour (by the Kuntsi Museum) are determined by the length of the vessel.
Basic berthing fees (inc VAT 24 %)
Fixed dock
Buoy place
€176 width 2.5 m – 2.7 m
€226 width 3 m
Pole place
Cable place
Floating dock
Berths with mooring fingers
€190 width 2.5 m
€226 width 2.9 m
€246 width 3 m
€285 width 3.5 m
Buoy place
Additional berthing fees based on service
€7 security gate
€6 water hydrant
€24 boat side mooring, wide berth
Boat handling transaction fees
€100 transfer cost in the city area
€45 storage cost
actual cleaning costs
In the autumn season 1 August- 31 October, a reduced price of -50% is valid. Waste management and lighting can be found in each marina.
Guest Moorings
The city has five guest moorings with buoys in the Inner Harbor. Buoy places are 3 meters wide and can hold a boat for up to 12 hours. Guest moorings on the map.
Winter storage areas for boats
The City of Vaasa has winter storage areas, for three different boat sizes, which can be found at ten different locations (under development spring-summer 2021).
The winter storage areas are located in Gerby, Isolahti, Vikinga, Kulmakatu, Mansikkasaari, Kutterisatama, Kruununmakasiini and Korkeamäki. In addition, there are winter storage spaces for boats by the Palosaari Strait and in the Vapaudentie area. Boats may no longer be stored along fire alleys.
The winter storage season for boats starts on 1 September and ends on 1 June. A winter storage space for a boat can be reserved from 1 August 2021 (more information will be available later). Those who have paid a winter storage fee for a boat will receive a winter storage sign that must be visibly attached to a boat, boat cradle, or storage trailer while being stored.
Storage fees/ Winter season:
69 € width 2.5m
179 € width 3.5m
259 € width 4.5m
Terms and conditions for the use of boat storage spaces
Maps of winter storage areas for boats
Korkeamäki
Kruunumakasiini
Huvilatie
Kulmakatu
Mansikkasaari
Vapaudentie
Kutterisatama
Tervaleppäsuontie