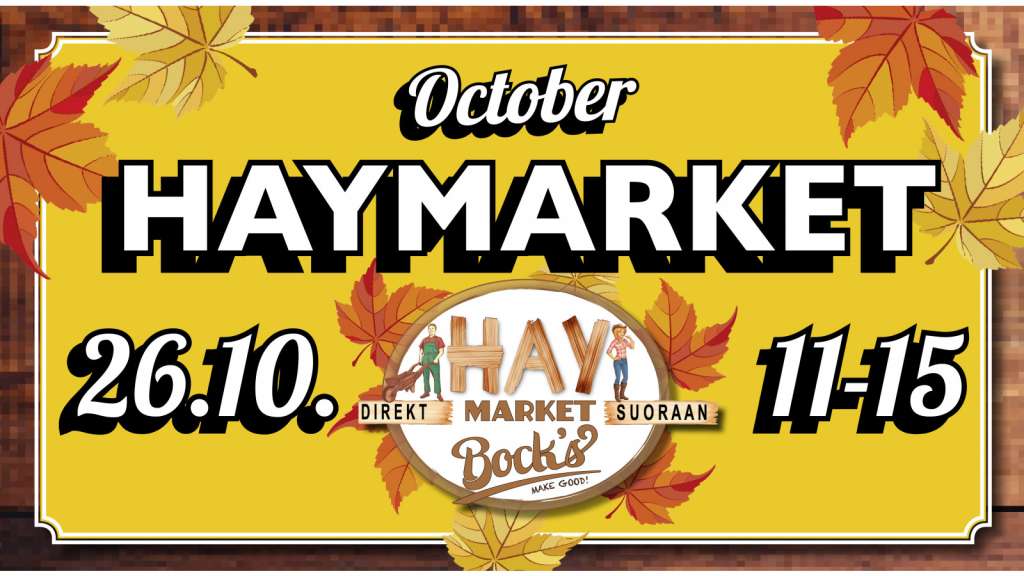 Haymarket
Article categories: Auctions & Market Days
Farmers market for the whole family
Welcome with your whole family to enjoy your time at this cosy Halloween themed Haymarket! Haymarket consists of the premium local producers, selling their premium products ranging from meats to veggies, talentfully prepared breads and bakery products as well as beautiful handicrafts! Welcome to enjoy your day and meet our local producers!
PROGRAM:
– 11-15 Haymarket Autumn Halloween Lunch. 14,50 €, under 12 years for half price, under 4 years for free.
– Mini play station for kids
– "Welcome to grandmothers home" Art Exhibition by Ilkka Iijalainen www.facebook.com/events/2493344670709151/
– Bock's Shop&Café is open, where you can find our broad beer assortment (beer on bottle and in kegs) as well as the city's freshest coffee, to give you the nicest morning moments! From the Café you will find our selection of coffees as well as sweet bakery products!
– Our goats and lambs will as always be happy to get some snacks and attention from kids as well as grown ups 🙂
Warmly welcome with your whole family to enjoy your day at Haymarket!