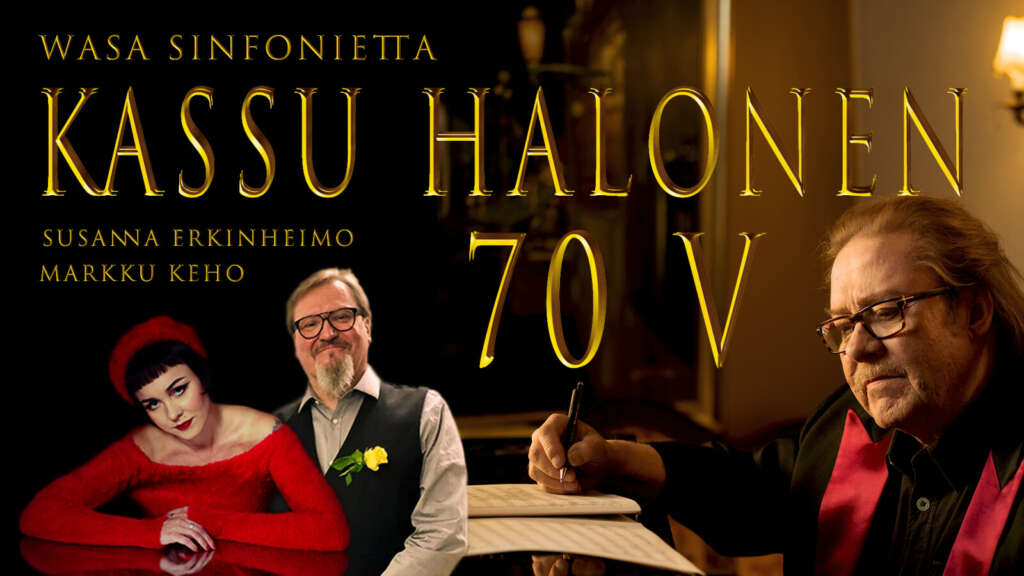 Kassu Halonen 70 Years jubileumconcerts
Article categories: Music
Kassu Halonen 70 Years jubileumconcerts
Vaasa Orkesteriyhdistys ry organizes two concerts in honor of composer Kassu Halonen 70th birthday in the magnificent ballroom of Vaasa City Hall on Saturday 30 September 2023 at 15:00 and 18:00
Composer Kassu Halonen is especially known as a hit composer who has interpreted the soulscapes of Finns with numerous songs performed by, among others, Kirka, Jari Sillanpää, Irwin Goodman and Vesa-Matti Loiri and often written by Vexi Salmi. "Surun Pyyhit silmistäni", "Kaduilla Tuulee", "Oot Täydellinen" and "Pyydä Vain" are just a few examples of Halonen's hits known by the entire Finnish people, which will be heard at the jubileéconcert, interpreted by two wonderful soloists from Ostrobothnia, Sussu Erkinheimo and Markku Keho, together with Wasa Sinfonietta.
The singer Sussu Erkinheimo has a rare, wonderful and charismatic voice. Her voice has been said to sound both sad and hopeful at the same time. Sussu Erkinheimo, titled as "Piaf of Laihia", won The Voice of Finland 2022 competition.
Markku Keho is, above all, a singer who has become well-known in Vaasa rock circles over the years, with a strong interpretation, whose honest and genuine voice leaves no one cold. Markku has previously performed as a soloist of the Wasa Sinfonietta at the Christmas concert organized in support of Ukraine at the end of November 2022.
In the first half of the jubileéconcert, Kassu Halonen's latest conquest of territory will be introduced. The composer has written seven symphonies in recent years, of which Wasa Sinfonietta has the honor of premiering Kassu Halonen's Symphony No. 1 "Northern Lights". The concerts are led by conductor Ville Mankkinen.
There is an assisted entrance to the concerts if needed. We hope you will notify us in advance if you need help upon arrival at the concert.