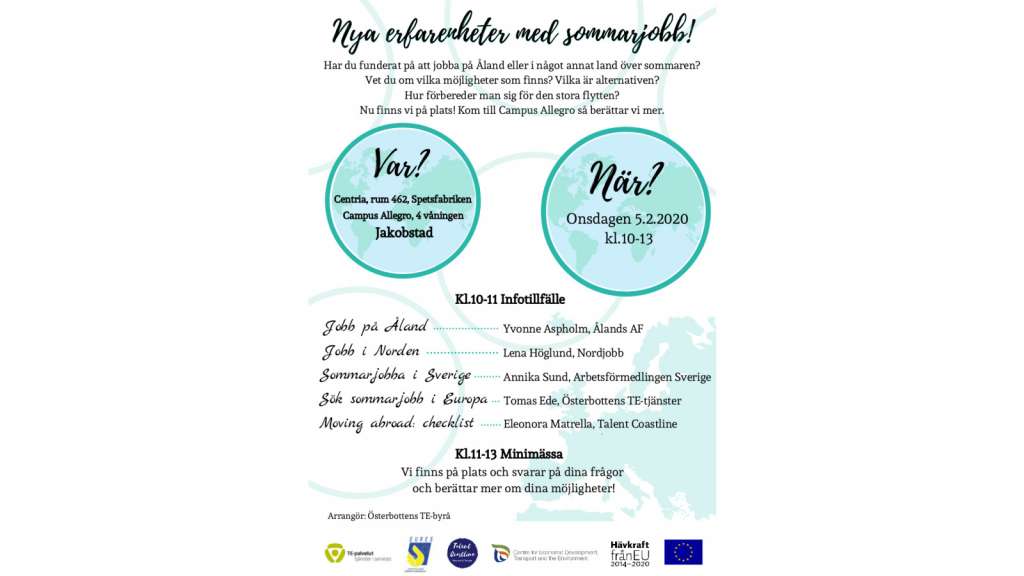 Nya erfarenheter med sommarjobb!
Article categories: Auctions & Market Days
Information om sommarjobbsmöjligheter på Åland, Sverige, Norden eller Europa
Kl.10-11 Infotillfälle
Jobb på Åland, Yvonne Aspholm, Ålands AF
Jobb i Norden, Lena Höglund, Nordjobb
Sommarjobba i Sverige, Annika Sund, Arbetsförmedlingen Sverige
Sök sommarjobb i Europa, Tomas Ede, Österbottens TE-tjänster
What to think about before the move?
Eleonora Matrella, Talent Coastline, NTM-Centralen i Österbotten
Kl.11-13 Minimässa
Vi finns på plats och svarar på dina frågor
och berättar mer om dina möjligheter!
Välkommen