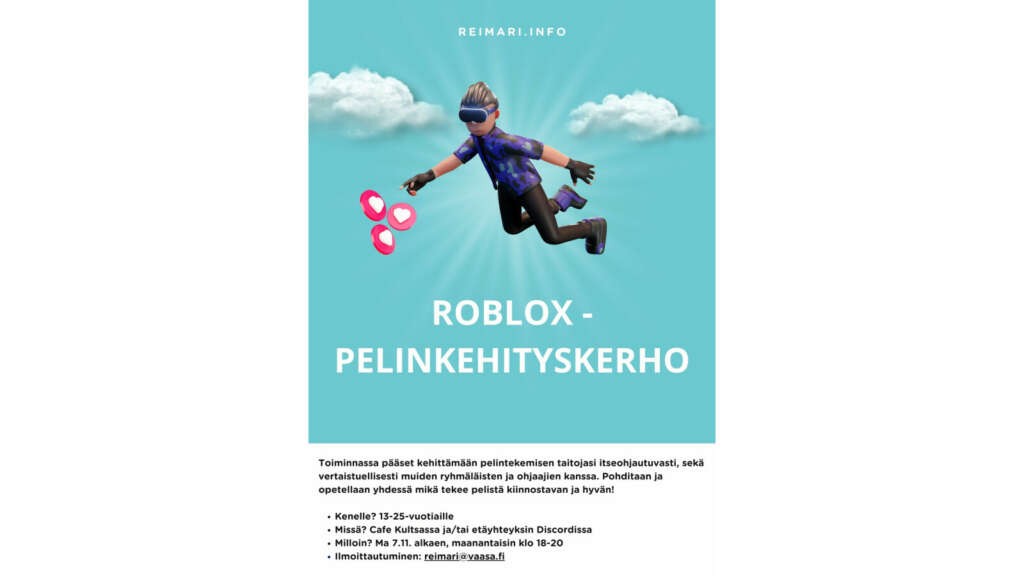 Roblox -pelinkehityskerho
Article categories: Conferences, Courses, Fairs & Seminars Music
Roblox –game development club
In the activity, you get to develop your game-making skills in a self-directed way, as well as get peer support from other group members and instructors. Let's think and learn together what makes a game interesting and good!
For whom? For youth aged 13-25 who are interested in games and game development. You don't need to have previous skills. Number of total participants: 12, places will be filled in order of registration.
Where? Cafe Kultsa, Kultsa 2nd floor, Raastuvankatu 30, 65100 Vaasa and/or remotely on Discord. When registering, indicate whether you want to participate remotely or on-site! 14.11. & 21.11. club will be held only remotely on Discord!
When? Starting on 7.11. on Mondays from 18:00 to 20:00 (12.12. is the last club meeting)
What do you need to participate? A computer (laptop if you want to participate on the spot), a mouse makes it easier to play the game. In addition to Roblox, the participant must be using the Free Discord program, either downloaded to their phone or computer. Discord is used to communicate with fellow players and instructors.
Goals of the club: Getting to know new friends, maintaining social relationships, getting to know game development, having a nice time, online behavior and learning together.
The club is directed by: Janika Kettunen and Tuukka Ullakko, social service trainees of the Youth Information and Counseling Service Reimari. Tuukka and Janika are both interested in games and game development. Tuukka has taken some courses in information technology and game development. The role of the instructors is to be present in the club and support young people, and enable a nice and safe leisure time with games and game development. The club aims to create a positive atmosphere where it is nice to do and learn together!
Registration: reimari@vaasa.fi When registering, state your name, email address, phone number, year of birth and your Discord ID. Also indicate whether you want to participate remotely or on-site! In addition, if you are a minor, we need your guardians name, email address and phone number.