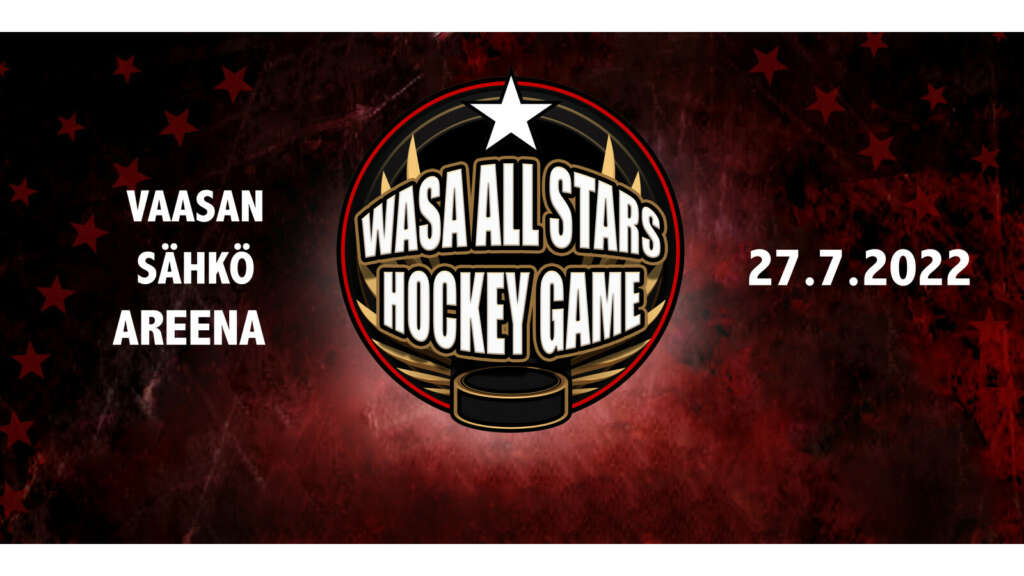 Wasa All Stars Hockey Game
Article categories: Recreation & Sports
Välgörenhetsmatch, ishockeyns världsstjärnor till Vasa i juli!
Wasa All Stars Hockey Game!
Välkomna med på välgörenhetsevenemang för hela familjen, när hockeystjärnorna kommer till Vasa Elektriska Arena 27.7.2022!
Evenemanget samlar ishockeyklubbar, finländska hockeystjärnor och nöjesvärldens toppnamn för ett gemensamt välgörenhetsevenemang.
Vinsten för välgörenhetsmatchen går till fonden som Wasa Stars har grundat för att stöda idrotten i Vasa enligt föreningens regler. Wasa Stars stöder regionens unga idrottare som har ambition att satsa på sin idrott, men har ekonomiska utmaningar, och också unga talanger från Vasa som siktar på en internationell karriär.
Kaj Kunnas och Jani Alkio fungerar som evenemangets konferencierer.
I matchen ställs West Coast Dream Team (12+) mot Globe Stars (12+1).
West Coast Dream Team
Vasas egen stjärntränare Mikko "Mamba" Manner leder laget, vars stomme består av toppspelare som alla i något skede av sin karriär har spelat i Vasa Sports spelskjorta. I laget finns också andra toppspelare, med rötterna i Österbotten eller Syd-Österbotten.
Globe Stars
I Globe Stars har vi bland annat finländska NHL-stjärnor och spelare, som har utfört stordåd i Lejonen. I laget finns också finländska hockeylegender, som redan har avslutat sin hockeykarriär. Båda lagens fylls på ännu med ytterligare spelare närmare matchen.
Bekanta dig med den imponerande spelarlistan här. (linkki pelaajajulkistuksiin)
Evenemanget bjuder på en oförglömlig hockeyupplevelse. I Fan Zone kan ni se den berömda VM-pokalen "Pojken" och kanske träffar du också Mörkö! Efter matcher fortsätter programmet på scenen vid Red Army Corner (2 vån.), där vi får se och höra Vasas egna artister Kuningas Pähkinä & Setä Tamu och The Paarma Boyz feat & Special Guests. Vi får alltså också se överraskningar på scenen, så det lönar sig att hänga med.
DAGENS PROGRAM OCH TIDTABELL
Kl. 12:00-14:30 Öppna dörrar vid Vasa Elektriska Arenas nya del, juniorer har möjlighet att bekanta sig med Vasa Elektriska Arena och testa isen, ta med skridskorna!
På eventområdet uppträder Vasas VM-silvermedaljörer i Cheerleading och du får testa Falk Hockeys ishockeyklubbor.
Vi har gratis program både på isen och i Fan Zone -området (2 vån. Mot motorvägen) som arrangeras av Junior Sport, Vasa Skrinnskoklubb, Wasa Team Skaters, Falk hockey och Team Finland Junior All Girls stuntgrupp.
Kl. 15:00 Möjlighet att träffa alla hockeyspelare som deltar i välgörenhetsmatchen och att se "Pojken"! Autograftillfället slutar kl 15:45. Wasa Stars autografkort delas ut och supporterprodukter finns till salu.
Kl. 16:00 Dörrarna till ishallen öppnas och publiken bjuds på mångsidigt program samt mat och dryck fram tills matchen börjar.
Före matchens start gratulerar Vasa Stad OS- och VM-guldcoachen Mikko "Mamba Manner" och efter gratulationerna får vi höra Vårt Land av Antti Railio.
Kl. 17:00 Välgörenhetsmatchen mellan West Coast Dream Team och Globe Stars börjar. Matchen spelas 2×20 min., med en periodpaus på 20 min.
OBS! Efter matchen arrangeras en strafftävling som ni inte vill missa!
Kl. 19:30-21:30 Kuningas Pähkinä & Setä Tamu och The Paarma Boyz feat & Special Guest uppträder på scenen vid i Red Army Corner (2. vån.)
Kioskerna i hallen är öppna kl. 16:30-21:30.
Kl. 22:00 Ishallens dörrar stängs och efterfesten vid Sky Bar & Terrace börjar, fritt inträde!
Kl. 23:00 Officiella efterfesten fortsätter vid Teatro, fritt inträde med evenemangsbiljetten.
Mer info: info@wasastars.fi
LAGEN
WEST COAST DREAM TEAM
Tränare
Mikko Manner
Ari-Pekka Pajuluoma
Miika Koivisto
Målvakter
Veini Vehviläinen
Masi Härkönen
Försvarare
Tony Sund
Erik Riska
Petteri Lindbohm
Robin Salo
Anfallare
Filip Riska
Joel Kiviranta
Petri Kontiola
Toni Sihvonen
Simon Hjalmarsson
Oskar Osala
Leo Komarov
Jens Lööke
Joni Nikko
General Manager
Tomi Väkelä
Lagledare
Taisto Tankka
Samppa Korkiakoski
THE GLOBE STARS
Tränare
Ari-Pekka Selin
Jukka Seppo
Målvakter
Jussi Olkinuora
Lucas Mattbäck
Försvarare
Lasse Kukkonen
Ilari Melart
Atte Ohtamaa
Jani Hakanpää
Anfallare
Jesse Joensuu
Marko Anttila
Mika Pyörälä
Jere Lehtinen
Jussi Jokinen
Raimo Helminen
Juho Lammikko
General Manager
Håkan Hjerpe
Lagledare
Timo Osmonen
Jarno Kosonen
Håll koll på vad som händer genom att följa Wasa Stars på sociala media, Facebook och Instagram!