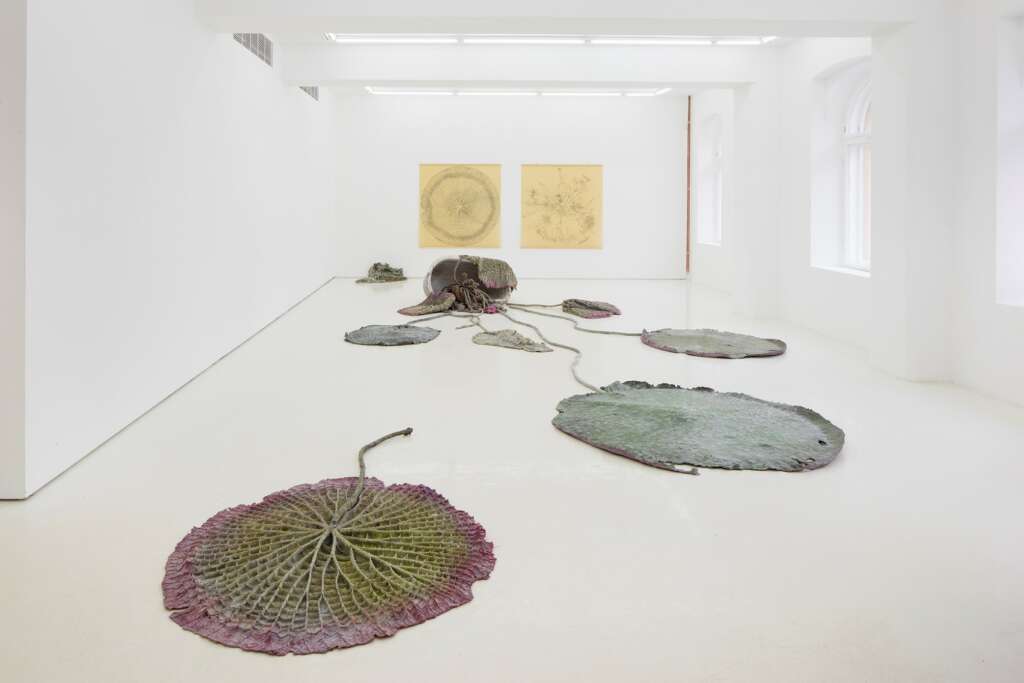 Article categories: News
Autumn exhibition season in Vaasa is international
Published: 17.5.2023
During the autumn season of 2023, five new exhibitions will open in Vaasa City Museums, which will bring to Vaasa internationally known contemporary artists, classic art in the form of 19th-century landscape paintings, and painterly sculptures with parallel realities.
At the group exhibition Dimensions of the Line, which opens at the Kuntsi Museum of Modern Art in September, Finnish and international contemporary artists reflect on the variations of the line through different material choices. Classically, a line is drawn with charcoal or pencil, but at the exhibition the line is also brought to life in many ways, such as when drawn with skates or through a work where the artist uses hair in his minimalist work. The Swedish artist Jacob Dahlgren, known for his playfulness and stripes in his work, invites the viewer into a physical experience. The line can be part of a performative project, such as in Katriina Haikala's Social Portrait – Women Only. The encounter-based drawing performance has continued since 2017 and is now being carried out in Vaasa after Oslo, Paris and New York.
At the exhibition, a drawing animation by the artist duo IC-98, who represented Finland at the Venice Biennale in 2015, will also have its premiere in Finland. 18 artists and artist groups participate in the group exhibition and the curator for the entire exhibition is exhibition director Maaria Salo. The nationwide cultural education programme Art Testers have chosen the exhibition for their 2023–2024 programme. The exhibition will be shown from 9 September 2023─ 14 April 2024.
Picturesque sculptures of plants and animals
The Ostrobothnia Museum will present sculptor Roland Persson, one of Sweden's leading artists, in a solo exhibition from 27 October 2023 to 31 March 2024. He is known for his painterly and surreal silicone sculptures. The giant water lilies and animals are surprisingly lifelike sculptures, but they contain parallel realities. The artist is also producing new works for this first solo museum exhibition to be seen in Finland.
Persson magically combines three-dimensional hyperrealism and conceptual constructions. Strong conceptuality is a reminder that, in a work of art, we see something other than reality. Persson's output includes elements of duality, romanticism and alienation. The exhibition is produced by Vaasa City Museums in collaboration with the artist and it is his first solo museum exhibition in Finland.
Older paintings
During the autumn, the art history exhibition at the Tikanoja Art Museum will present older paintings. Berndt Lindholm (1841–1914), one of Finland's most prominent 19th-century landscape painters, fills the exhibition halls with depictions of forests and rocky coastal landscapes. Both critics and the public appreciated the well-known artist already during his lifetime. Among the qualities of his paintings, atmosphere and naturalness were appreciated.
The exhibition has been made in cooperation with the Hämeenlinna Art Museum, where it will be on display during the summer of 2023. It is based on the research of Teppo Jokinen, PhD, on the life, art and artistic production of Berndt Lindholm. The exhibition covers all three floors of the Tikanoja Art Museum and contains approximately 60 paintings and drawings. The exhibition also includes loans from the Gothenburg Museum of Art, which have rarely been shown in Finland.
Last exhibitions at Vaasa City Art Gallery – two multi-artistic exhibitions
In Visiblis V, shown at Vaasa City Art Gallery, is the fifth instalment of Alexander Salvesen's series of works of the same title. In Visiblis is a multidisciplinary series of exhibitions that combines neon light, drawing, painting, sculpture and video. The works in the exhibition are based on the experience of observing light, surface reflections and afterimages, as well as the combination of neon light and pigments. The exhibition is on display from 26 August until 29 October 2023.
Inspired by different regions and spaces of Ostrobothnia, Bekim Hasaj and Valentina Gelain present dialogue and encounters in their multi-artistic exhibition project Dripping Cavities using video art, photography, digital and plastic art as well as painting. Hasaj presents his ongoing investigation called Scanning Landscape. Gelain's multidisciplinary body of work The Grey Hour reveals how we can relate emotionally to the environment to express our inner mental and emotive states. The exhibition is on display from 4 November 2023 until 14 January 2024.
The international contemporary artists Valentina Gelain (IT) and Bekim Hasaj (ALB), who have settled in Vaasa, will go down in history as the last artists in Vaasa City museums' exhibition programme at Vaasa City Art Gallery. From 2024, the legendary venue will be managed by Vaasa art association Taiteilijaseura.