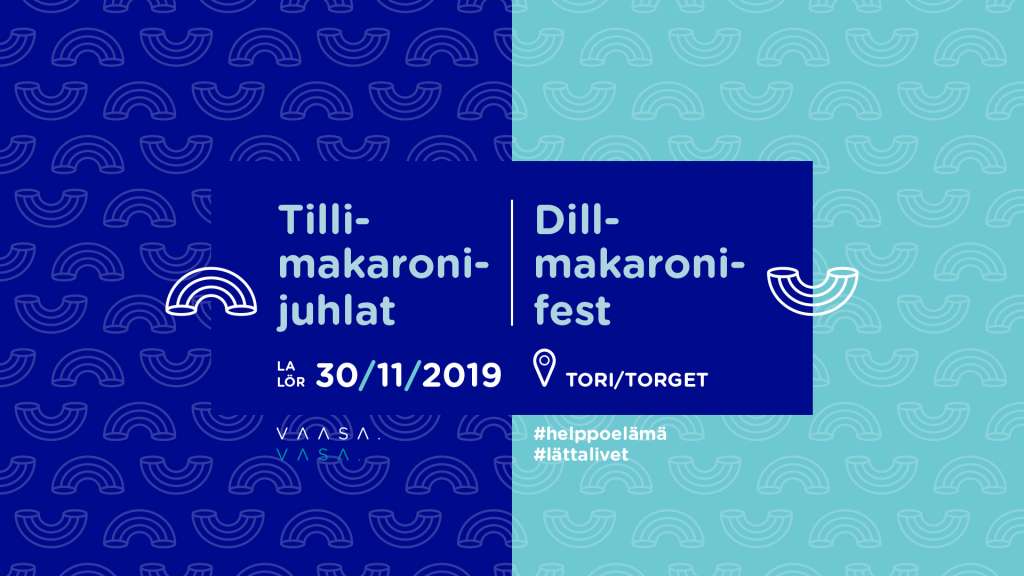 Article categories: News
The City of Vaasa is arranging a mac and dill party to celebrate 2,000 Vaasa Initiative signatures
The mac and dill (macaroni and dill salad) party will be held on the Vaasa market square on Saturday 30 November, 11am - 2pm.
In October, the City of Vaasa launched a Vaasa Initiative, which required that all streets called Vaasankatu correspond to genuine Vaasa values; sea ​​views, energy cluster centres, Strömsö and sunny days.
The people of Vaasa appreciate a good quality of life, meaningful work, unique nature and proximity to the sea. We are characterised by the development of the Vaasa region for the benefit of the community, making life as easy as it should be.
The Vaasa Initiative collected a staggering 2,000 signatures in less than a week, so the City of Vaasa is now hosting a mac and dill celebration for the city's residents.
The event features the legendary Setä Tamu and Kuningas Pähkinä, the charming Fredrik Furu, as well as Vaasa musicians Sebastian Da Costa and Zaida Viveka.
On the market square you can also practise one of the basic skills of Vaasa residents, parallel boat parking.
At the Rewell Center Children's Park, children can make pasta jewellery. The first 1,000 students to present a student card will receive a unique mac and dill party overall badge!
The host of the event is Hippi Hovi. You can enjoy your Vaasa celebratory mac and dill salad with warm gluvine.
Mac and dill party programme

11 am – 2 pm mac and dill and gluvine servering
11 am – 2 pm Parallel boat parking
At 12 pm, 13 pm  14 pm: Free sightseeing tour on the biogas bus to famous places in Vaasa
11 am Sebastian Da Costa & Zaida Viveka
12 pm Speech by Joakim Strand, Member of Parliament and Chairman of Vaasa City Council
12.15 pm Fredrik Furu
1.15 pm Setä Tamu & Kuningas Pähkinä
11 am – 2 pm Macaroni jewellery making at the Rewell Center
Event organisers: City of Vaasa, VASEK, Visit Vaasa, Illyrians.
Published: 15.11.2019