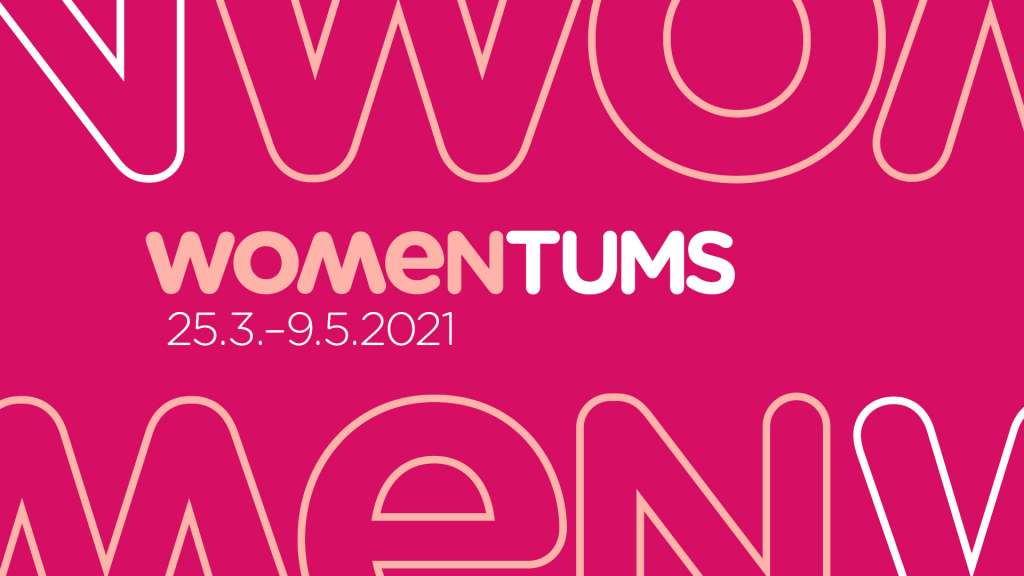 Article categories: Archive Vaasa City Orchestra
Womentums challenges to take action for equality – all soloists and conductors of the concert series are women
Published: 23.3.2021
During the spring season, the Vaasa City Orchestra will organise a concert series where all conductors and soloists are women. Womentums, a concert series presented in the form of streaming broadcasts, encourages Finnish and international cultural actors to engage in dialogue and actions promoting gender balance.
Womentums, which boldly and cheerfully advocates gender equality, is a unique concert series for classical music – not only in Finland but also internationally.
– No such project has been seen or heard in Europe before. Now, as a city orchestra, we are organising this concert series as part of our key activities together with artists of international relevance. I am sincerely proud and happy about all this, says Mia Huhta, General Manager of the Vaasa City Orchestra.
The objective of this concert series is balance of genders in the repertoire, content-creators and decision making of the Vaasa City Orchestra. At the same time, Womentums offers visibility to a phenomenon deeply rooted in societal structures.
– People's qualities, skills and opportunities should not be locked into one gender. Classical music, too, was for a very long time a completely male-dominated world where women had no space – at least not officially, Huhta explains and gives an illustrative example:
–  Besame mucho is the most widely known song in the world, but how many people know that this piece was composed by a woman?
Composer Kaija Saariaho has been an encouraging pioneer and role model for many musicians. Saariaho says that there is still a need for further dialogue and actions to promote equality.
–  In today's society, a woman's place is everywhere. In my profession, however, I have noticed that old habits and conventions still sometimes build an obstacle between my music and the listener. In other words, music composed by a woman is heard and seen through womanhood, even though gender is only one part of anyone's personality, says Saariaho.
–  And this is why Womentums tackles an important grievance and does it in just the right way.
Womentums streaming broadcasts available worldwide
The Vaasa City Orchestra strongly trusts the power of positive examples. Our objective is to expand the dialogue, inspired by Womentums, from classical music to the entire cultural sector and society as a whole.
– Change is possible through credible action. This is why we also challenge and encourage other public cultural actors to promote gender balance, says Huhta.
The seven Womentums concerts of the spring season are free of charge streaming broadcasts and thus available for everyone to attend. These concerts will be performed to the public via the city orchestra's Website and Facebook page. Concert recordings will be available for viewing and listening for two weeks.
–  We also want to wake up the public to question their own attitudes. New ideas can only arise by recognising the obvious and by making space for change.
The concert series is organised without compromising quality
The spring season's concert series Womentums begins on Thursday 25th of March, and it culminates on Mother's Day on the 9th of May. During the first concert of the series, the Vaasa City Orchestra will be conducted by conductor Emilia Hoving, and the leading soloist will be cellist Senja Rummukainen.
–  As our guests, we will have top-notch and wonderful musicians in Vaasa, including Anna-Maria Helsinki, Marjukka Tepponen and Jenny Carlstedt, says Huhta with satisfaction.
– Womentums will positively demonstrate that quality does not need to be compromised when conductors and soloists are all women.
According to the 2020 statistics of the Association of Finnish Symphony Orchestras, 6 per cent of composers, 16 per cent of conductors and 50 per cent of soloists are women.
 – Gender balance was studied for the first time in 2019. Fortunately, attention was paid to the unbalanced situation which was previously seen as normal in the industry, says Huhta.
Although Womentums is a unique project in classical music, it is not a one-time thing. Womentums will stay alive as a name and theme in the activities of the Vaasa City Orchestra.
Womentums concerts
25.3.

Glimpse of paradise

. Conductor Emilia Hoving. Senja Rummukainen, cello.

31.3.

Stabat Mater

. Conductor Jutta Seppinen. Olga Heikkilä, soprano; Jenny Carlstedt, mezzo-soprano.

8.4.

Her star.

Essi Wuorela, vocals & Anna-Karin Korhonen, electric kantele.

15.4.

Les illuminations

. Conductor Anna-Maria Helsing. Marjukka Tepponen, soprano.

22.4.

The seasons.

Leading Kreeta-Maria Kentala, violin.

30.4.

Vappu Concert.

Conductor Maria Itkonen, orchestra's own female soloists.

9.5.

Ways of the winds.

Bravade.
Links to concerts will be published on the website of the Vaasa City Orchestra:
https://www.vaasa.fi/en/see-and-experience/culture-in-vaasa-and-vaasa-region/vasa-city-orchestra/
Additional information, requests for interviews and pictures:
Mia Huhta, General Manager, Vaasa City Orchestra, +358 40 524 8877, mia.huhta@vaasa.fi
Päivi Tuisku, Information and Marketing Coordinator, Vaasa City Orchestra, +358 40 086 0745, paivi.tuisku@vaasa.fi
Vaasa City Orchestra's regular orchestral concerts in Vaasa date back to 1930, when an Orchestra Society was founded in the town. In 1973, the orchestra became part of the City of Vaasa. Vaasa City Orchestra comprises 31 musicians. Tomas Djupsjöbacka has been the chief conductor of the orchestra since January 2021. The orchestra works and performs in the historical Vaasa City Hall, in the centre of Vaasa.
In addition to traditional symphonic concerts, the orchestra also combines different music styles in its concerts. The orchestra frequently collaborates with other orchestras. It also appears at various festivals during summertime such as Ilmajoki Music Festival and Korsholm Music Festival. The orchestra also collaborates with Vaasa Opera Foundation and Vaasa City Theatre. Since 1999, Vaasa City Orchestra has organised the International Jorma Panula Conducting Competition together with Viljo and Maire Vuorio Foundation.