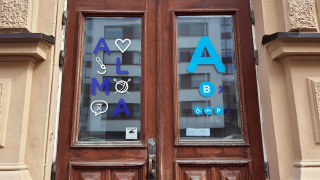 Lectures are free and open to everyone. Lectures are arranged at:
Raastuvankatu 31, 3rd floor.
Kirkkopuistikko 15, 2nd floor.
as web courses.
Österbottens röster: Orden och jag, en poesiföreläsning | Heidi von Wright
6.4, Ons kl.18–19.30, Vasa
Heidi von Wright är författare, guldsmed, bildkonstnär och har även verkat som frilansjournalist och kulturkritiker. Hon har gett ut åtta diktsamlingar, den senaste "Autofiktiv dikt av Heidi von Wright" utkom 2020 och nominerades till Nordiska rådets litteraturpris 2021. Temamässigt handlar von Wrights poesi ofta om naturen, minnen och människan i världen. Efter 20 år i Södra Finland flyttade Heidi von Wright hösten 2020 tillbaka till Sundom, där hon växte upp.
Ruokaa kuin roskaa –ilmastotekoja pala kerrallaan | Lotta Alhonnoro
Suomessa heitetään päivittäin lähes miljoona kiloa ruokaa roskiin. Sillä, päätykö ruoka suuhun vai roskiin, on valtava merkitys myös ilmastolle. Mitä ruokahävikin vähentämiseksi voidaan tehdä? Kysymykseen vastaa tutkija, KTT Lotta Alhonnoro, joka on tutkinut ruokahävikkiä väitöskirjassaan.
Vad händer med familjedynamiken vid psykisk ohälsa i familjen | Leif Westerlund
20.4, Ons kl. 18–20, Vasa
Leif Westerlund, präst, arbetshandledare, psykoterapeut, par- och familjeterapeut på krävande specialnivå (VET) är för många känd som skribent i Vasabladet i ämnen som rör relationer, familj och parförhållanden. Föreläsningen ordnas som ett samarbete mellan FinFami Österbotten, Medborgarinstitutet Alma och Svenska Österbottens anhörigförening SÖAF.