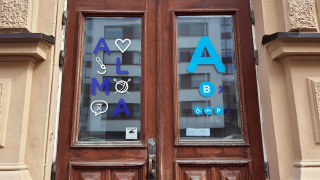 Lectures are free and open to everyone. Lectures are arranged at:
Raastuvankatu 31, 3rd floor.
Kirkkopuistikko 15, 2nd floor.
as web courses.
Aikamatka Vähänkyrön rautakauteen -luennot
28.9. ja 26.10., Ke 18–19.30, Vähäkyrö
28.9. Peter Holmblad, Uumajan Yliopisto: Vähänkyrön rautakausi – arkeologiset löydöt ja niiden tulkinta. Osallistujat voivat tuoda omia löytöesineitä arvioitavaksi.
26.10. Jenni Sahramaa, Helsingin Yliopisto: Löydöstä muinaispuvuksi – rautakautisen pukeutumisen tutkimusta. Luento ja muinaispukunäytös. Kurssi järjestetään yhteistyössä Vaasan Kalevalaiset ry:n kanssa.
Kestävän kehityksen viikko: Elä ihmeessä – mutta uskalla nähdä ääriviivasi
28.9., Ke 18–20, Vaasa, Hilkka Olkinuora
Tietokirjailija, pastori Hilkka Olkinuora käsittelee luennossaan ihmisen resilienssiä ja sisäistä kestävyyttä. Miten pidämme huolta jaksamisesta ja omista "ääriviivoistamme", kun arjen pyörittämisen lisäksi pitäisi jaksaa miettiä monia suuria asioita kuten ilmastokriisiä, sotia ja pandemioita.
Hintojen nousu – miten ihmiset pärjäävät taloudellisesti
5.10., Ke 18–19.30, Vaasa, Kuluttajaliiton juristi Kristel Pynnönen
Maailmantilanne ja erityisesti Ukrainan sota on johtanut maailmantalouden kriisiin. Inflaatio kiihtyy. Se näkyy korkojen ja yleisen hintatason nousuna. Miten inflaatio näkyy meistä jokaisen kukkarossa? Riittävätkö rahat? Miten tilanteeseen on syytä reagoida? Luento järjestetään yhteistyössä Merenkurkun kuluttajat ry:n kanssa.
Kuinka välttää netti- ja puhelinhuijauksia
5.10., Ke 13–15, Vaasa, Kuluttajaliiton juristi Kristel Pynnönen
Kuinka ikäihminen voi suojautua huijareiden tekemiltä petoksilta ja huijauksilta netissä ja puhelimessa? Luento tarjoaa neuvoja petosten ja huijausten tunnistamiseen, niiltä suojautumiseen sekä siihen, kuinka toimia, jos on tullut huijatuksi. Yhteistyöluento Vaasan vanhusneuvoston kanssa.
Hur undvika att bli svindlad på nätet och i telefonen?
6.10, Tors 13–15, Vasa. Kristel Pynnönen, jurist, Konsumentförbundet rf

Hur kan seniorer skydda sig mot bedrägerier och svindel som svindlare gör på nätet och i telefon? Kom och lyssna på råd om hur man kan skydda sig mot bedrägerier och svindel, känner igen dessa och ska agera om man har blivit svindlad. Föreläsningen ordnas i samarbete med Vasa medborgarinstitut Alma och Vasa äldreråd.
Familjedynamik och psykisk hälsa när en ung person skadar sig själv
12.10, Ons 18–20, Vasa, Camilla Pitkänen
I den här föreläsningen behandlar vi olika typer av dynamik inom familjen. Vissa av dem är mer associerade med självskadebeteende än andra är. Vi bekantar oss också med sätt på vilka familjemedlemmar kan tala om självskadebeteende med den unga personen för att hjälpa och stödja hen. Föreläsningen ordnas som ett samarbete mellan FinFami Österbotten, Medborgarinstitutet Alma och Svenska Österbottens anhörigförening SÖAF.
150 år gammal släktgåta löstes med DNA
26.10, Ons 18–20, Vasa, Stefan Holm
Med hjälp av DNA-teknik i kombination med traditionell släktforskning har Stefan Holm fått svar på vem som var hans farfars farfar. Nu berättar han om processen och öppnar upp hur DNA-teknik kan användas och hur man ska gå till väga för att få testning genomförd. Under våren ordnas kurs i släktforskning med denna föreläsning som bas.
Viiva elää! – Vaasan taideyhdistyksen juhlaseminaari
29.10., La 12–16 Vaasa, Elisse Heinimaa
Vaasan taideyhdistys on perustettu vuonna 1917 ja sen vuonna 1942 aloittanut piirustuskoulu täyttää 80 vuotta. Taideyhdistyksen piirustuskoulusta alkanut toiminta on sittemmin kehittynyt osaksi taiteen perusopetusta TaiKonilla. Seminaarissa tutustumme muun muassa piirustuskoulun entisiin oppilaisiin ja keskustelemme taideopetuksesta ennen ja nyt. Juhlapuhujana on Kuvataidekoulujen liiton perustaja Elisse Heinimaa.
Sköna hem – inred en bostad
9.11, Ons 18–20.30, Vasa, Fia Antus
Synligt – Kännbart – Tillgängligt – Användbart – Hållbart. Hur kan man utforma bostäder, så att de blir tillgängliga, användarvänliga och trygga – så att du kan göra det som du vill och drömmer om, hemma? Målgrupp: inredningsentusiaster och nybyggare.