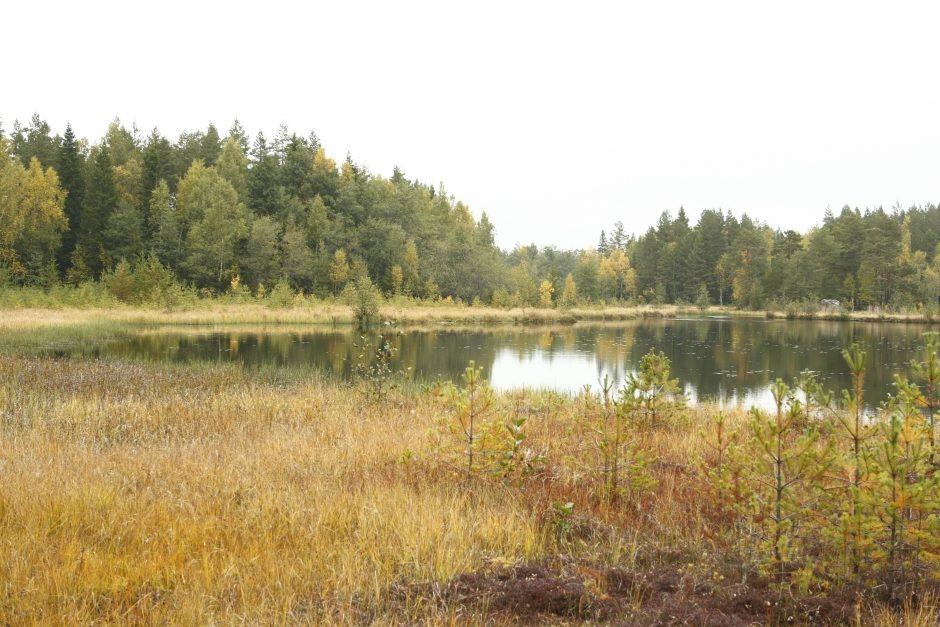 Ponds and swamps increase nature diversity in the forest landscape. Ponds are often important breeding areas for fish and surrounding birdlife is usually rich. Since the ponds are shallow and isolated the water warms up earlier in spring than in the open sea and large numbers of European perch, common roach and northern pike make the journey along small streams to breed there. After mating the adult fish once again travel out to sea, followed at the end of the summer by the offspring that have been allowed to mature in the calm waters.
The shoreline of ponds is often paludified, making it nearly impossible to reach the water's edge. Cranberries thrive in the quagmire, alongside various species of sedge and moss. On drier tufts, pine and birch trees can root. Sedge or common bulrush tracing the shoreline indicates more nutritious water and vegetation exhibits a different composition. Common cranes thrive along low-growth shorelines and each pond usually exhibits its very own pair of nesting swans. Other bird species nesting around forest ponds are the Eurasian teal, common goldeneye, mallard and green sandpiper.
Forest ponds are a relatively rare occurrence in Vaasa. Large inland lakes are completely absent from the landscape and ponds are mainly located in the Sundom archipelago. Forest ponds are most attractive during autumn as cranberries ripen and the quagmire is ablaze with colors.