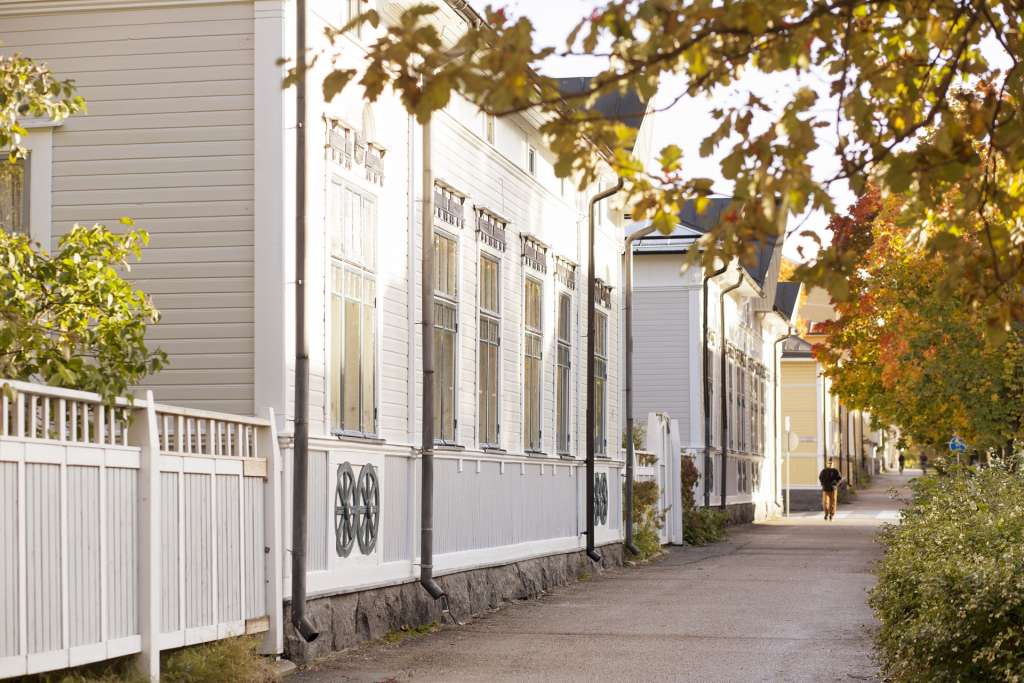 Vöyrinkaupunki and Klemettilä
Vöyrinkaupunki or "Vörkkäri" (as it is known locally), is located just off the city centre. This area is well known for its old wooden houses. Klemettilä is known for its business and commercial premises, but the area is now changing as new residential buildings continue to rise in the area.
Vöyrinkaupunki (Vöråstan)
The wooden houses in Vöyrinkaupunki were built in the 1890's and 1940's. Many of the houses were built as residences for the working population, so therefore the dwellings are quite small, usually with two rooms. Most of the old wooden houses are now protected.
The area has grown in popularity recently and new homes have been built in the area. Vöyrinkaupunki is part of the city centre, but it is a very peaceful and idyllic neighbourhood.
In the area there is a building called Malmögården, which was donated to the city by Vaasa's Swedish twin town Malmö when the city was recovering from the war. In Vöyrinkaupunki there are many student apartments, especially in the Olympia area. The road called Olympiakatu was named after the Finnish motor factory, which once manufactured Olympia motors there.
The school called Onkilahden Yhtenäiskoulu has several buildings in Vöyrinkaupunki for years 1-6 and 7-10.
Vöyrinkaupunki is home to Vaasa's largest and oldest cemetery, which is divided into two parts: an old and a new cemetery. In the old part, on the west side of Vöyrinkatu road, there is a war cemetery. In addition, many prominent figures in Vaasa history, such as A. A. Levón, are buried on the old side.
Klemettilä (Klemetsö)
Located near the city centre, Klemettilä has been popular with businesses due to its convenient location. There are several business and commercial premises in the area. New residential buildings are being built all the time. After the demolition of the old bus station, a new residential block began to be built in Klemettilä.
An innovative project, Wasa Station, is also being planned for the area. Wasa Station is a multifunctional block that wll include a music and congress centre, a hotel, apartments, retail space, and sports and multifunction facilities. The block is being designed with advanced energy solutions so that it can be almost self-sufficient in its energy consumption.