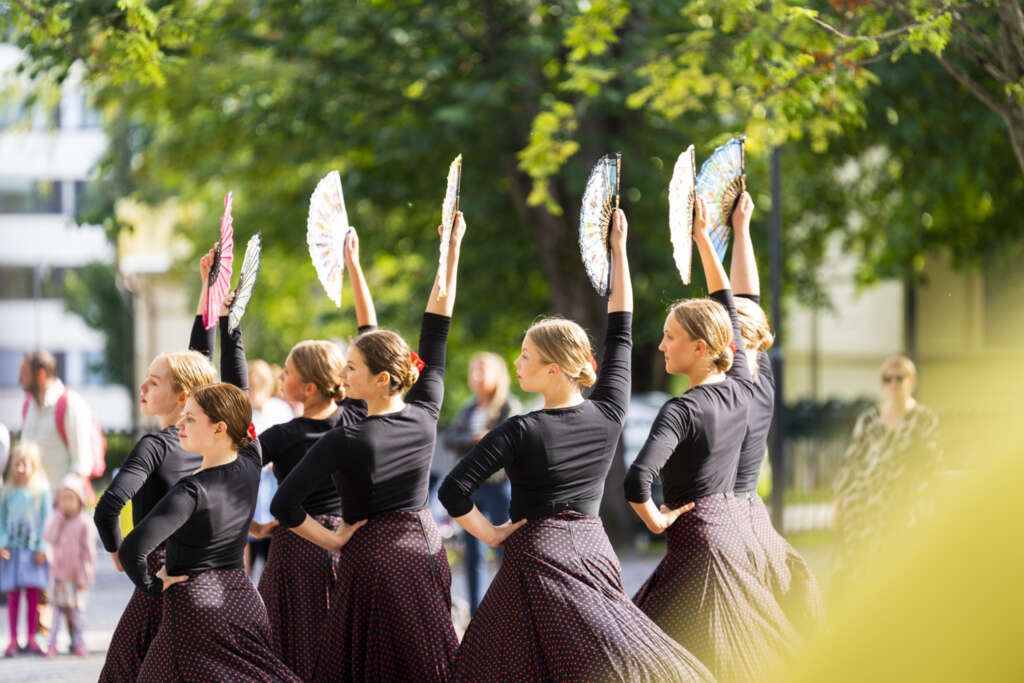 Article categories: Archive Uutiset
City awards cultural grants for 2023
Published: 22.3.2023
The City of Vaasa's culture division has awarded cultural grants for 2023. Targeted support and operating grants are awarded annually to help a variety of cultural actors.
This year, the amount distributed by the culture division for cultural grants was 190,500 euros. The subsidy pot is larger than in previous years because, for the first time, it has also included operating grants awarded by the city council.
–It is particularly pleasing that the cultural cooperation between Umeå and Vaasa, which was the focus of the applications this year, had been considered in the applications. Furthermore, the accessibility of culture was addressed through various public participation events or events open to all city residents. Grants were also awarded for projects supporting the accessibility of culture, says Head of Culture Services Jenni Niemi from the City of Vaasa.
More applicants
Support for individual projects and operating grants to support the regular activities of art and culture associations are distributed to various cultural actors. Compared to last year, there were clearly more applicants, and targeted grants in particular were extensively applied for this year. The total amount applied for was also higher than in previous years.
– The association Katukulttuuri ry received an increased operating grant compared to last year, which will hopefully enable their activities to continue at new facilities in the Vaasa city area. Several grant applicants were also supported by providing them with a free-of-charge space for organising an event in city premises, such as at Culture House Fanny, the Draama-saali auditorium or City Hall, continues Niemi.
A total of 108 grant applications were received, of which 69 applications were for targeted grants, 37 applications were for 1-year operating grants, and two applications were for 3-year operating grants. The total amount requested was 494,533 euros. Grants could be applied for through the electronic grant system during January.
Applicants who received a cultural grant
Targeted grants were awarded to the following applicants:
· Cederberg Moa, for textile art workshops, €800
· Damberg Ann-Louise, for exhibition preparation and materials, €800
· Furu Fredrik, for album release concerts in Vaasa and Umeå, €800
· Junolainen Mariam, for arranging a concert in Umeå, €500
· Hautala Tiina, for planning the design of a barracks ghost walk, €1,000
· Herlevi Janika, for material costs, €700
· Kádár György, for the publication of a work related to choral singing, €800
· Luoma Pasi, for an album release and concert arrangement, €500
· Männi Maano, for concert arrangements in Vaasa and Umeå, €500
· Nestorova Elena, for artistic work, €700
· Nyberg Aimo, for a book publication, €500
· Palosaaren asukasyhdistys ry, for arranging the Palosaari carnival, €800
· Pohjanmaan tanssi ry, for cooperation between Vaasa and Umeå, €1,000
· Saunala Juha, for publishing own music, €500
· Strandman Lotta, for artistic work and exhibition, €500
· Suomen kirjastomuseoyhdistys ry, for arranging a summer event, €600
· Tamminen Mikko, for composition work, €1,000
· Tiihonen Jari, Epic Emotions G10 event, €500
· Vaasan Karjalaseura ry, for producing an audio version of the members' magazine, €500
· Vaasa Orkesteriyhdistys ry, for concerts in Vaasa and Umeå, €1,000
· Vaasa-Mustasaari Oppaat ry, for arranging theme guided tours related to art, €600
· Vaasa Taidekerho ry, Umeå exhibition collaboration, €700
· Vähäkyrö-seura ry, for keeping the museum open, €3,000
Operational grants were awarded to the following applicants:
· Dots: förening för audiovisuell konst rf, €1000
· Edvininpollu perinneseura ry, €600
· Film centre Botnia, €6,000
· Föreningen Brage i Vasa rf, €5,000
· Katutkulturi ry, €6,500
· Korsholm Music Festival, €38,000
· Kpanlogo Yede ry, €1,500
· Puppet Theatre Society Pikku Aasi, €6,000
· Partitura di Kuula ry, €600
· Platform rf, €5,000
· Pohjanmaan maanpuolustuskilta ry, €5000
· Pohjanmaan tanssi ry, €8000
· Ristinummen musiikkikoulu ry, €4000
· Skafferiet rf, €6000
· Sundom bygdeförening rf, €6000
· Tanssimajakka ry, €3500
· The Doo-Bop Club rf, €2000
· Unga Scenkompaniet rf, €3000
· Vaasa Hacklab ry, €1000
· Vaasa Jazz Club ry, €1000
· Vaasan Kalevalaiset, €500
· Vaasan Kamarimuusikot ry, €2000 €
· Vaasan Merihistorian yhdistys ry, €4000
· Vaasan Taidegraafikot ry, €1000
· Vaasan Taiteilijaseura ry, €2000
· Vaasan Ylioppilasteatteri Ramppi ry, €5000
· Valokuvayhdistys IBIS ry, €1000
· Vasa Baroque, €37 000
· Österbottens Hantverk rf, €8000