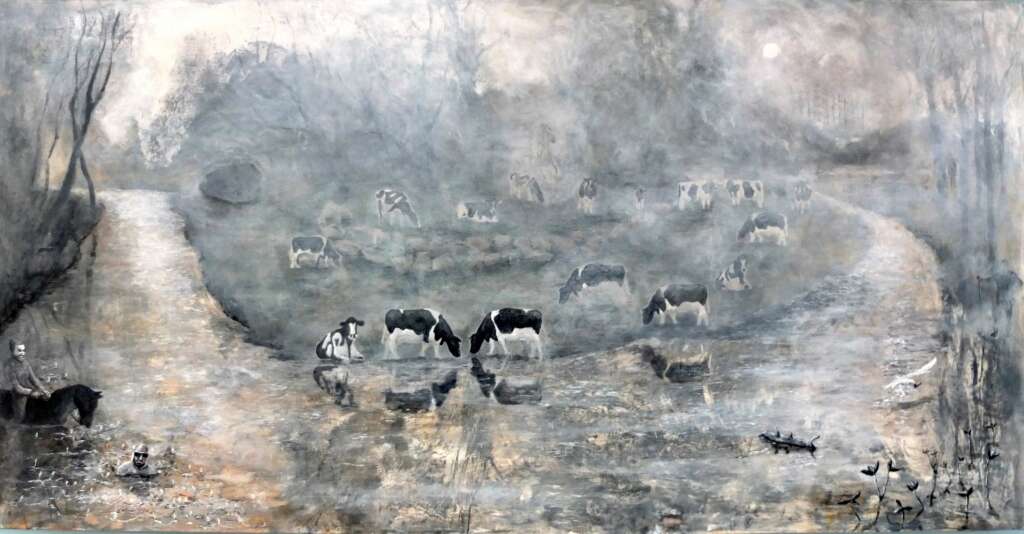 Article categories: Archive News
Exhibitions at Vaasa City museums in Spring 2022
Published: 11.1.2022
The spring 2022 exhibition programme of Vaasa City museums offers something new to see in visual art and cultural history in all four museums. A total of 12 new exhibitions are planned for 2022. The autumn season will be announced later.
There will be five new exhibitions opening in Vaasa City museums this spring. The first large-scale solo exhibition, Nostalgia, by painter Erika Adamsson, will be on display at the Tikanoja Art Museum. The salons and maids are well placed in the Tikanoja environment. The exhibition runs from 12 February to 14 August 2022.
The exhibition Symbols of Power and Wealth, which opens at the Ostrobothnian Museum in April, highlights the development of weapons and armour from the Viking Age to the 17th century. The exhibition, compiled from the private collection of antique dealer and collector Peter Mustonen, presents armour, weapons and helmets from different eras. The focus is on European artefacts, but it also provides examples from Persia, Japan and India. The exhibition is on display from 22 April to 16 October, 2022.
The Magic Mountain is a joint exhibition by Markku Hakuri and Jan Kenneth Weckman, which will be on display at the Kuntsi Museum of Modern Art from April, where a dialogue between the two artists takes place. Hakuri's drawings and large-scale mixed-media paintings based on newspaper images meet Weckman's graphic paintings. The exhibition is on display from 14 April to 11 September, 2022.
The exhibitions, which will open in Vaasa City Art Gallery in March, are coordinated by the City of Vaasa's cultural services. There will first be a working group of Darkroom Artists focusing on analogue photography. The theme of the exhibition is man and nature. The members of the working group are all active artist members of the Finnish Darkroom Association. Behind the second exhibition is a working group consisting of sculptor Paula Blåfield and folk musician Marianne Maans. An important part of the exhibition, which consists of sculptures and sound art, is workshops for people of all ages.
An exhibition by Kukka-Maria Rosenlund will open for the summer, presenting photographs of ceramics, among other things. Rosenlund makes photographs for ceramics, textiles, photographic paper as well as recycles material collected from nature and home-related objects in her photographs. The exhibition is on display from 4 June to 14 August, 2022.
Continuing exhibitions over spring and summer
Jan-Erik Andersson's exhibition, Free space, continues at the Ostrobothnian Museum until 27 March. The Kuntsi Museum of Modern Art will continue to display the extensive, seldom seen exhibition of the entire production of the painter Gösta Diehl until 20 March. The exhibition of the Bending Light artist group will be on display at Vaasa Art Gallery until 13 March. The exhibition of French art in the Vers la lumiére Tikanoja collection will be on display on the first floor of the museum until 25 September, 2022.
Changes to the exhibition programme are possible.