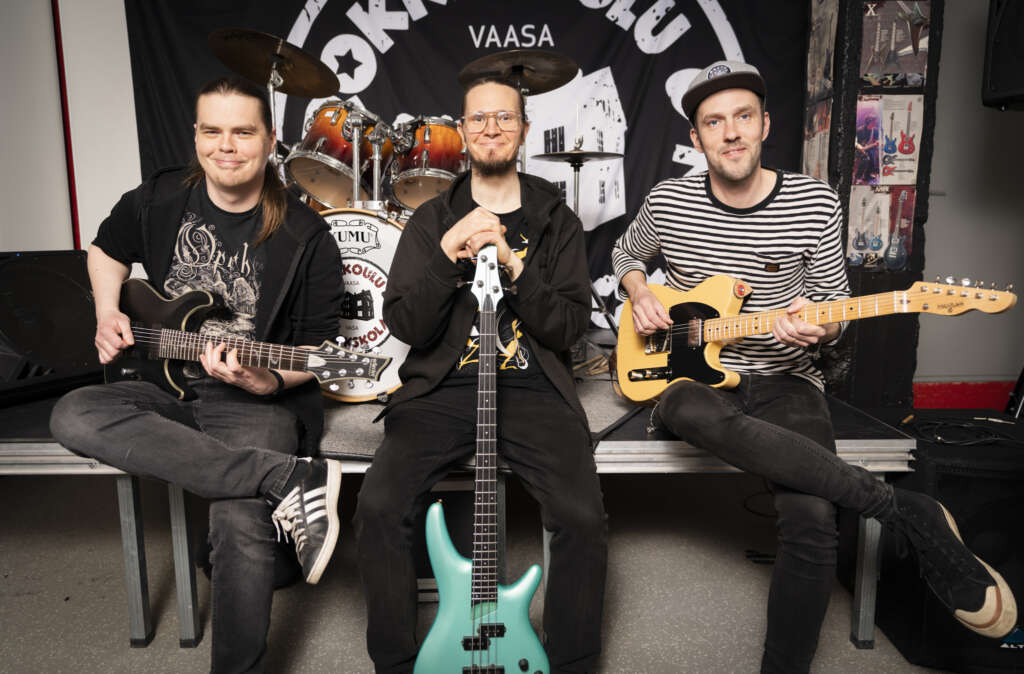 Article categories: News
From Beatles to punk and heavy metal: 20 years of Rokkikoulu
Published: 28.4.2023
For 20 years, Rokkikoulu has provided low-threshold music education for young people in Vaasa.  One of the highlights of the anniversary year will be the Celebration Concert on 26 May.
Joni Kiviniemi, Niklas Norrgrann, and Sami Sillanpää are not exactly the most traditional youth instructors. Drummer Kiviniemi, bassist Norrgrann and guitarist Sillanpää are all active in their own bands in their spare time, but their working hours are also filled with music.
All three are instructors at the City of Vaasa Youth Services' Rokkikoulu with years of experience. Rokkikoulu is celebrating its respectable 20th anniversary this year.
Rokkikoulu started in Vaasa in 2003 in a small warehouse.  Today, it is located in Klemettilä, in the premises of Rockwerstas, renovated in 2011, with four band rehearsal rooms and a studio.
Band coaching and private lessons
Rokkikoulu's curriculum includes band coaching, private lessons, recording, and songwriting for 13–17-year-olds living in Vaasa. The options are guitar, bass, drums, keyboards, and vocals for band lessons and guitar, drums, and bass for private lessons. Rokkikoulu also has its own studio for recording and making music videos.
Rokkikoulu is a true low-threshold activity for young people, who can join without having any experience, just an interest in music and playing or singing in a band.
– You don't need to have your own instruments to start with; you can borrow them from us. The participation fee for band lessons is only €11.50 per person per semester, says Sillanpää.
Enrolment all year round
You can enrol in Rokkikoulu all year round. If there are no open places for new pupils, you can queue for a place.
Bands vary in composition, so they can have, for example, 2–13 members.
– When the youth signs up for band lessons, we ask them to tell us what kind of music they like to listen to and what instrument they are interested in. Based on that, we as instructors will find a suitable line-up for them, explains Norrgrann.
Starting with Metallica and Radiohead
For the youngest players, the instructor's job is to guide them by hand through the process of playing. The instructors also arrange the songs so that they can be played by a band whose musicians are at different levels.
– We start with easy covers, such as Radiohead's Creep or Metallica's For Whom the Bell Tolls. Those who have been playing together for a longer time can then write their own songs and record them in our studio, says Kiviniemi.
More experienced bands ask the directors for their opinions on songs they have written themselves.
– We also help with things like recording, marketing the gigs and getting road crew for the gigs.
Live performances are important for music lovers.
– The bands of Rokkikoulu can be booked to perform free of charge at various events. Four times a year we also organise a Rokkikoulu Concert, where all the bands get time on stage, says Sillanpää.
Celebration Concert on 26 May: Documentary film and Rokkikoulu Re-union
One of the highlights of the anniversary year will come on 26 May, when the official 20th anniversary of the Rokkikoulu will be celebrated at the Ritz.
– A documentary film about the history of the Rokkikoulu will be screened at the event. In addition, four former bands will get on the stage to perform songs from their own years at Rokkikoulu. On 25 May, we will also organise the traditional Keväthäslinki Concert, featuring all our current bands, says Kiviniemi.
What is Rokkikoulu?
For people aged 13—17 and living in Vaasa
band lessons: guitar, bass, drums, keyboards, and vocals
private lessons: guitar, drums, and bass
about 60 students (spring 2023)
about half of the pupils are girls and half boys
Enrolment is open all year round