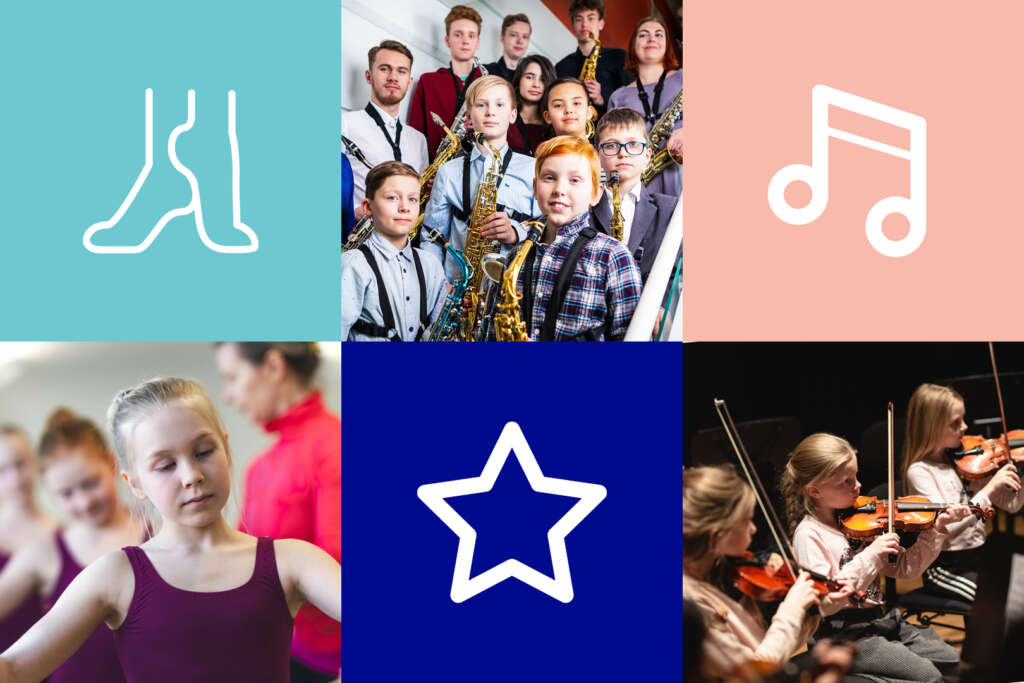 Article categories: Archive News
Kuula-opisto invites you to try music
Published: 12.4.2023
Kuula-opisto, the house of music and dance, opens its doors to all on 24 April. At the Melodic House event, children, young people, and adults will be able to try out different musical instruments and follow music and singing classes free of charge. The application period for new students at Kuula-opisto is open until 30 April.
The Melodic House event will take place on Monday 24 April from 17.30-19 at Kuula-opisto (Laivakatu 16).
You can try out how to play the saxophone, violin, accordion, and many other instruments. This is a great opportunity for those who would like to play an instrument but don't know which one to choose.
By following the Map of instruments, you will find the instruments located around the house and try them out under the guidance of teachers.
During the event, you can also sign up as a student of Kuula-opisto!
Programme:
Information session and music performance, Toivo Kuula Hall 17.30–17.45
Music playschool class open to the public at 18.00
Singing rehearsal open to the public at 18.00
Opportunity to try out instruments until 19.00
Application period in April, no entrance tests
The application period for new students at Vaasa's Kuula-opisto as well as at the branch offices in Isokyrö and Laihia is 1–30 April. There are no entrance tests for instrument lessons.
Kuula-opisto offers teaching in string instruments (violin, viola, cello, double bass), woodwind instruments (flute, oboe, clarinet, saxophone, recorder), brass instruments (trumpet, French horn, baritone horn, trombone, tuba), rhythmic instruments (electric guitar, electric bass, keyboard/piano, drums), as well as in piano, acoustic guitar, and accordion.
Kuula-opisto also teaches classical and rhythmic singing as well as children's dance (for 5–7-year-olds) and classical ballet (8-year-olds and up).
You can apply for a place in music playschool for 0–6-year-olds and for music coaching for 7–8-year-olds.
To register and for more information, visit here!
What is basic arts education?
Basic arts education is goal-oriented, curriculum-based learning guided by qualified and professional teachers.
The aim is to create a distinctive artistic path for each child and young person.
Children and young people's growth is supported through seven disciplines of the arts: music, dance, visual arts, crafts, theatre arts, circus, and media arts.
It is easy to enter the basic arts classes, as there are no entrance tests for the Kuula-opisto or TaiKon.
The path from basic arts education can lead to a lifelong pursuit of the arts or to different artistic careers.