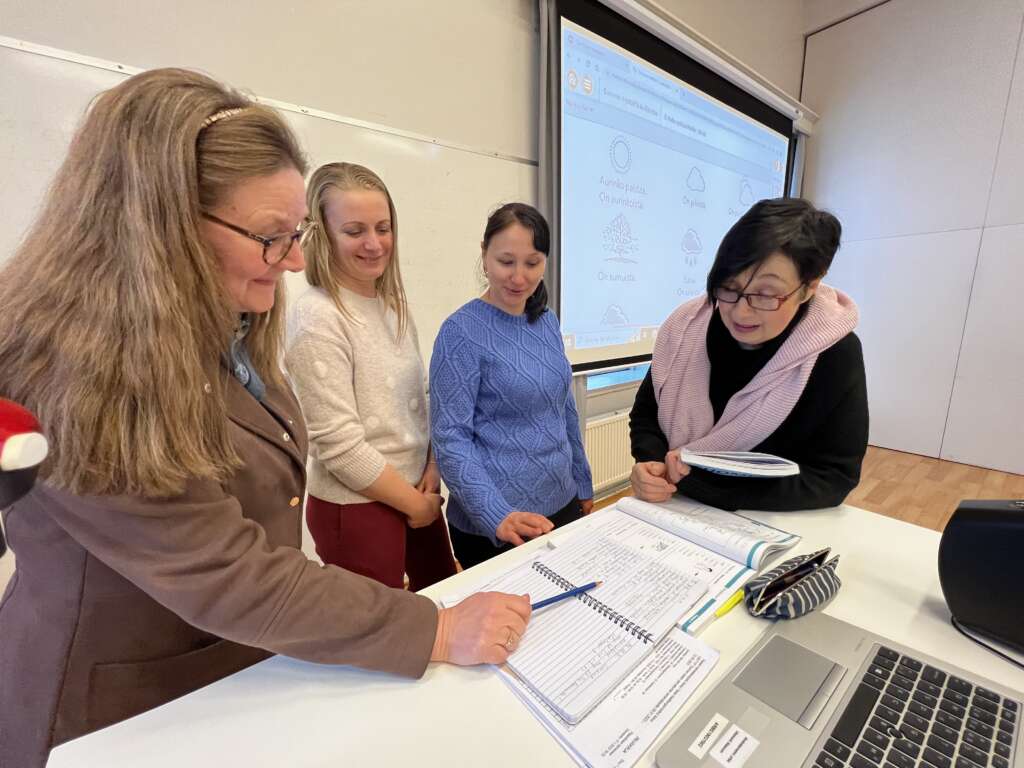 Article categories: Archive News
Language studies help the Ukrainians get integrated in the everyday life in Finland
Published: 20.3.2023
Alma Adult Education Centre is closely involved in the integration process of the young and adult Ukrainians by teaching them Finnish. The courses were launched rapidly in spring 2022 and have kept going ever since. 
Russia's invasion of Ukraine has been going on for a year now. Since the spring of 2022, Finland has received tens of thousands of Ukrainians who have fled the prolonged state of war in their country. Vaasa has received about 800 Ukrainians.
Alma Adult Education Centre is well-versed in immigrant education. The courses are led by a small and efficient group of teachers: Marika Boström, Sari Isokangas, Kati Källman, and Anja Sjöholm.
– By now we have already carried out seven courses with altogether 90 participants. The participants are between 15 and 65 years of age, and most of them are women, says the leading headmaster Sannasirkku Autio.
Inventive combination of teaching methods
The teachers quickly noticed that the participants' English skills were relatively weak.
– Most Ukrainians speak Russian. Therefore, my ability to speak Russian has been an asset in the coordination of teaching and as an assisting language in general, says the language teacher and planner Marika Boström.
Learning cultures also differ greatly. The Ukrainians have been accustomed to an authoritarian and performance-centred teaching style, where the teacher leads the situation and lectures to the listeners. In this model, the learner is a passive recipient of information.
At the beginning, the course participants were not at all accustomed to the Finnish methods, such as pair discussions and group work.
The teachers of Alma have consistently and inventively made use of all different kinds of teaching methods, including cooking and hiking. Such methods are the way to increase the everyday vocabulary without the learner even noticing the effort.
– At first, the course participants did not even consider these activities studying, but it did not take long for the practice to prove them wrong, smiles the language teacher and planner Kati Källman.
Courses on Finnish and English
The Ukrainians' motivation to learn Finnish and get into the working life as quickly as possible has been remarkable.
– Knowing English improves the applicant's chances on getting employed, so we have launched two basic courses on English, describes the language teacher and planner Sari Isokangas.
Teaching a language is also teaching about the society and the social operations within that culture.
– We study in quite a tight schedule. We meet thrice a week, so we have good time to talk about the everyday life and phenomena in Vaasa and Finland, says Anja Sjöholm, pleased with the development and successes that have been achieved in a short time.