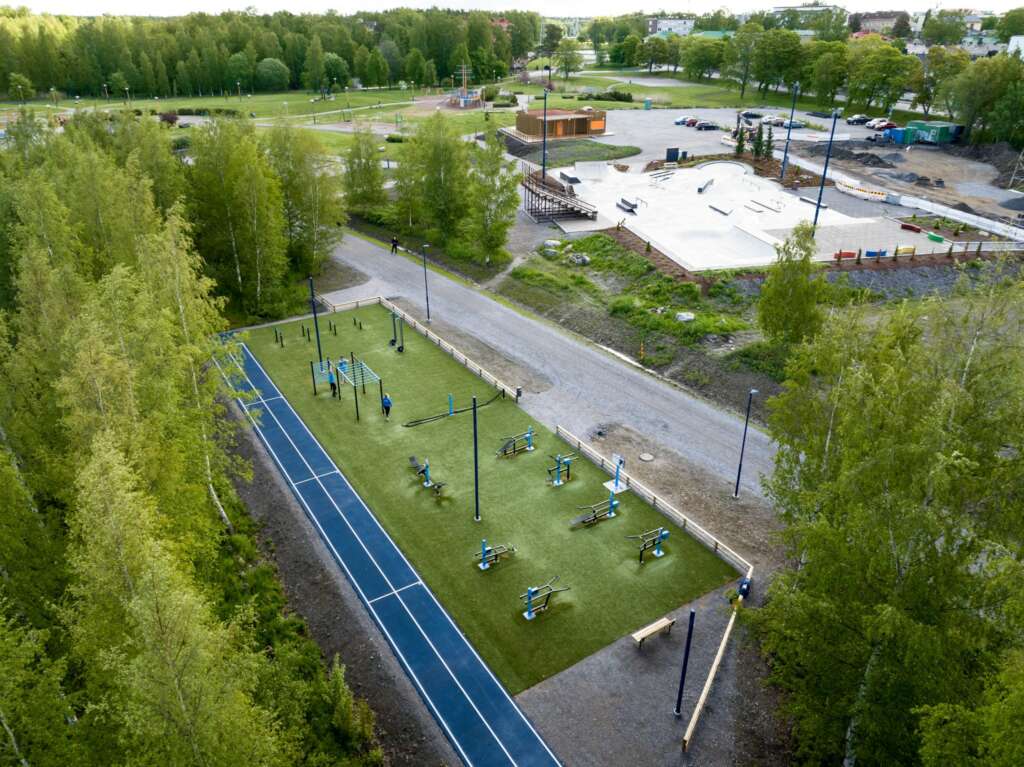 Article categories: News
Onkilahti's new outdoor gym offers a great environment for exercise
Published: 9.6.2023
Updated: 28.6.2023
Vaasa has gotten a high-quality outdoor gym in Onkilahti Park, with equipment and apparatus to suit all tastes.
Free guidance on how to use the equipment is available on Tuesdays from 11.30–12.15 during the summer (weeks 23–30). There will be a sports adviser from the sports services on hand to guide you with the equipment.
The new outdoor gym is equipped with the domestic, high-quality outdoor gym equipment from the label David. There are jumping ropes, street work out apparatus, a weightlifting bar and a 50-metre running track.
– The equipment is very high-quality, designed for outdoor gym use. It's great that we have this level of low-threshold gym in Vaasa, says Sports Director Mika Lehtonen.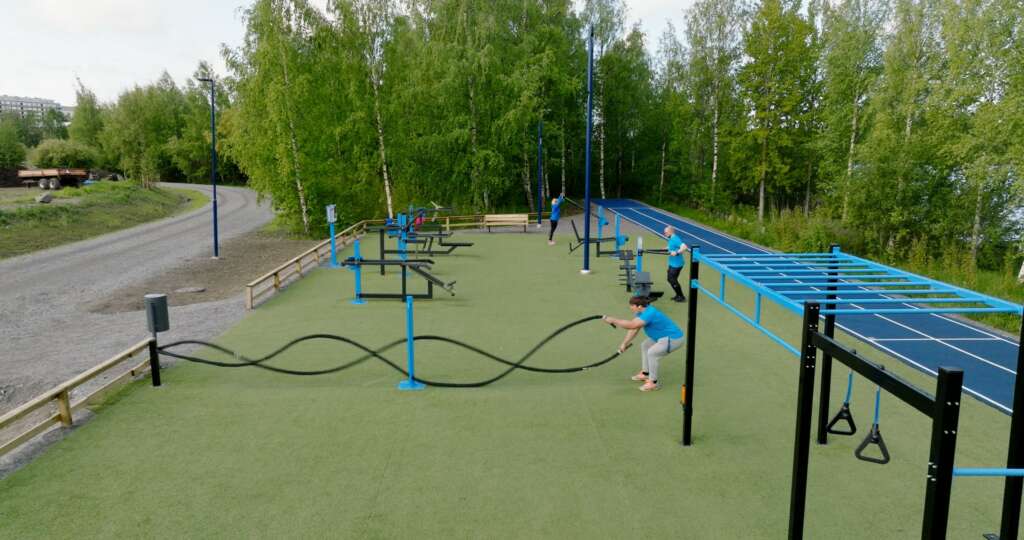 Equipment with adjustable weights
The equipment has adjustable weight units. This trait makes them suitable for both rehabilitative training and goal-oriented, hard training. The street workout apparatus has monkey bars, chin up bars, stall bars, and gym rings, making it suitable for effective full-body workouts.
All outdoor gym equipment has signage with instructions for use. In addition, the signage has a QR code that provides more detailed information on how to use the equipment.
– It's good to keep in mind that the gym is not a playground and that it is not suitable for children under the age of 14. Some of the equipment has weights that are not suitable for children and can even cause injuries to small children if used incorrectly, Lehtonen reminds.
Energy-saving LED lighting and environmentally friendly artificial turf
The equipment in the outdoor gym is placed on an environmentally friendly artificial grass turf. Sand-filled and recyclable, artificial turf is a highly wear-resistant, low-maintenance, and easily repairable surface material.
The outdoor gym is equipped with intelligent LED lighting. The lighting operates at 10% power and the user can activate the lights to full power using buttons in the area. The lights can also be programmed with a motion sensor.
– By controlling the lighting, we can achieve quite significant energy savings on an annual basis, says Lehtonen.
The outdoor gym was made by Puuha Group Oy.