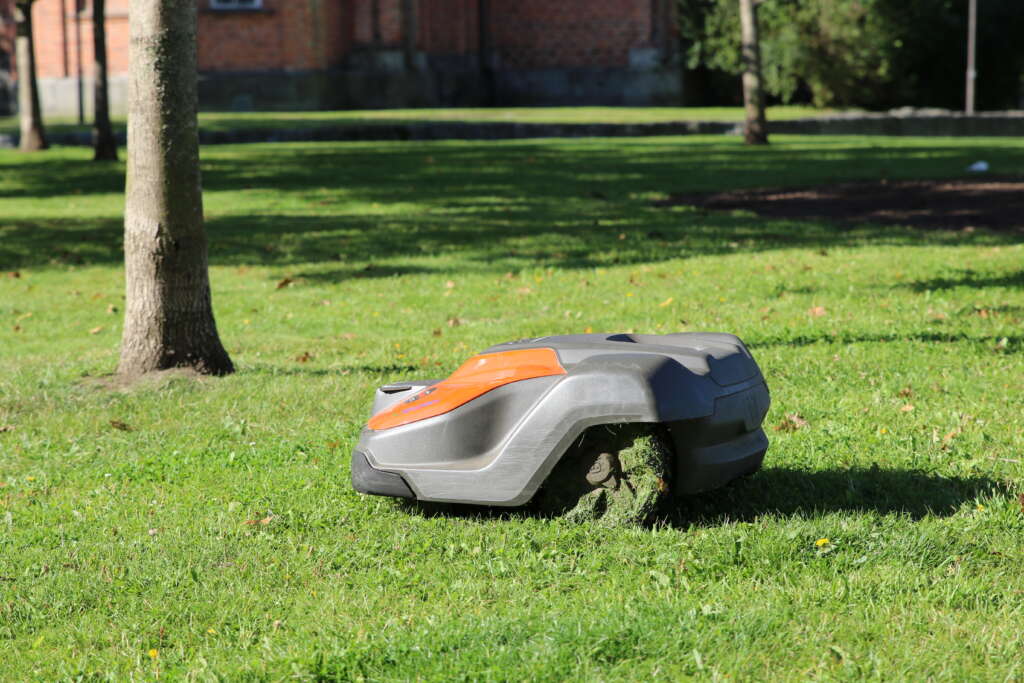 Article categories: News
Robotic lawnmowers on trial in city green areas
Published: 18.8.2023
This summer, for the first time, three robotic lawnmowers are being tested in the green areas of the City of Vaasa. The robotic mowers have been used in Kasarmintori and in the arboretum, Rytilaaksonpuisto (Rytilaakso Park).
You may have seen robotic lawnmowers in the green areas of the city of Vaasa this summer. They have been in operation since the beginning of July and will remain in use for about another month.
– We were approached by Kone Nygård and asked if we would like to take a few robotic mowers for a trial run and test how they would fit into the city park environment. We thought this sounded interesting, so we went ahead with the experiment. Kone Nygård is also collecting information on how the robotic mowers work in public areas like parks, so the test is important on both sides," says district gardener Susanna Helenelund.
Since July, two robotic mowers have been in Kasarmintori and one in the arboretum, Rytilaaksonpuisto. The trial has involved two different models, one operated by GPS and the other by a cable that keeps the robot mower in its assigned area.
– The area covered by the trial has been relatively small, so the amount of work carried out by humans has not been affected much; there are many green areas in the city to be cut. However, it has been interesting to monitor the performance of the robotic lawnmowers and make comparisons, since we can digitally monitor their performance," says Helenelund.
This year, there has also been a focus on biodiversity in the green areas, and green areas have also been left uncut. Green spaces have been allowed to grow into meadows in Onkilahti Park, Vaskiluoto and Vetokannas, among others.
Robotic lawnmowers have raised public interest
The trial has gone well over the summer and the robotic mowers have also attracted interest among residents.
– The robotic mowers have been left alone, and when we visited the parks, we received some questions about the mowers from residents. You can go ahead and look at the mowers, but you must not put any obstacles in the parks," says Helenelund.
The experiment with robotic mowers has also considered small animals in the wild.
– Existing robotic mowers have performed well in tests because of the features that make them safe for small animals. In addition, the robotic mowers are dormant from dusk to dawn, giving hedgehogs, for example, peace and quiet after dark," says Helenelund.
If you encounter problems with the robotic lawnmowers or have questions about their operation, you can contact the green areas team at puistot@vaasa.fi