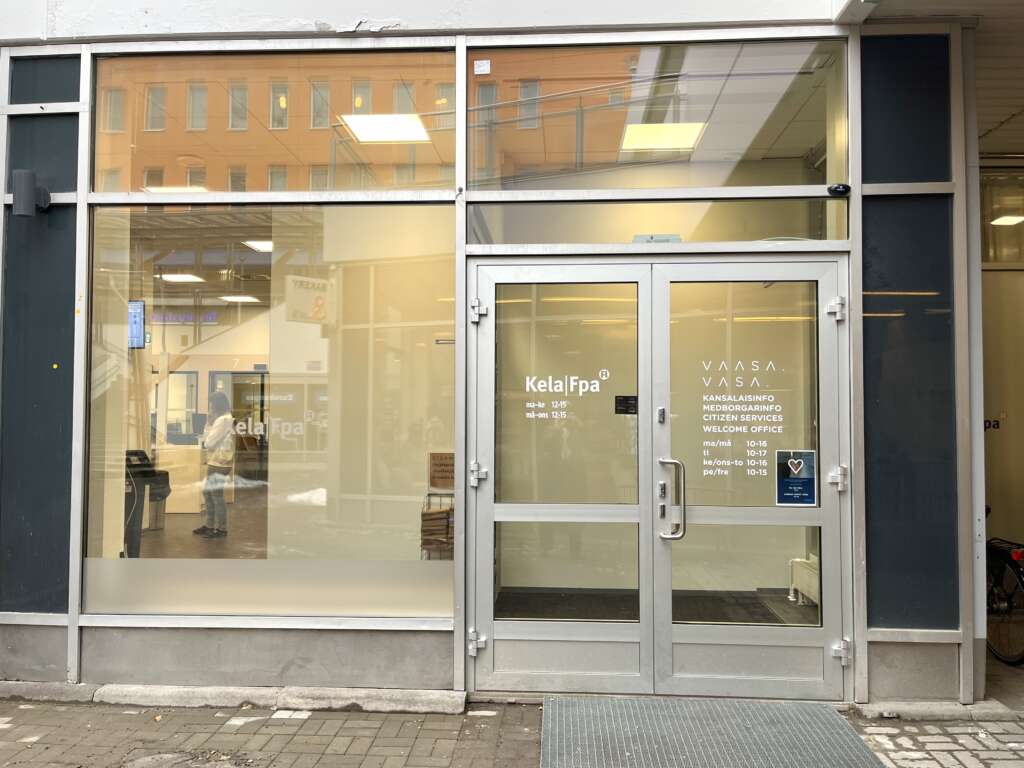 Article categories: Archive News
The Citizen Services (Kansalaisinfo), Welcome Office, Ohjaamo and Kela will open their new joint facilities in Tammipiha on 13 February
Published: 30.1.2023
Updated: 14.2.2023
The City of Vaasa's Citizen Services (Kansalaisinfo), the Welcome Office information and guidance service for immigrants, the Ohjaamo Pohjanmaa/Vaasa youth counselling service, as well as the Kela service point will move to Tammipiha and open in new facilities on Monday, 13 February.
The Citizen Services, the Welcome Office and Ohjaamo are closed at the Main Library from Wednesday to Friday, 8-10 February, due to the move. Kela's old service point on Rauhankatu is also closed from 8-10 February. The new address for services is Teräksenkuja 1 from 13 February.
– It's great to move into new and multipurpose premises with our partner Kela. A common service point provides excellent opportunities to further develop and diversify the customer service of city residents. We hope that new customers will also stop by to get to know our service point, in March for example, when it will also serve as an advance voting station for the parliamentary elections, says the City of Vaasa's Administrative Manager, Marjo Mäki-Krekola.
At Kela, it is also possible to do things remotely.
– At our other joint customer service point in Vähäkyrö, at Vähäkyrö House (Vähäkyrö-talo), you can contact Kela through the remote connection that works there. With Kela's remote service, you can handle the same things as at the service point, and it makes life easier, especially for those who live further away, Mäki-Krekola explains.
Kela also sees the benefits of shared facilities, and good experiences have been gained from them in other places. In Western Finland, about 65 percent of Kela's service points are already working together with different organisations.
– This is a step towards a service that customers are hoping for, where many services can be obtained from the same place. At the new service point, we will also serve customers by appointment, says the (fixed-term) director of Kela's western customer service unit Kaisa Mäkitalo.
Citizen Services (Kansalaisinfo)
The Citizen Services, is there to serve and provide guidance on dealing with the City of Vaasa's administration as well as other public administrations. The service is free of charge and does not require an appointment.
At the Citizen Services, you can pick up a Vaasa City brochure, pay an invoice sent by the city as well as buy a bus card or a Vaasa product, all at the same time. The service also includes a copying and scanning service for a small fee.
Opening hours:
10:00–16:00
10:00–17:00
10:00–16:00
10:00–16:00
10:00–15:00
Welcome Office
Information and advice for all newcomers to Finland. You will receive information on matters related to immigration, Finnish society, public services, language courses and recruitment etc. The service is currently available in Finnish, Swedish, English, Arabic and Russian. The service is free and does not require an appointment.
Opening hours:
10:00–16:00
10:00–17:00
10:00–16:00
10:00–16:00
10:00–15:00
Ohjaamo Pohjanmaa / Vaasa
Ohjaamo is a low-threshold service aimed at young people and young adults under the age of 30. You can get help, for example, with education, financial matters, housing, work or other everyday matters. The service is free and does not require an appointment.
ohjaamot.fi/en/web/ohjaamo-pohjanmaa/etusivu
Opening hours:
12:00–16:00
12:00–16:00
11:00–15:00
Kela
At Kela's service point, you can receive personal advice and guidance on Kela's benefits, and if necessary, an appointment can be booked for you at the telephone service or at a service point. You can also handle Kela matters independently on the computer reserved for customers.
Opening hours:
12:00–15:00
12:00–15:00
12:00–15:00