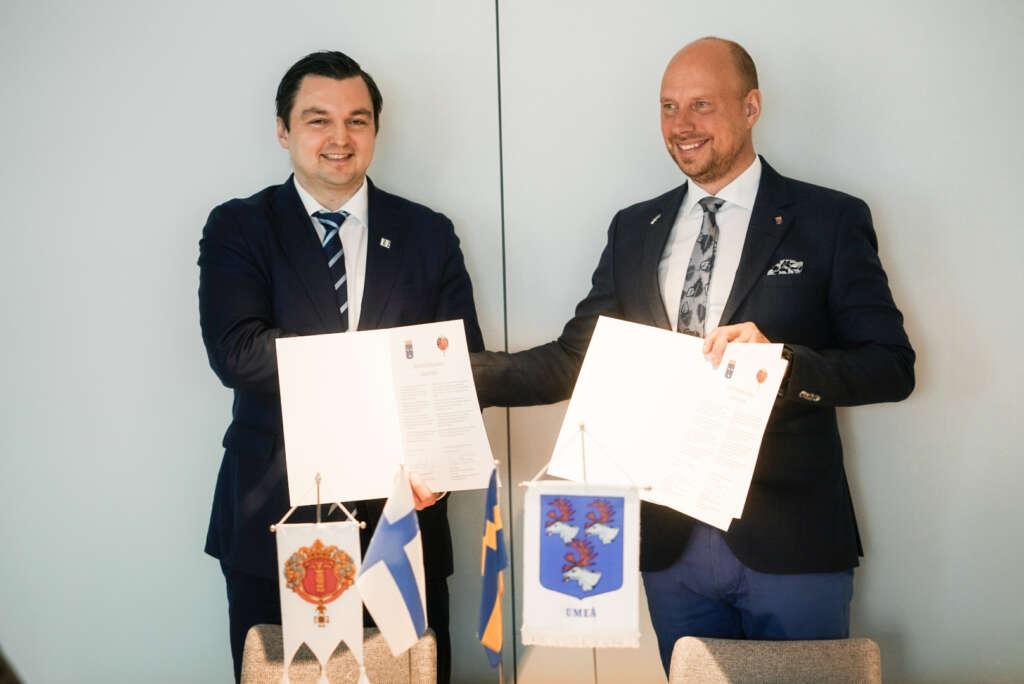 Article categories: News
Vaasa and Umeå – two successful cities intensifying their cooperation with a common development strategy
Published: 29.4.2022
Updated: 1.5.2022
Vaasa and Umeå are currently experiencing strong growth thanks to industrial investments. A joint ferry, the Aurora Botnia, has significantly improved intercity traffic. The two cities are now taking another step closer to each other by signing a letter of intent for a joint development strategy.
– Our common region has an innovative concentration of energy, life sciences and science-based business as well as reputable universities. With Aurora Botnia, we have strong links for communication in all directions and in the global flow of goods, services and information. That is why it feels very positive to be able to sign this joint letter of intent today, says Hans Lindberg, Chairman of the Umeå Municipal Board.
During the winter and spring, the municipality of Umeå and the City of Vaasa held several joint workshops to discuss common development targets and collaboration opportunities aimed at developing the growth of both cities and the business community.
– There has been an enthusiastic and innovative atmosphere in the workshops. All the participants see the benefits and great opportunities for closer cooperation and joint actions, say those responsible for the strategy work; External Relations Officer Susanna Slotte-Kock from Vaasa and International Strategist Cathrin Alenskär from Umeå.
Four common development areas clarified from the workshops:
1. Business cooperation
2. A common regional labour market and strong university cities
3. Strong and attractive urban areas and living environments
4. Shared experiences, more cooperation in culture and leisure
The two cities already collaborate a lot in many ways. Both Umeå Municipality and the City of Vaasa have now agreed to work on a joint development strategy for the cooperation to develop and deepen as well as become more strategic and long term.
– The letter of intent we are signing today is a response to the strong growth and investment that is currently taking place on both sides of the Kvarken. We want to support the flow of skills and culture, goods and services as well as create the conditions for business travel between the cities. The goal is to not only improve the quality of life of residents, but also to strengthen our companies and organisations, says Joakim Strand, Chairman of Vaasa City Council.
– Especially in the current global security situation, Nordic cooperation for the development of an integrated region is particularly important. Vaasa and Umeå are once again at the forefront of development, Strand continues.
Common goals become a reality
The purpose of the joint development strategy is to improve and strengthen cooperation between the cities. The vision is to create a functional and cohesive common Nordic area with limitless opportunities and where any current obstacles to cooperation have been erased.
All the focus areas include urban characteristics such as sustainable development, participation and accessibility. Already today, many activities can be funded within the framework of existing city budgets. External funding is also being sought. The strategy will be supplemented by an action plan.