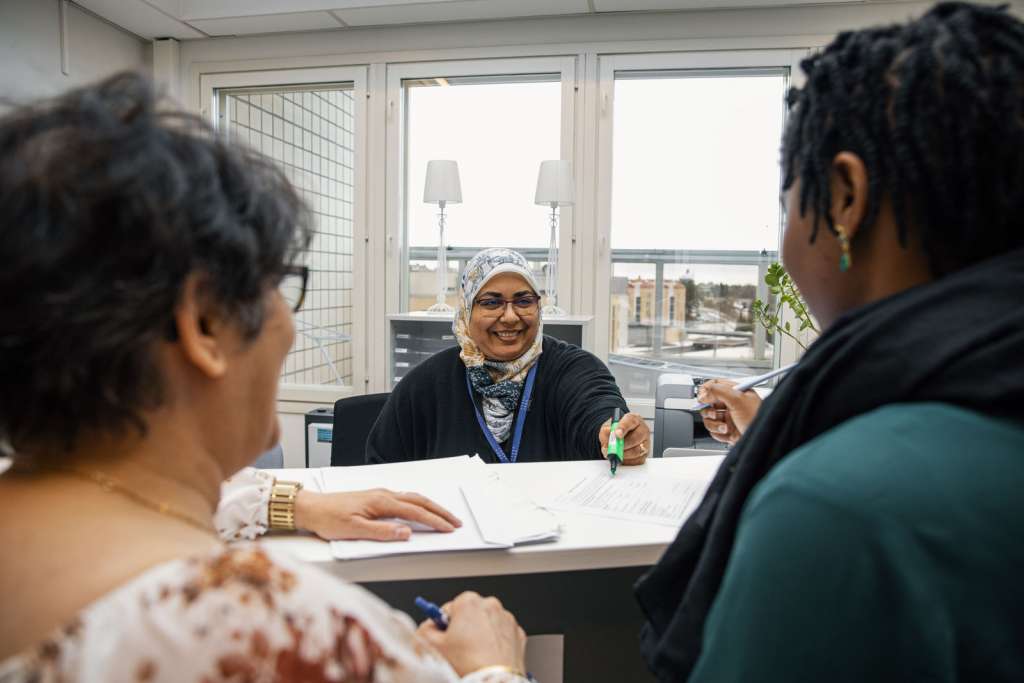 Article categories: News
Welcome Office - The range of service languages has expanded at the information point
Published: 14.4.2021
Updated: 16.4.2021
The Welcome Office is a low-threshold information point and counselling service in Vaasa that has provided information in Finnish, Swedish and English on issues related to immigration, Finnish society, public services, language courses and recruitment. Now counselling can also be given in Arabic, Somali, Persian, Dari and Urdu with project funding from the Ministry of Economy Affairs and Employment.
The information point is located in the Vaasa Main Library and is also normally open during the pandemic, like the Citizen Services office (Kansalaisinfo), Monday to Friday during office hours (Mon, Wed, Thu 10.00-16.15, Tue 10.00-17.00, Fri 10.00-15.00). During the year, operations will be developed more widely and better to serve in other languages as well, if the need is there.
Service adviser Petra Winberg says that the Welcome Office has already started testing Somali and Arabic-language counselling on site in cooperation with the Somali Women's Development Association and by purchasing Arabic-language remote counselling. In April, the languages on offer are to be further expanded, when customers have the opportunity to receive counselling in Persian, Dari and Urdu. These new counselling languages are available at specific times.
– The society opens up in a completely different way when customers have the opportunity to be informed in their own language. They understand things better and are able to embrace it in a completely different way when this is made possible. And finally, we are making the Welcome Office service increasingly accessible so that even the most vulnerable can receive low-threshold advice. In this way, we can speed up and streamline integration, explains Winberg happily.
Multilingual remote counselling also on a personal computer
The Welcome Office is testing remote counselling on a client terminal with a link to an Arabic-speaking counsellor, so that customers can come to the screen at certain times and receive remote counselling in Arabic. Customers can also be given a time for remote counselling if they prefer not to come to the information point, so help and advice can also be obtained securely and remotely from a personal computer or phone.
– Hopefully the people of Vaasa will find our multilingual service councillors and we can also make this a permanent service, Winberg adds.
All opening hours for counsellors in different languages can be found on the Welcome Office website www.vaasa.fi/welcomeoffice.
The Welcome Office started as a co-operation project funded by the European Regional Development Fund (through the Regional Council of Ostrobothnia) and the European Social Fund (through the Ostrobothnian ELY Centre) and managed by the City of Vaasa in 2012. The new Welcome Steps project funded by the Ministry of Economy Affairs and Employment provides better digital accessibility. The project will also allow for a more in-depth initial interview with immigrants as well as career and employment counselling.