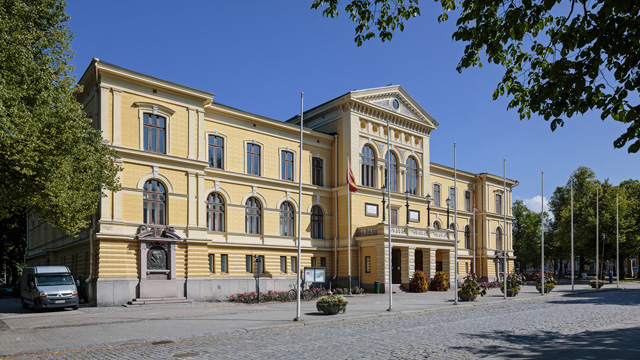 City Hall
The City Hall was commissioned in 1883. Today, the premises can be rented out to associations, organisations and companies for events such as concerts, meetings and trade fairs. The City Hall is not rented out for dinners or events organised by private individuals, e.g. weddings.
PREMISES FOR RENT
Fest Hall (max. 362 persons, there is an induction loop in the Hall)
Mirror Hall (max. 52 persons)
Chamber Music Hall (max. 90 persons)
Great Meeting Room (max. 30 persons)
Other facilities:
• Balcony
• Banquet Hall
• Lift on the premises (Vaasapuistikko end)
• Disabled toilet on the third floor.
Safety
Emergency plan:
If at least 200 people are expected to attend an event at the same time, then a rescue plan for the public event must be made, taking into account the specific features of the event. The rescue plan must be submitted to the rescue service for evaluation. Instructions and a template for making a plan can be found here. The preparation and submission of the rescue plan for the public event is the task and responsibility of the event organiser.
Police notification:
In addition to the rescue plan, the public event must be reported to the police. You can report here. The event organiser must give notice at least five days before the start of the event.
Café Maestro
Café Maestro is responsible for the restaurant and cloakroom services of the various events held at the City Hall. Café Maestro is open whenever there are concerts and opens half an hour before the concert begins. Café Maestro is a licensed restaurant which can be adapted to cater for different events held at the City Hall, such as trade fairs, dinners, buffets, dances, and seminars. In such cases, opening hours are always agreed separately.
Orders and enquiries:
Tuija Kaski-Kuula tel. 040 836 2616, tuija.kaski-kuula(at)vaasa.fi
The restaurant is run by the Vaasa Steiner Pedagogy Support Association (Vaasan steinerpedagogiikan kannatusyhdistys ry).