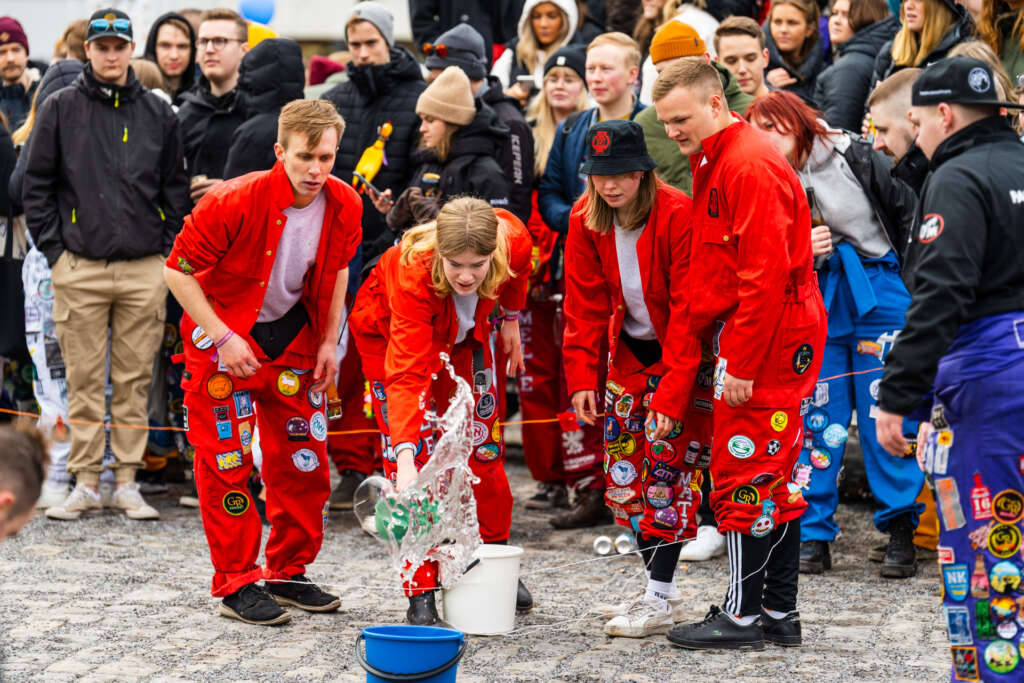 Student life in Vaasa
It is no coincidence that the people you meet in Vaasa's streets seem surprisingly young, - every fifth resident is a university student. In proportion to population, Vaasa is one of the biggest student cities in Finland.
Student events and activities in Vaasa
Vaasa is a city of 13 000 students and several student associations and organizations, with many student events and activities. Check out the list of useful words used in student life and the list of popular study events in Vaasa below.
Good to know about student life
Students are known for their special events and traditions. Here are some words that may be helpful to know what they mean.
Sitsit / Sitz
Sitsit are a popular academic table party where students sit at a long table eating, drinking and singing.
The dress code is different depending on the occasion; everything from white tie to student boilersuit can be the evening's dress code. The sitsit traditions vary between different student unions and associations.
Anniversary parties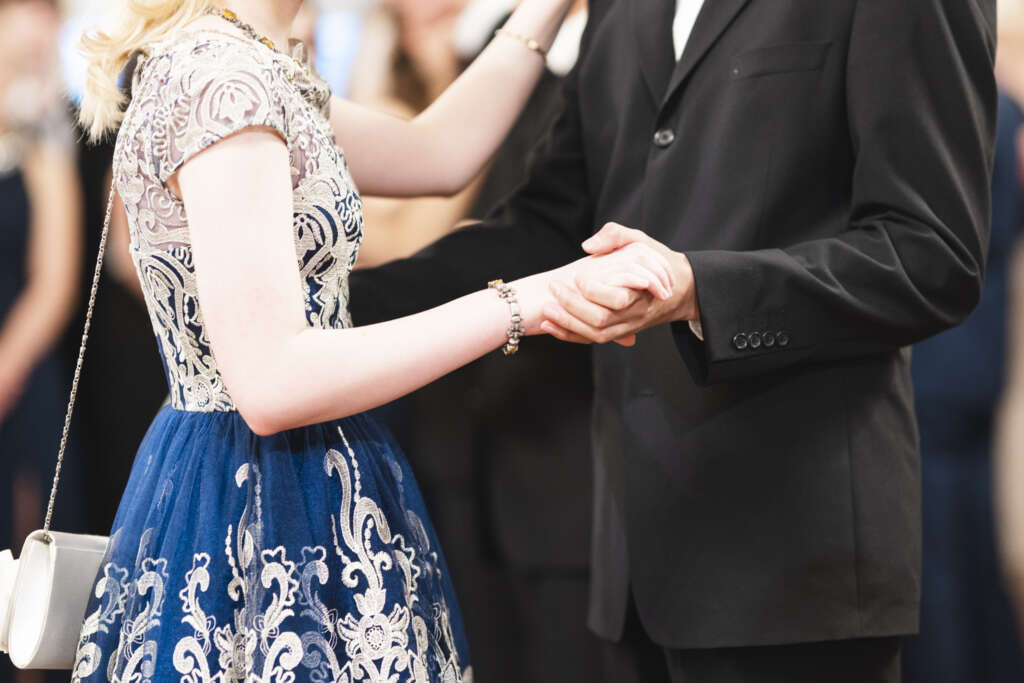 Anniversary parties is usually arranged by student unions or by different student associations. The party usually includes a festive dinner, speeches, different songs and entertaining program. The dress code for these parties is always specified in the invitation but an anniversary party is usually a more formal and finer party.
Student boilersuit and badges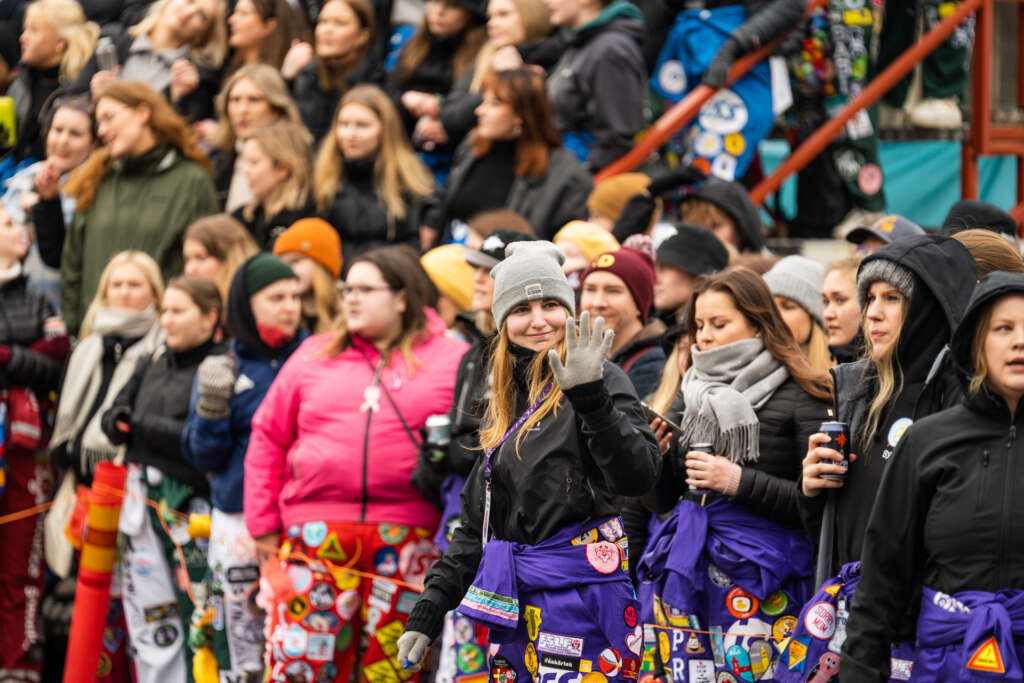 The student boilersuit or the student overall is the university student's most precious garment.
The story of the boilersuit started in the 70's when the technology students started to use their work overalls also at student parties. Over time, more and more people started partying in their overalls and today almost every university students in Finland have their own overall that comes in a variety of different colors. Almost every study field has its own overall color and/or design.
During your studies, you will get many overall badges from different student events. The badges is sewn on the overall with a needle and thread. The badges are a fun memory from your study time and can help you remember the best student events and parties.
Annual student events in Vaasa
Participating in various study events and activities is a great way to make new friends and get memories for life!
Below you will find a timeline with some of the annual student events in Vaasa.
February - Fastlaskiainen

Fastlaskiainen is a traditional sledding competition that is held in February on Shrove Tuesday. On Shrove Tuesday, various student associations compete with self-built sledges, which they go down a hill with. The event is open to all students in Vaasa.

March - Pampas Nationaldag

A week in March filled with events and a grand ending party. One of the biggest student events among Swedish speaking students organized annually by the Pampasmaffian.

The main event consists of an "Olympic" on Vaasa square and an evening party in Rewell Center and a sillis (herring breakfast) the next day.

March / April - Boom City Appro

Boom City Appro is the largest "appro" event in Ostrobothnia. During the appro-round, participants can enjoy and collect stamps from various appro restaurants and bars in Vaasa. Each performer receives a degree they earned with an appropass.

April / May - "Vappu" The First of May celebrations

Wappen, also known as Vappu or Valborg, is one of the most important student festivities.

The Finnish spring unofficially starts at Vappu (The First of May). Vappu is a carneval like celebration for all, but especially students are arranging all kinds of activities and parties. It is very common for people in all ages to wear their student caps during Vappu celebrations.

September - Fuksi-kastajaiset / Gulnäbbsintagning

As an initiation process in the fall, many of the student associations organise their own so called "fuksi-kastajaiset" in finnish or  "gulnäbbsintagning" in swedish. It is a set of small competitions and challenges for the new students. Students compete in teams, and if you want to you can sign up for one of the events.

September - Vaasa Campus Festival

Vaasa's higher education institutions and student and student unions co-organize the Vaasa Campus Festival which is usually held in September.

In addition to university students and staff, all city residents are welcome to attend the festival. The event is free and the age limit is 18 years.

December - Independence Day

Finland's Independence Day is a quiet festivity compared to many other countries. Usually people stay at home with family and eat dinner, and watch the President's annual independence ball.

The student unions in Vaasa organize a procession to the city square where speeches are given and choirs sing.

Picture: Sara Alasuutari.