Crown Court Avenue and Gustaf's Square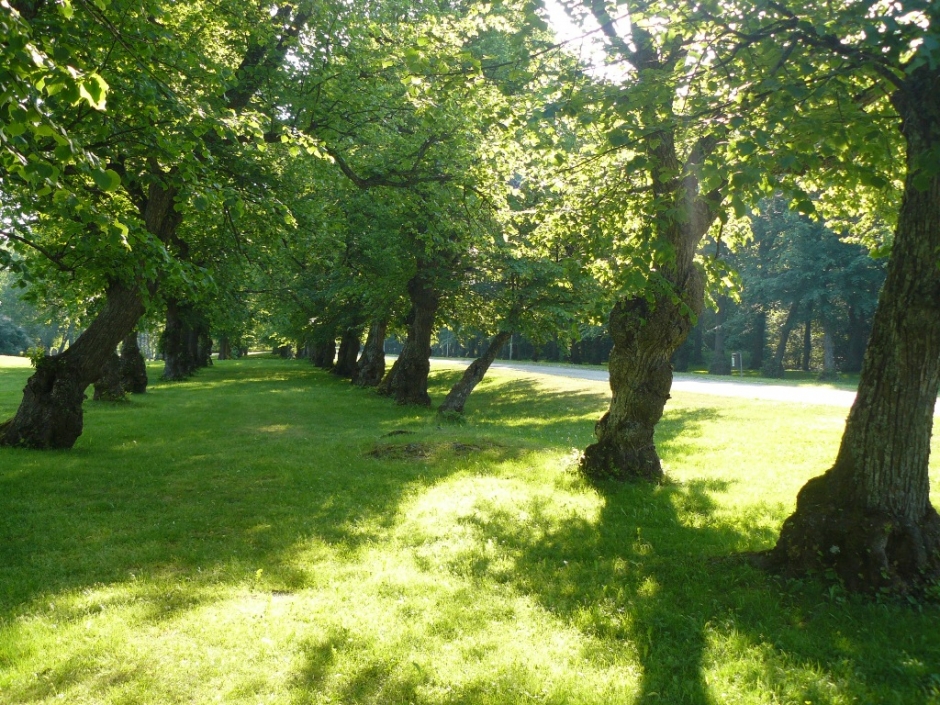 The Crown Court Avenue is located in the southern end of the Kauppiaankatu street, across from the Mound. The avenue is comprised of four rows of lime trees, bordered in the north by the park and by forest in the south. The Mustasaari Church is located at the end of the avenue in the east and the Mound in the western end. Cars can be parked nearby the Mustasaari Church, where parking spaces are located on both sides of the Gustaf's Square.
Crown Court Avenue was designed in 1777 by Carl Fredrik Adelcrantz and is the oldest public park still being used in Finland . In 1781, the first aspen trees were planted along the four lanes of the avenue. Between 1836 and 1842 the aspens were replaced by lime trees. The lime tree avenue escaped the Vaasa fire of 1852 and is an impressive sight to observe. Land plots reserved for members of the Crown Court were originally located on both sides of the avenue. At the end of the avenue lies the Vaasa Crown Court building, which was refurbished and renamed 'Mustasaari Church' after the fire. The north side of the avenue is presently a grass covered parkland, with shade provided by the trees. South of the avenue is occupied by a lush forest area, where the old stone foundations can still be viewed along with an old pond in the umbrage of the trees. On the southern edge there is a hillock with old oak trees.
Gustaf's Square was originally an open, gravel-covered area, until the 1840's when the area was covered with lawn and lilac bushes were planted in a gentle curve along the western side of the square. The lilac bushes remain today and blossom annually, producing a pleasant, aromatic fragrance. The frontal façade of the Mustasaari Church is framed by the stately fir trees of the Gustaf's Square.
The Crown Court Avenue and Gustaf's Square is a desired attraction all year round. The large trees in the park area provide shade on a hot summer day and the pleasant surrounding flora and landscape elements create a serene ambiance for picnics or other outdoor activities. The blossoming lilacs on Gustaf's Square can be experienced in June and blossoming jasmine can be found in the southern end of the park area in July. During winter, the tall trees are an impressive sight and the Mustasaari Church gives the area additional cultural and historical value. The forest area next to the avenue is most suitable for trips during spring, as vegetation is low growing enabling movement through the forest to be easier as opposed to other seasons. The stone foundations are also more easily discernible during spring, where the blossoming liverwort and oxlip can be admired. Water lilies can be observed in the pond during July and August.