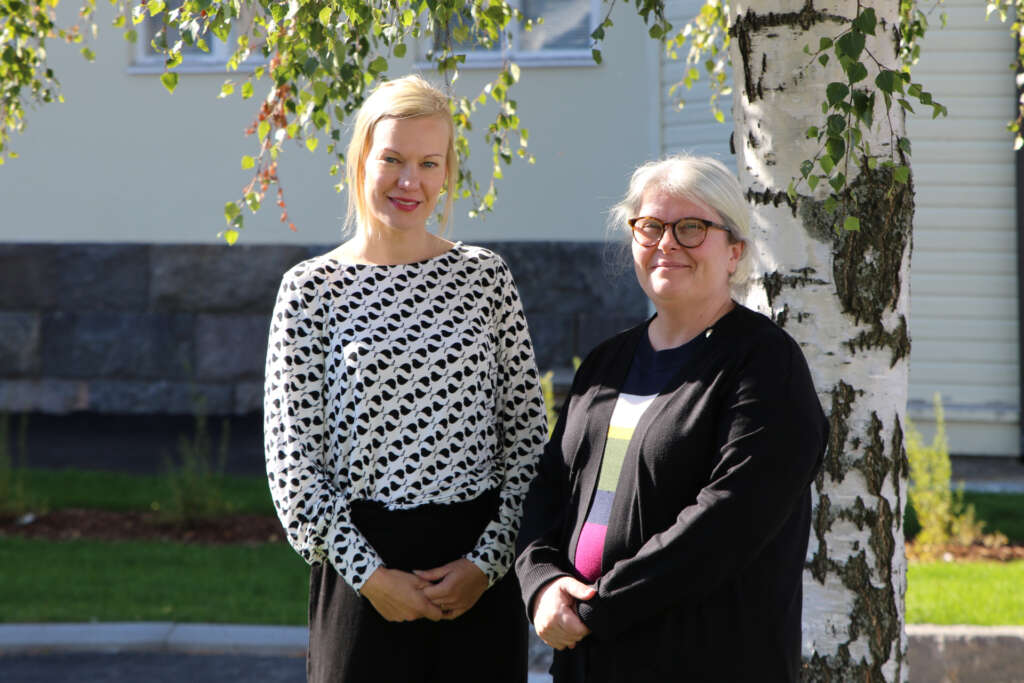 Article categories: Archive News
An early childhood education language mentor is a playmate for children and an example for adults
Published: 4.10.2022
Two language mentors are currently working within early childhood education in the City of Vaasa. They support young language learners in daycare centres and come up with ideas to help staff create learning environments that support language learning.
Eivor Berg and Hanna Toivonen-Boguslavskiy are language mentors working with children whose home language is neither Finnish nor Swedish. They are also important partners for other early childhood education staff.
– In practice, our work is to play games with children, we sit on the floor playing with them. For example, home play is good for language learning, because it includes vocabulary that is not necessarily used in daily life in a daycare facility, explains Toivonen-Boguslavskiy.
– Playing on a city road mat is also a great place for language learning, because you go through colours, vehicles and different places, such as shops, banks and petrol stations, adds Berg.
The language mentors are involved in the daily life of the daycare centre, both during meals and on forest trips.
Co-teaching and language awareness games
Toivonen-Boguslavskiy visits Finnish-speaking daycare centres and always spends a whole day in a group. She works with 1-3 children at a time.
Berg works in Swedish-speaking daycare centres. An important part of the work is co-teaching and staff mentoring.
– We bring information and models about language awareness to daycare centres from early childhood education. In practice, we teach the staff, for example, how to play board games with language awareness in mind and we also produce materials and provide tips to support them in this, explains Berg.
 Applying for a continuation of project financing
In Vaasa, Finnish-language early childhood education has already had S2 early childhood education teachers working there for several years already (S2 = Finnish as a second language).
The S2 teacher also guides and supports the early childhood education staff and participates in the individual and small group guidance of children. In addition, they map and evaluate children's language skills.
There has not yet been an S2 teacher in Swedish-language early childhood education, because there have been only a few children learning the language until now.
– Now the number of children whose home language is neither Finnish nor Swedish has also increased in Swedish-language early childhood education. The situation is currently being helped with the aid of a language mentor, says Development Manager Hanna Huhtakangas.
The activities of language mentors are financed by project funding from the Ministry of Education and Culture. The operation started in January 2022 and will finish at the end of the year. A new project application has been submitted to enable language mentors to continue their work for the years 2023-2024. A decision is expected in October.