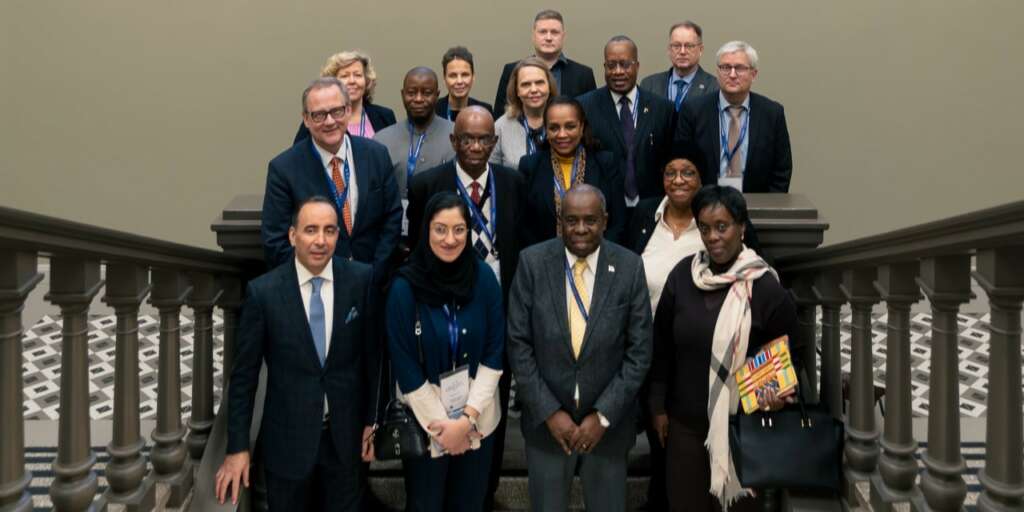 Article categories: News
An Energetic Visit to Vaasa by Ambassadors from Africa and the Middle East: Possibilities for Future Co-Creation
Published: 14.11.2023
On 7-8 November 2023, nine ambassadors and representatives from Africa and the Middle East accredited to Finland visited Vaasa. The ambassadors, who came from Helsinki and Stockholm met representatives from EnergyVaasa companies, the city, and higher education. Together with the Ministry of Foreign Affairs of Finland, the City of Vaasa arranged the visit for ambassadors and representatives from Morocco, Mozambique, Nigeria, Namibia, Rwanda, South Africa, Tanzania, the United Arab Emirates, and Zimbabwe. For most ambassadors it was their first visit to Vaasa.
An Exchange of Knowledge and Friendship
On the first day, the ambassadors visited Danfoss and the Technobothnia Research and Development Laboratory. At Danfoss, they learned about the company's products and focus on decarbonisation and circularity and got to visit the factory. While many Vaasa companies have operations in African and Middle Eastern countries, the ambassadors have shown their interest in more and deepened collaboration. The ambassadors were very interested in learning from Finland and, specifically from companies in Vaasa about their technical and legal expertise. This became also evident while touring the laboratories at Technobothnia. Many international and exchange students are participating in the technical degree programmes offered and Technobothnia connects industry, research, and education. Various innovation platforms developed in cooperation amongst regional partners in order to co-create are of significant importance to the City of Vaasa – the Energy Capital of the North – and can very well serve as models for other cities and countries. The low proportion of female students in the technical sector was raised as well, and the ambassadors were invited to share their experiences in their home countries and get more women (and men) to come and study in Vaasa. 
In the evening, Mayor Tomas Häyry hosted a Welcoming Reception for the guests at the Governor's Residence. Some citizens of Vaasa with origins or interests in African and Middle Eastern countries were also invited to share their experiences with the ambassadors. Among these were representatives from Higher Education Institutions, Hitachi Energy, the Ostrobothnia Chamber of Commerce, the Vaasa-Tanzania Association, and the Vaasa Islamic Society.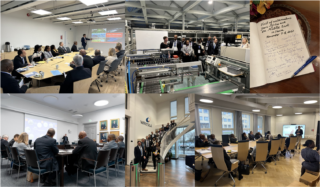 The Future Lies in Collaboration, Cooperation and Co-creation
The second day was filled with activities introducing Vaasa as the Nordic Energy capital where companies, the public sector, research, and education institutions work hand-in-hand. Mayor Tomas Häyry, External Relations Officer Susanna Slotte-Kock, and EnergyVaasa Communications & Brand Manager Kristoffer Jansson offered an overview of Vaasa and the Vaasa region. The programme highlighted Vaasa's Energy Cluster and other Vaasa specialities such as Vaasa Co-Creation and Vaasa as the happiest city in the world. The ambassadors were invited to participate with their countries in next year's Energy Week in March and many of them have expressed their wish to do so. Not only are the represented countries looking forward to the new technical opportunities, but they are also interested about Vaasa as a community. "Small cities are really important", one representative said, "and engaging smaller communities, such as Vaasa is doing with its happiness campaign, is the way forward."
Afterwards, the ambassadors visited the Wärtsilä Sustainable Technology Hub, where they learned about Wärtsilä Energy Business and their presence in Africa and the Middle East. Wärtsilä representatives highlighted that they are "Here to stay" and see the African countries as a long-term business partner. At Wärtsilä, the ambassadors had the chance to ask questions about energy production and storage and how to best invest for the future. At the same time, they emphasised the responsibility of companies to have a transformative, long-lasting impact on the countries and regions in which they operate, for example, through educating and training the local population in their technology. Wärtsilä presented several good examples of community engagement in Africa. 
In the afternoon, Vaasa's higher education institutions were presented. Staff from Novia University of Applied Sciences, University of Vaasa, and Vaasa University of Applied Sciences talked about their international students and degree programmes. The ambassadors also got to meet and hear from international staff about current projects in collaboration with universities in Africa. The international staff was happy to share that they enjoy living in Vaasa, but that they additionally are glad they can give back to their home countries through their work and research and the universities. "What other way to give back to society than education", one university employee said. 

Key Impressions and Outlook
During their visit, the ambassadors greatly enjoyed Vaasa and welcomed the new opportunities it opened up for them. While there is already some cooperation between the countries and companies, all ambassadors declared interest in deepening existing and creating new bonds. Special areas of interest were green hydrogen, energy (including hydropower, solar, and engines), education, and health care. The ambassadors were impressed by how closely companies and universities cooperate in Vaasa. While their countries often have resources, institutions, and people, they feel there is often a gap between different sectors. Vaasa showed how it can be bridged for the benefit of everyone. 
After two exciting days, it was not only the ambassadors who learnt more about Vaasa, but – like one of the representatives told: "These visits are a way for us to share our country with Finland to learn from each other and to promote business and other interests together." Such exchange is vital for the friendship between countries and for everybody to learn something new. Some topics such as waste management and circular economy were not presented explicitly but are areas of interest for the ambassadors and indicate opportunities for future visits. The African continent and its population are vast, and so is the market potential there. The City of Vaasa hopes to welcome various international delegations and, especially, next year during Energy Week.