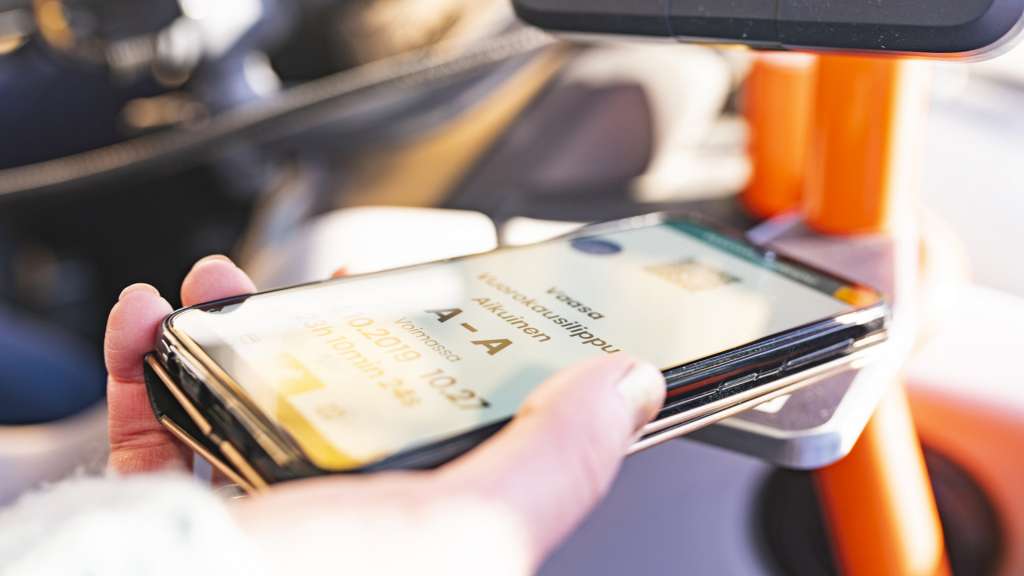 Article categories: Archive News
Bus rides can now be paid for by mobile phone
Published: 28.10.2019
Updated: 3.3.2020
In Vaasa you can pay for a bus trip by mobile phone from 28 October 2019. 
You can buy a mobile ticket for a bus trip by downloading the Waltti Mobiili app on your phone from Google Play or the App Store. You can choose from a single ticket or a day ticket. The validity of the mobile ticket begins at the moment of purchase.
You can use the mobile ticket to travel in the Vaasa region on bus routes 1-5, 7-11 and 13-16, school and special services E1-E5 and route 6 between the Vaasa city centre and Kivihaka. Mobile tickets are not accepted on service buses.
The mobile ticket is read on the bus by displaying a ticket on the phone screen to the reader device. The ticket must be purchased before the start of the journey.
Choose from a single ticket or a day ticket
A ticket on the mobile app costs €3 for adults and €1.50 for children (6-18 years). You can also buy several tickets on the same phone, for example, for an adult / child journey. Children under the age of 7 may travel with a mobile ticket-paying passenger free of charge.
New on Vaasa buses is the day ticket, which is valid for 24 hours from the date of purchase. The cost of a day ticket is €5.20 for an adult and €3 for a child (6-18 years).
A student discount is not available for mobile tickets.
More detailed information and instructions for using the Waltti Mobile app can be found at vaasa.fi/walttimobiili or at the Wasa Citybus and Citizen Services service points.