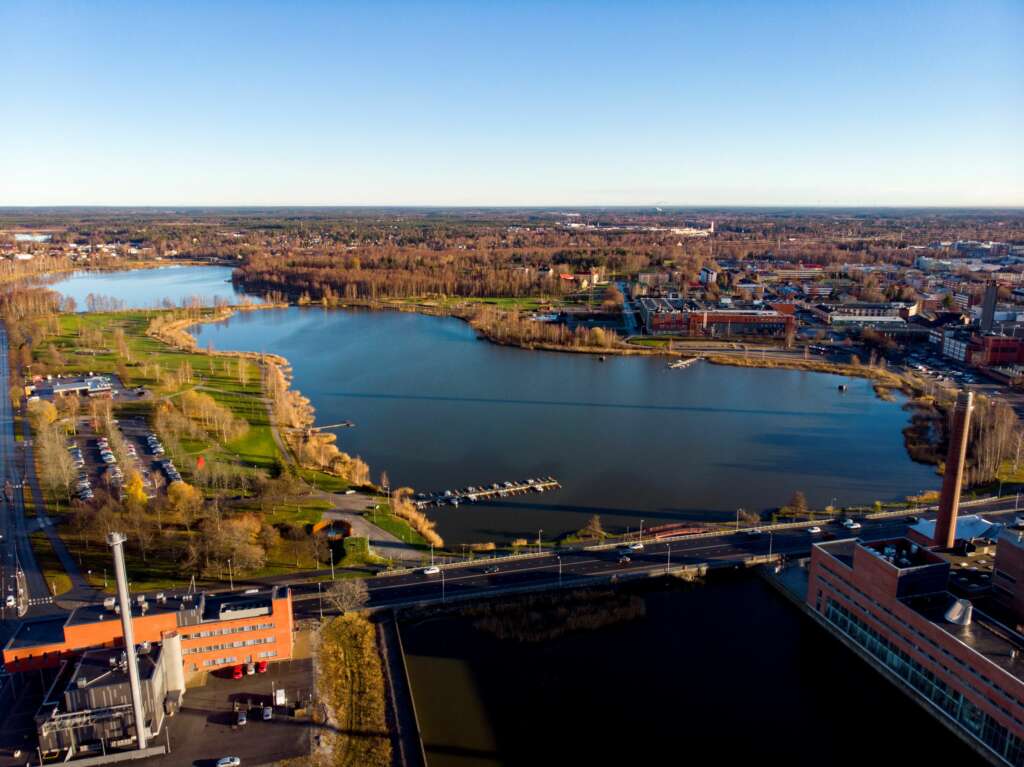 Article categories: Archive News
Complete a survey and participate in the development of Onkilahti as well as the konepaja industrial area
Published: 2.11.2022
Vaasa residents now have an opportunity to influence the future of Onkilahti Park and the adjoining Konepaja industrial area in Vöyrinkaupunki. Two separate map surveys will open on Wednesday 2 November and will remain open until 1 December.
Onkilahti park and the Konepaja industrial area in Vöyrinkaupunki are located in a prime position right next to the City Centre. It is of great importance that  residents' ideas and opinions are heard at the planning phase as the intension is to develop the areas so that they can be utilised by all residents of Vaasa.
Wärtsilä's move from Vöyrinkaupunki means that an area of more than 10 hectares will become available for development, which will gradually become an active part of the Vaasa downtown area. The goal is to transform the old factory area into a comfortable and versatile place where you can live, work and relax.
– The starting point is to create a distinctive urban environment. The historical factory milieu and the location by the sea create good conditions for this, says urban planner Kati Vuohijoki.
– In the survey, we seek the public's opinion on, among other things, the name of the konepaja industrial area, access routes, buildings and services, Vuohijoki continues.
Preparation of the master plan for Onkilahti park begins
In addition to the Konepaja industrial area, ideas are being collected from residents for the future master plan of Onkilahti Park. We want to make the park as versatile as possible and a place of leisure that serves its users well.
– We are especially interested in the opinions of children and young people about the kind of activities the park could have and how to make it even more enjoyable and relaxing. The hope is that parents, for example, could answer the survey together with their children, says urban planner Emma Widd.
– In the survey, you can describe what is best in the park right now or what is missing from there. You can also comment on the preliminary draft, which outlines the locations of various activities and areas around Onkilahti, explains Widd.
Take part in the surveys
Both map surveys are open from 2 November to 1 December 2022. You can take part in the surveys using the links below:
Take part in the development of the Konepaja industrial area in Vöyrinkaupunki
Take part in making the master plan for Onkilahti park
On the Konepaja industrial area project pages (in Finnish), you can find out more about the Participation and Assessment Plan (OAS) regarding the local detailed plan, as well as supplementary material, which provides more comprehensive information about the starting points, goals and boundary conditions of the plan.
You can follow the master plan work of Onkilahti park on the master plan project page (in Finnish).
If you wish, you can also send your opinion by email to kaavoitus@vaasa.fi