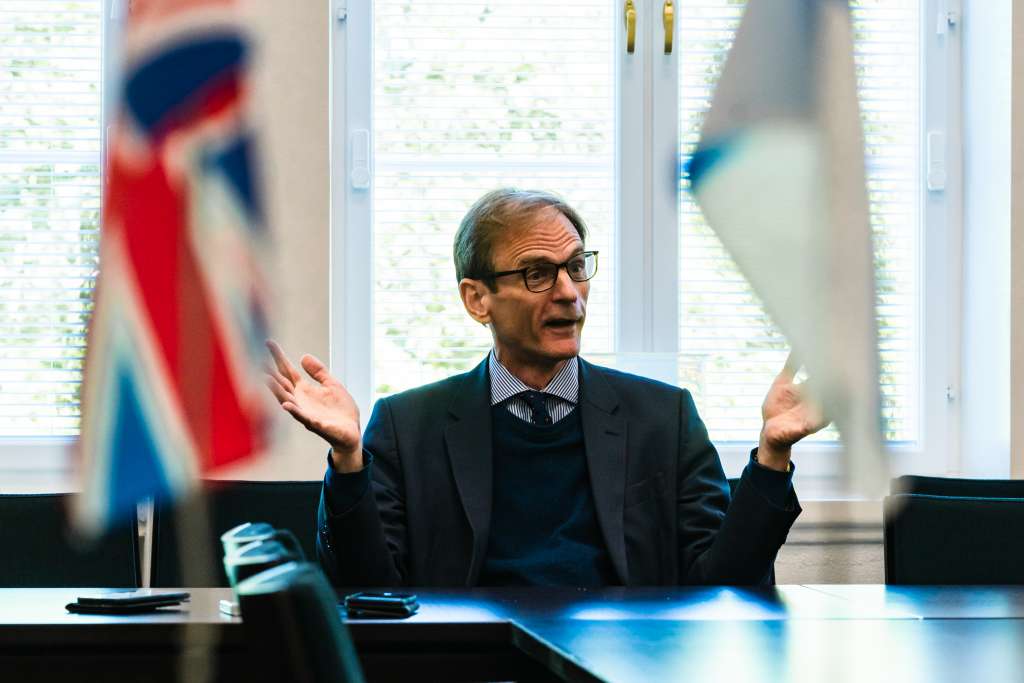 Article categories: News
Cooperation between United Kingdom and Finland finds its ways even post brexit
Published: 16.6.2021
Marking the end of his four-year tenure as Her Majesty's Ambassador to Finland, Mr Tom Dodd, along with representatives from the British Embassy in Helsinki, paid his first visit to Vaasa on 15th June, 2021. The day was filled with an interesting program.
Finland and the UK have been natural partners in industry, defense, education, culture and many other areas for more than a century. This visit comes as a high point for possible future opportunities between the two countries especially in the sustainability and green industry revolution.
During his visit, the Ambassador met with representatives from the City of Vaasa, the Vaasa region development company and the Ostrobothnian Chamber of Commerce. They discussed a number of significant Finnish-British cooperation opportunities in the near future. The Ambassador also met with representatives from Wärtsilä to learn about the very latest smart technologies for the marine and energy markets and the University of Vaasa, which British students mostly attend as part of various exchange programs.
In the press conference after his first meeting, the Ambassador expressed the UK's special interest in the energy sector in Vaasa specifically following the G7 summit that was held on 11-13 June 2021 in Cornwall in the UK. The summit leaders agreed on accelerating the green transition, which is expected to cut emissions and to halt and reverse biodiversity loss. Johnson Matthey provides a great example of this transition and British companies may see expanding investment opportunities in the Finnish business market.
The Ambassador stressed that Brexit would not affect any cooperation between the UK and Finland, since the UK thinks globally, including Finland and Europe. Brexit or no Brexit, the UK is expanding its activity and investments throughout the whole world and Finland is well placed for green industry investments.
The UK is half way through in reaching its target of net zero emissions by 2050, while Finland aims to be carbon neutral by 2035 and the city of Vaasa by 202X. Having the same ambitious goal puts the two countries on the same track and opens up large opportunities for learning and applying various innovative technologies and sustainable development strategies. The Ambassador added that the UK is looking forward to announcing a specific plan for achieving that goal.
Mr Tom Dodd also highlighted that Finland could assist the UK in reaching its goal to be a global problem solving nation by 2030 through mutual cooperation in several areas, specifically combating the climate change along with other Nordic countries.