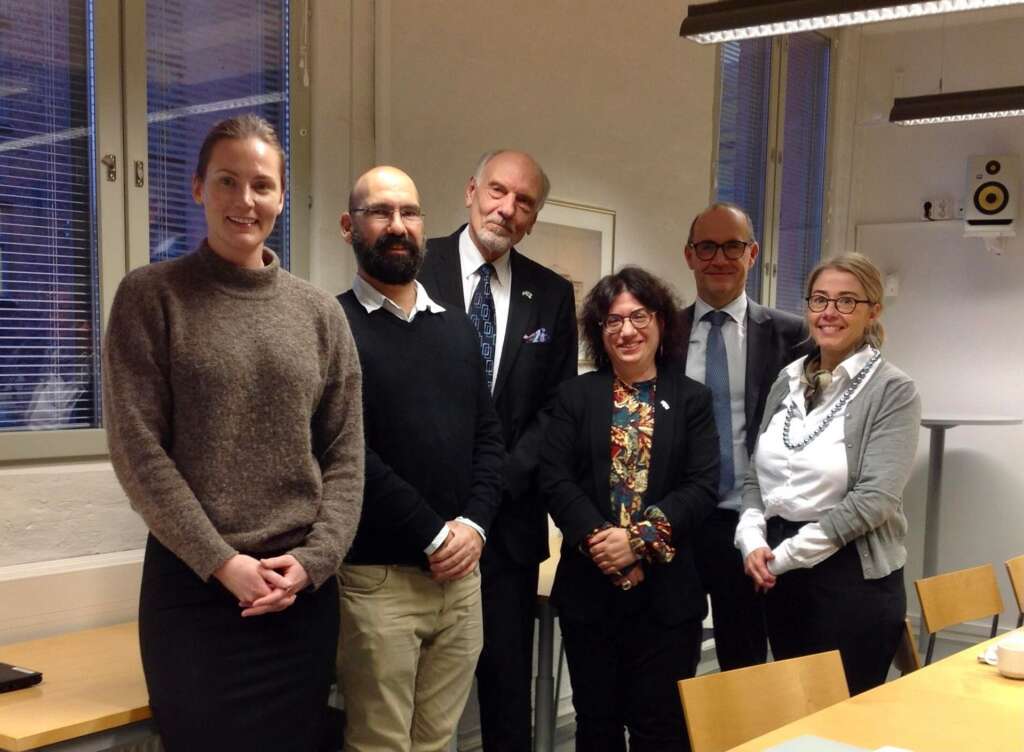 Article categories: News
Israeli ambassador advancing an innovative partnership by visiting Vaasa on November 9-10, 2021
Published: 19.11.2021
The Israeli ambassador to Finland and Estonia, HE Hagit Ben-Yaakov visited Vaasa on November 9-10, for the first time since she assumed office in August 2020. The ambassador had fruitful discussions regarding Vaasa, the entire Vaasa region and energy sector with representatives from the city, the Vaasa Regional Development Company, VASEK and Wärtsilä representatives. As well as, brilliant academic debates with Hanken and Åbo Akademi universities' professors and researchers.
Having the same flag color is not the only similarity between Finland and Israel. Both countries enjoy diplomatic, economic and cultural ties since 1950, and this month marks the 71st anniversary of the long-term relationship.
Innovation is another strong mutual point that allows the two countries to take further steps towards saving the world and combating the climate change. Being a global player in the energy sector, Vaasa has plenty of cooperation opportunities to offer to the Israeli market considering both market needs and challenges.
Ambassador Ben-Yaakov discussed the near future cooperation between Wärtsilä and the Israeli innovative technology providers in transmitting the energy landscape into flexible, decarbonized and 100% renewable energy future. They also discussed the possibility of doing partnerships in the R&D field and developing the market-leading technologies so that Finland can help Israel in achieving its carbon emissions' goal by at least 85% by 2050.
Education, the key to success
During her debates with the dean from Hanken and Åbo Akademi universities' professors and researchers, HE expressed her exaltation with the Finnish education system and how the children are being exposed to topics such as, Artificial Intelligence (AI) and Sustainable Development Goals (SDGs) and how they are taught to make the best use of technology. The ambassador has also personal experience with this, as both her twins are nowadays enrolled into the Finnish education system.
Ben-Yaakov stressed the importance of education for the future generation and for solving problems such as conflicts and climate change. In addition, HE revealed a near plan to visit Turku University to talk about the Israeli-Palestinian situation and to reach wider audience. Changing people's mindset regarding any topic has to start with education and textbooks in schools, the ambassador added.
As a graduate from the Executive program of the Negotiation Strategies Institute (NSI/Harvard University), HE participated actively in the discussions about the conflict transformation through negotiation and mediation strategies' and how it could lead to a lasting peace if it is managed in a constructive way. Conflict has also positive sides and it is an opportunity for growth and a win-win situation for both conflicted parties, Åbo Akademi researchers concluded.
People's positive attitude towards life and the smiles they wear on their faces was the first thing caught Ben-Yaakov's attention on her visit, and that made her understand the ambitious goal of Vaasa in becoming the happiest city in the world.